Location
Campus Map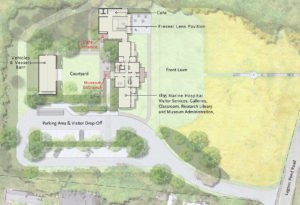 Please read our list of frequently asked questions before visiting. We look forward to seeing you!
Explore Our Outdoor Campus
Learn about what you can experience outdoors at MVM this summer here.
Reserve Your Tour
Tours are offered at 11am and 2pm. Sign up here.
Read our statement on racial injustice, and access resources from the Smithsonian's National Museum of African American History and Culture.
Stay Connected
Sign up to receive e-mails about new exhibits, upcoming events, and more!
We are living through a world-changing event. Our words, voices, photos, and other raw materials will one day tell the history of these days. We invite you to share them with us, to help future generations learn.
Join & Give
Become a Member of MVM or renew your existing membership.
Wortman Webcam
See what's going on on the Museum's front lawn and out in Lagoon Pond.