Provincetown-Boston Airlines Timetable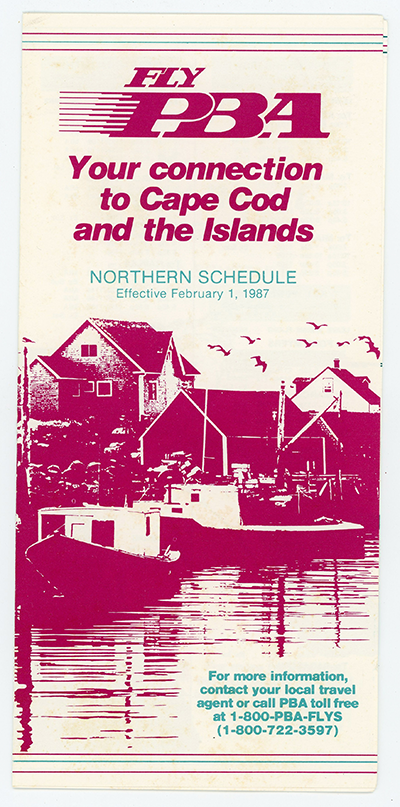 Provincetown-Boston Airlines Timetable
Founded by John C. Van Arsdale in 1949, Provincetown-Boston Airlines (PBA) provided scheduled air service to the Cape and Islands from Logan Airport in Boston and LaGuardia Airport in New York. It also operated routes in Florida, flying to destinations throughout the state from bases in Miami, Tampa, and Jacksonville.
On the Vineyard, PBA flew into the Martha's Vineyard Regional Airport, which had been built as a US Navy Auxiliary Airfield in 1942 and turned over to Dukes County for civilian use in 1946. Even in a late-1930s-vintage DC-3 (a mainstay of the PBA fleet from 1968 until 1988), a flight from Martha's Vineyard to Boston took less time than a ferry ride to Woods Hole. Like the Old Colony Railroad service from Boston to Woods Hole (discontinued in 1964), it offered a carefree (if not always smooth) ride, uninterrupted by traffic jams, detours, and road construction.
Its reputation damaged by two crashes in the fall of 1984, PBA filed for bankruptcy and merged with a succession of larger carriers, eventually disappearing into the Continental (now United) Airlines system. The last PBA-branded flights to the Vineyard took place in 1988, not long after this schedule was published.
DETAILS
---
| | |
| --- | --- |
| Title | Provincetown-Boston Airlines Timetable |
| Date | 1987 |
| Type | Object |
| Ref No | RU 633 |
| Thematic Collection | 100 Years, 100 Stories: Getting Here |
Object information is a work in progress and may be updated as new research findings emerge. To help improve this record, please email
collections@mvmuseum.org
. Information about image downloads and licensing is available here.