Current Exhibitions
---
But… Such Is War
September 15th, 2020 through January 10th, 2021
The Hollinshead Gallery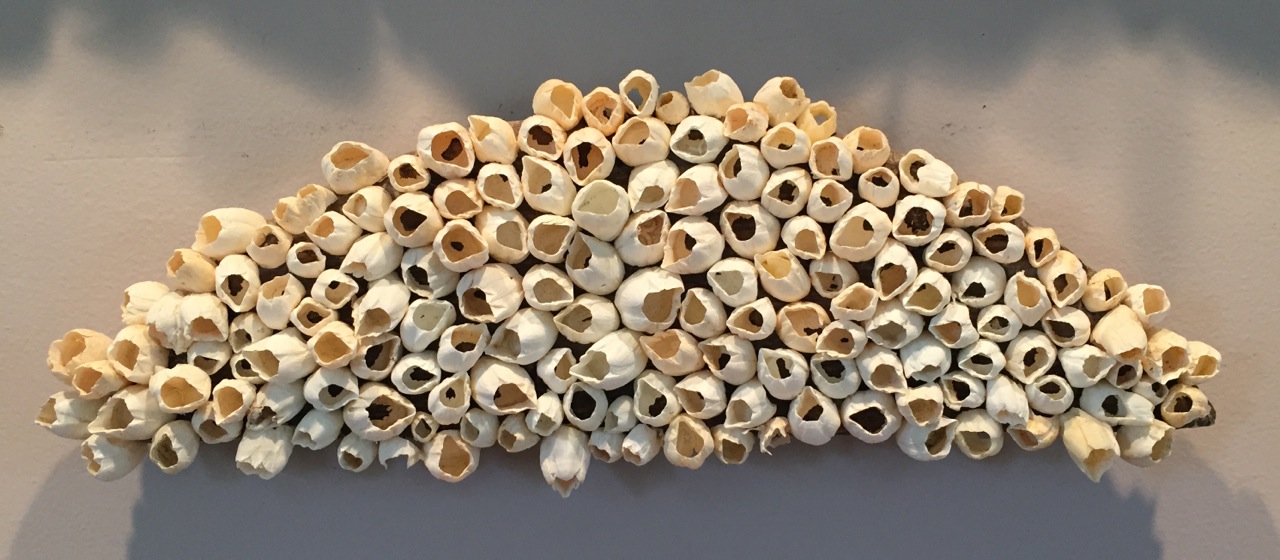 When he was 22 years old Steve Maxner was drafted into the Army and served as a medic in Vietnam from 1969-1970. After returning home, Steve was diagnosed with PTSD, and as part of his healing process, he takes daily walks on the beach with his dog, Ollie. There he collects shells, driftwood, claws, and other "gifts from the sea", which he then transforms into sculptures – each representing a different memory or experience of his time in Vietnam. This exhibit features dozens of these sculptures. Accompanied by stories and music written by Steve, they give a glimpse at the horrors of war as well as a journey towards peace… This exhibit is back by popular demand and with additional pieces Steve has created since the original exhibition.
To see the catalog that coincides with this exhibit, click here.
---
Recollection: A Personal Museum – An Installation by Lucy Mitchell
August 4th, 2020 through October 18th, 2020
The Adele H. Waggaman Community Gallery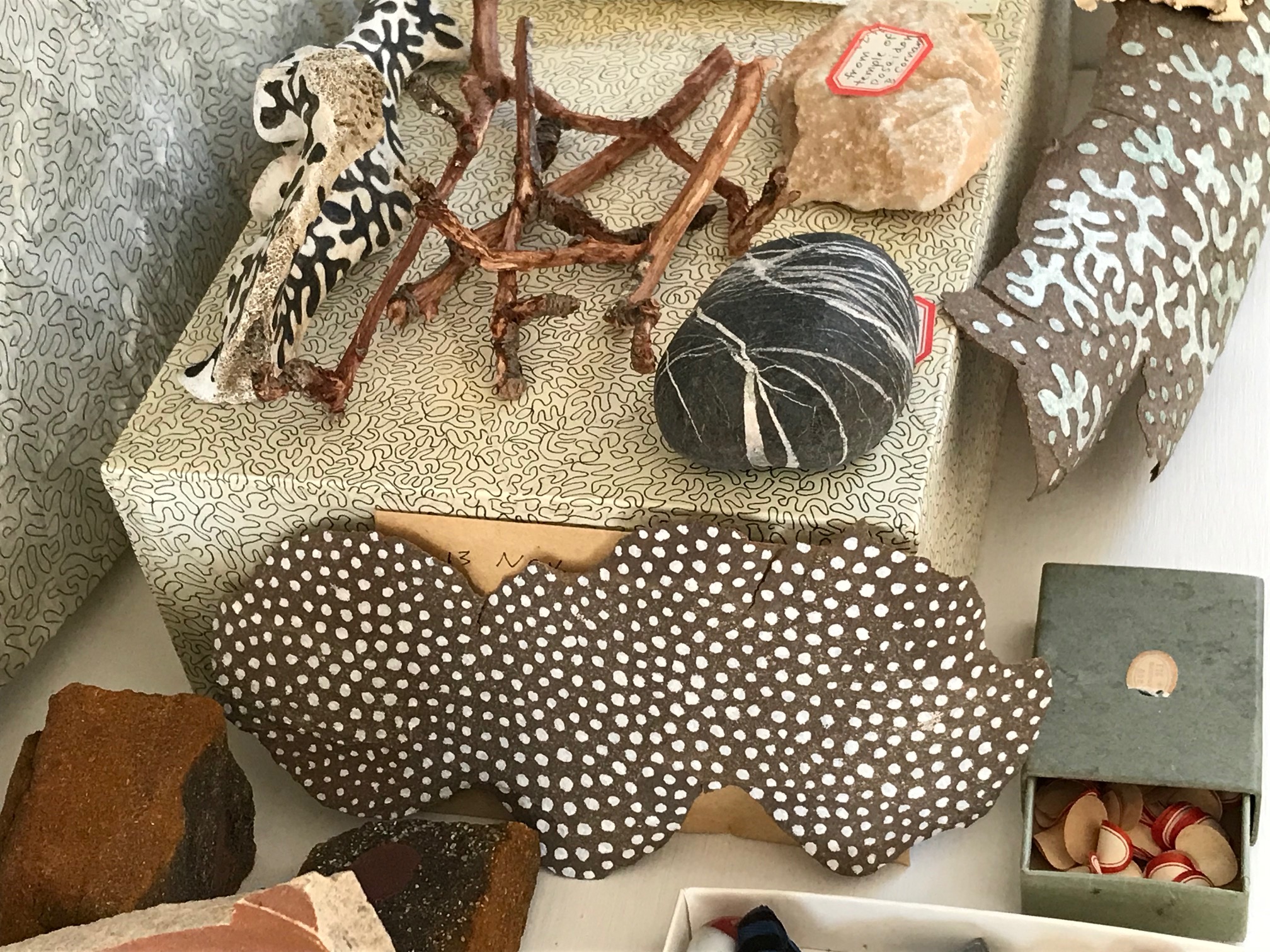 This is a collection of things I've found on trails and beaches around the Island, and of old family belongings and items I have made. Each natural object was chosen for its shape, markings, magical qualities, and because of an associated memory, or sometimes just as a random reminder of a particular place. The objects are my diary notes. Here the notes are gathered together, some left as found, others embellished with painted markings, and arranged with drawings and sculpture that were suggested by them. When classified, labeled, and displayed, this gathering of volumes without pages, leaves with words, stones as language, and other peculiar objects becomes a cabinet of curiosities, a small museum of personal artifacts.
---
Women's Works
March 10th, 2020 through November 8th, 2020
The Grain Family Gallery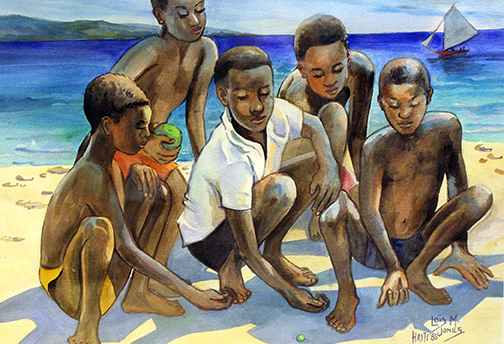 This exhibition delves into the transformation of women's visual arts from the domestic to the public sphere. Using works primarily from the Martha's Vineyard Museum's permanent collection, we will explore the fine textile work made by women for themselves and their families in the 1700s and 1800s, practical works made for sale in the 1800s and 1900s, and pieces created in the 1900s by women working as professional artists. Some of the names are familiar, such as Lois Mailou Jones, Laura Jernegan Spear, Rose Treat, and Edna Reindel, and some are known only from a hand-stitched signature or family memory.
---
Emma Chambers Maitland
February 11th, 2020 through November 8th, 2020
The Chris and Bob Cox Gallery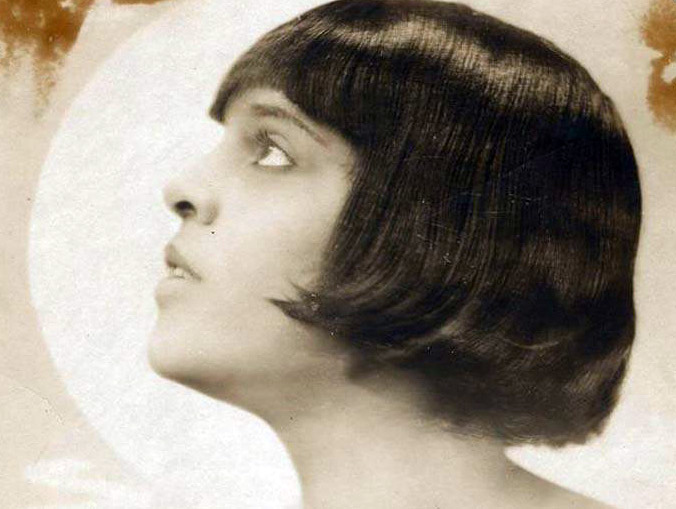 Emma Chambers Maitland embodied an experience both unique and somehow emblematic of the challenges and successes of many black women of her era – teacher, wife, mother, entertainer, sportswoman, nurse – her intelligence, ambition, and talents took her from Virginia to Washington, D. C., Paris, New York, and finally to Martha's Vineyard. This exhibit,  featuring photographs and memorabilia from her life will give a glimpse into her journey.