Discovery Days Summer Kids Programs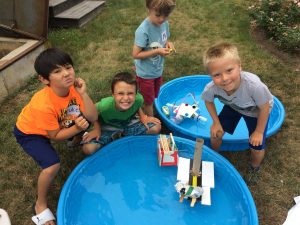 Creating art inspired by our exhibitions, collections, and Island history, Discovery Days is a unique summer kids program featuring local artists, rotated on a weekly basis, that bring Island history to life. These artists all have a specific focus that is tied to our exhibitions and collections. Children will have time to explore the Museum and Museum grounds in order to get exposure to our collections first hand for inspiration. Sessions are appropriate for kids ages 5-12.
Questions about the program? Call Discovery Days Coordinator Laura Noonan, 508-627-4441 x124.
Tuesdays, Wednesdays, and Thursdays beginning July 9th through August 22nd. Sessions last from 10am-1pm and are held at the Museum: 151 Lagoon Pond Road, Vineyard Haven.
Reservations required for all sessions. Space is limited.
Members $30 per session. Non-members $35 per session.
Register here:
July 9-11 Upcycled Fabric – Ann Marie D'Addarie
Take another look at the clothing around you! Join weaver extraordinaire Ann Marie
D'Addarie in an interactive and exciting exercise in upcycling. Before you toss your old
t-shirts to the curb discover how you can weave them into something new! Take a step
back in time as we take a look at pieces from the past in the Museum's collection and
learn more about ancient fabric dying practices. Bring your sense of adventure as we
learn about natural dyes and the future of fabric made from recycled plastics. Anne
Marie D'Addarie is an experienced weaver and expert upcycler who uses unusual
looms, such as hula-hoops, peg looms, and even her own hands to create beautiful
rugs, quilts, and much more! She has previously shared her weaving knowledge with
kids of all ages at the annual Mini Makers Faire.
July 16-18 Life at Sea – Nicole Shank
Time to get your sea legs on and take a peek into life at sea on a whale ship! Immerse
yourself in what life was like for sailors and fisherman as you write journals, draw boats,
and make telescopes! You will even get to make your own scrimshaw engravings! Join
Edgartown School Art Teacher Nicole Shank for a fun-filled week of art and hands-on
history.
July 23-25 Pirate Week – Laura Noonan
Explore the world of pirates and privateers who sailed the Vineyard waterways in search
of not gold, but treasures in the Museum. Come dressed in your pirate attire and use a
spyglass to identify the birds and ships of Martha's Vineyard. Chart a course for the
depths of what lies just beneath the surface as we uncover some of the Vineyard's
hidden history! Join the Museum's Oral History Assistant Laura Noonan for a fun take
on the Island's history with pirates.
July 30-August 1 Beading – Nate Luce
Turn beading on its side as you glue and shape tiny objects into a mosaic of color and
form. Ordinary Martha's Vineyard scenes and images will take on new meaning as we
explore the vivid world of what's around us. Turn found objects into something that will
surprise and amaze your friends and family! This week will be led by Big Brothers Big
Sisters Program Coordinator Nate Luce. Nate Luce is a painter, sculptor, and musician
who has much artistic knowledge to spread!
August 6-8 Storytelling with Photography – Sheny Leon
The Martha's Vineyard Museum is FULL of stories! Come help us tell some of them
while you learn all about photography with expert island photographer, Sheny Leon. You
will also be able to create your own story to tell by taking instant pictures to share.
Cameras provided. Sheny Lenon is an eclectic island photographer whose unique style
will inspire you to think outside of the box.
August 13-15 Art of Word – Laura Noonan
Come to the Museum and explore the BIGGEST week on Martha's Vineyard. Hear and
illustrate archived stories of Illumination Night and the Agricultural Fair. Craft your story
from questions you'll ask your friends and family and then imagine those stories from
the perspective of the animals and insects who share our Island home! This week will
be led by the Museum's Oral History Assistant Laura Noonan, who will share her wealth
of knowledge about the island and help you understand more about the history behind
this exciting week of Island traditions.