The Research Library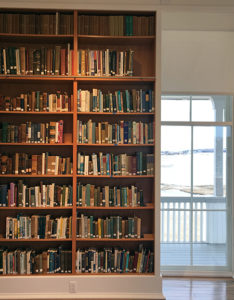 The Martha's Vineyard Museum Library functions as both a research library and archive for the Museum. The library collects rare books, pamphlets, manuscripts, and photographs that relate to Martha's Vineyard.
The research library holds approximately 5,000 books. It also possesses the largest collection of genealogical resources and records on the Island. The archive holds 550 linear feet of manuscripts, whaling logbooks, rare postcards, census records, Island newspapers, town and state records, and maritime business records and account books. The archive contains several special collections such as Revolutionary War documents, Native American collections, and approximately 500 maps and 400 nautical charts. The archive also houses the recordings and transcripts of the MVM's oral history collection. Finally, the Library's photo archive contains approximately 50,000 images, 600 stereographs, and 400 daguerreotypes.
Library Hours
Once the Museum opens, the library will be open Tuesday-Friday from 10am to 4pm. It is always helpful if you call/e-mail ahead, so our Research Librarian can have materials pulled for you. If you have a question or inquiry for our Research Librarian, please e-mail Bow Van Riper or call 508-627-4441 x115.
CIRCULATING COLLECTION – FOR MEMBERS ONLY
One of the questions most frequently asked in the MVM Library is: "Can we check books out?" The answer is now YES! The library has a "Circulating Collection" of books, marked with blue "CC" labels on their spines and stored on a wheeled cart. Any MVM member can check out up to two books at a time from this collection, and keep them for up to two weeks. The first time you check out a book, you'll be asked to show your membership card. After that, just give your name to the Librarian or Library Assistant, and show them the books you'd like to take home.
The Circulating Collection currently consists of more than 125 Vineyard-related titles, ranging from classics like Henry Beetle Hough's Martha's Vineyard: Summer Resort and Nora Groce's Everyone Here Spoke Sign Language to forgotten gems like Louise Aldrich Bugbee's There Is an Island That Owns Me. They cover the entire span of Vineyard history, from Thomas Mayhew to Jaws, and include Vineyard-themed novels and poetry as well as books on history, biography, and nature. Further acquisitions are planned, and donations are welcome.
You can browse the Circulating Collection here.
The books in the Circulating Collection are duplicate copies that were deaccessioned by the Museum as part of the move to Vineyard Haven. The volumes in the Library, Curatorial Reference, and Rare Book collections remain non-circulating, but are available for in-room use whenever the library is open.