Black Dog Catalog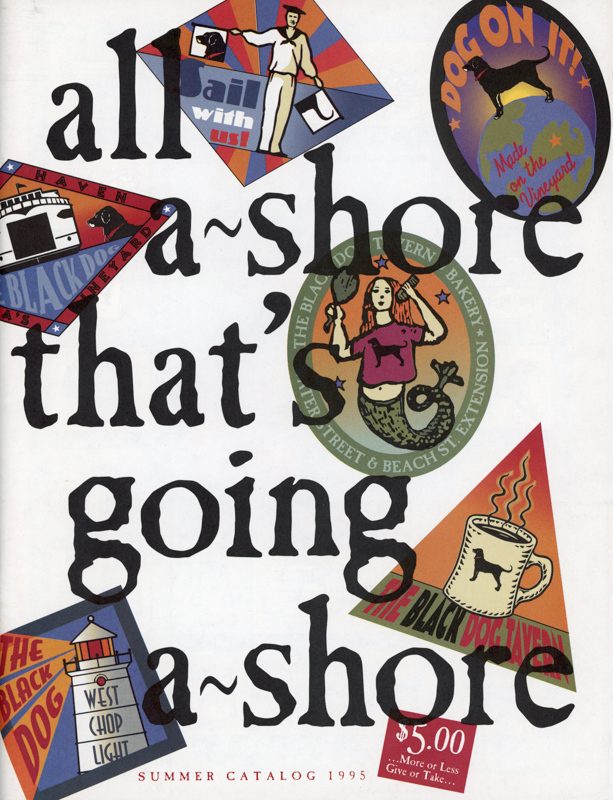 Black Dog Catalog
Founded by Bob Douglas — an ex-fighter pilot turned windjammer captain — the Black Dog Tavern embodied the eclectic spirit of Martha's Vineyard in the 1970s. It became a place where day tourists and summer people mingled with year-rounders, and waterfront workers nodded greetings to doctors and bank presidents. Cooks and servers — mostly young, all casually dressed — dispensed dishes with whimsical names that put a modern culinary spin on traditional New England cuisine.
The Black Dog logo, modeled after Capt. Douglas's own black Labrador, appeared first on colored t-shirts that passed for a staff "uniform." As employees passed on spare shirts to their friends, they became a sought-after souvenir of a summer on the Island. Recognizing an opportunity, the Black Dog began producing branded t-shirts to sell directly to the public. The company's line of branded goods expanded steadily from there: sweatshirts, hats, tote bags, dog bowls, coffee mugs, and cookbooks reprinting recipes for the restaurant's now-iconic dishes.
The Black Dog shirts were originally produced by a local screen-printing artist, and the earliest Black Dog mail order catalogs (like the 1995 edition shown here) were created by the Island-based design firm of Kolodny & Rentschler. The Black Dog brand has now grown well beyond its Island roots (some visitors are now startled to learn that the restaurant not only exists, but pre-dates the clothing empire), and other companies have tried — with varying success — to establish their own Vineyard-themed brands. The Black Dog remains in a class by itself, however, because of its unique ties to Island history.
DETAILS
---
| | |
| --- | --- |
| Artist | Manufactured by The Black Dog Tavern Company |
| Title | Black Dog Catalog |
| Date | 1995 |
| Type | Advertisement |
| Credit | Gift of Carol Kolodny |
| Ref No | 2013.029 |
| Thematic Collection | 100 Years, 100 Stories: Turning a Profit |
Object information is a work in progress and may be updated as new research findings emerge. To help improve this record, please email
collections@mvmuseum.org
. Information about image downloads and licensing is available here.