Bricks on Pier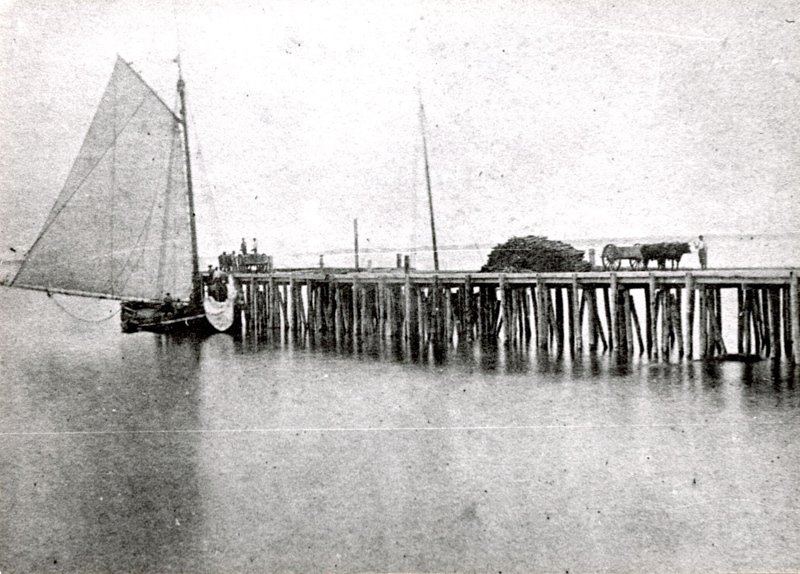 Bricks on Pier
Like the Paint Mill, a little further north along the Chilmark shore, the brickyard at Roaring Brook was a factory, built to turn local raw materials into salable finished goods. Its location offered four critical advantages in one place: thick seams of clay for raw material, abundant wood to fuel the furnaces, a fast-flowing stream to power the machinery, and inshore waters deep enough for schooners to dock and carry the bricks to market.
The early history of the brickyard is hazy, but it was well-established by the 1850s. In its mid-century heyday, it produced 80-100,000 bricks a year. Some may have been used in on-Island projects such as the Dukes County Courthouse and Edgartown National Bank, or in the hearths and chimneys of local houses. Inferior bricks, given away (or sold cheap) to local residents, built three brick barns on nearby Chilmark farms. The majority of the brickyard's output was expired to the mainland, however, used to build mills in New Bedford and Fall River and, it's said, upscale apartment buildings in Providence and Boston.
The brickyard, like other manufacturing enterprises on the Island, faltered and failed by the early 1880s, unable to compete with larger, mainland firms. It also suffered from resource depletion: the land around it had been stripped of trees, leaving nothing to fire the kilns on which it depended. Today, only ruins remain: rusting iron machinery, a dry mill race, and a towering chimney amid the stumps of brick walls.
DETAILS
---
| | |
| --- | --- |
| Title | Bricks on Pier |
| Date | 1870s |
| Type | Photograph |
| Credit | Gift of Basil Welch |
| Ref No | RU 465 |
| Thematic Collection | 100 Years, 100 Stories: Turning a Profit |
Object information is a work in progress and may be updated as new research findings emerge. To help improve this record, please email
collections@mvmuseum.org
. Information about image downloads and licensing is available here.