Vanderhoops at Aquinnah Circle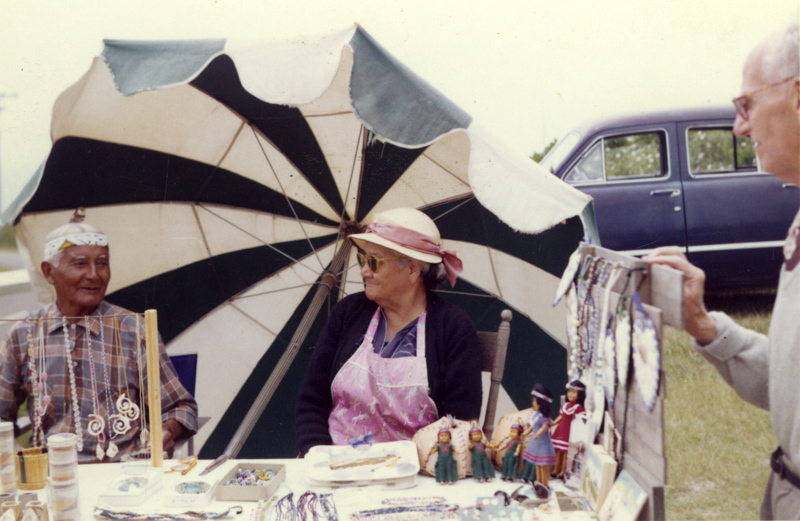 Vanderhoops at Aquinnah Circle
The Wampanoag inhabitants of Noepe participated, for thousands of years, in trade networks that stretched across southern New England. Cross-cultural trade expanded to include the English in 1602, and expanded further after exploration gave way to colonization in 1642. The Wampanoag entered into the expanding English-dominated economy as both producers and consumers.
The rise of the summer tourist economy, and the construction of a steamer landing at Gay Head in 1883, provided the Wampanoag with a new business opportunity. Steamboat companies advertised day excursions to Gay Head as an opportunity to encounter something new: a lighthouse, clay cliffs, and a genuine "Indian village." The Wampanoag responded by selling the outsiders refreshments, ox-cart rides, and traditional crafts: dolls, beaded jewelry, and pottery made from the clay of the cliffs. Like the tourist shops in Oak Bluffs and Edgartown, the stands at Gay Head were a seasonal venture that supplemented the owners' off-season income from other ventures.
Steamer excursions to Gay Head ended around World War I, but car and bus tourism increased after State Road was paved in the 1920s, and the Wampanoag continued to cater to visitors who came in search of "the exotic." Today, the six seasonal shops that flank the path leading to the cliff-top overlook are leased to Wampanoag tribal members by the tribe or the Town of Aquinnah.
DETAILS
---
| | |
| --- | --- |
| Title | Vanderhoops at Aquinnah Circle |
| Date | 1950s |
| Type | Photograph |
| Credit | Gift of Brian Keats |
| Ref No | 2021.041.012c |
| Thematic Collection | 100 Years, 100 Stories: Turning a Profit |
Object information is a work in progress and may be updated as new research findings emerge. To help improve this record, please email
collections@mvmuseum.org
. Information about image downloads and licensing is available here.