Erford Burt Bass Boat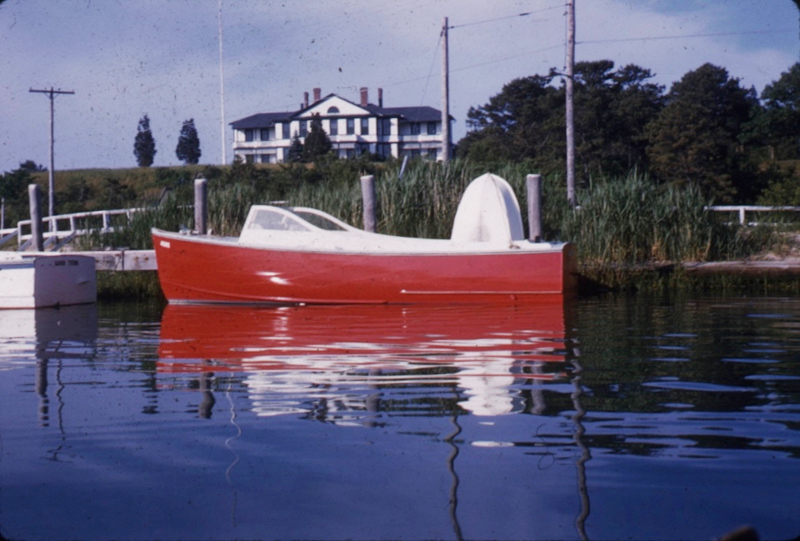 Erford Burt Bass Boat
A self-taught practitioner of a deeply traditional craft, Vineyard boatbuilder Erford O. Burt became a relentless innovator. Born in West Tisbury in 1902, he worked for Manuel Swartz Roberts of Edgartown — a highly skilled but deeply conservative specialist in traditional New England catboats — as a young man. Striking out on his own after a few years, Burt went to work for William Colby of Vineyard Haven, becoming foreman for the Martha's Vineyard Shipbuilding Company (today's Martha's Vineyard Shipyard) on Beach Road.
Burt, with Colby's backing, produced two path-breaking designs "on spec." One was the Vineyard Haven Fifteen, an elegant 21-foot racing sloop that helped to introduce the modern "Marconi rig" to Vineyard waters. The other was the "bass boat," a sharp-nosed, high-sided sportfishing craft designed around an inboard gasoline engine. Both were distinctively Vineyard designs, designed to handle the choppy waters and unpredictable winds around the Island.
Both types proved popular with local buyers, making money for Colby and establishing Burt as a master designer. After World War II, Burt established his own boatyard on the western arm of Lagoon Pond, in the shadow of the US Marine Hospital (now the Martha's Vineyard Museum). There he continued to build his perennially popular bass boats, like the red one in the picture, while experimenting with new materials like fiberglass and new types of vessels, such as kayaks. Erford Burt died in 1993, but his boats remain in use across the Island.
DETAILS
---
| | |
| --- | --- |
| Title | Erford Burt Bass Boat |
| Date | 1950s |
| Type | Photograph |
| Credit | Gift of Estate of Henry Burt |
| Ref No | 2013.031 |
| Thematic Collection | 100 Years, 100 Stories: Turning a Profit |
Object information is a work in progress and may be updated as new research findings emerge. To help improve this record, please email
collections@mvmuseum.org
. Information about image downloads and licensing is available here.