Harpoon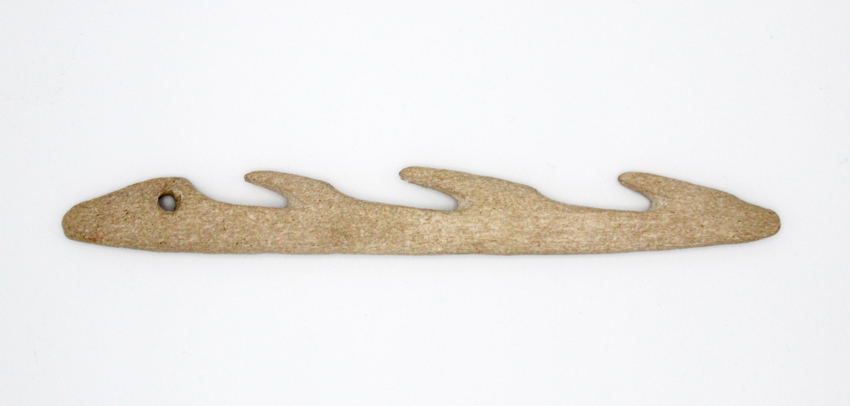 Harpoon
Seafood has been an important part of the Island diet for thousands of years. The ancestors of the Wampanoag people who live here now fished using weirs (underwater fences placed to direct fish into traps) and harpoons such as this one, which was found along the shore in Aquinnah. It would have had a line tied to it and been secured at the end of a spear. The barbed end lodged in the fish's flesh and the hunter used the line to pull the catch in. The earliest inhabitants of the Island also harvested shellfish such as quahogs, scallops, and oysters.
It is not surprising that native peoples ate so much fish and shellfish. The abundance of fish that literally surrounded Islanders of the past must have seemed limitless, and it definitely seemed so in 1602, when English "gentleman-adventurer" Bartholomew Gosnold visited the area. He famously gave Cape Cod the name we use today after sailing through the area, noting "we took [a] great store of codfish."
Today on Martha's Vineyard, the Natural Resources Department of the Wampanoag Tribe of Gay Head (Aquinnah) is charged with monitoring and protecting fish with the goal of preserving the species that their ancestors fished for thousands of years.
DETAILS
---
| | |
| --- | --- |
| Title | Harpoon |
| Date | c. 3000 BC - AD 1400 |
| Type | Object |
| Credit | Gift of Hans Stibolt |
| Ref No | 2003.012.001 |
| Thematic Collection | 100 Years, 100 Stories: Harvesting the Sea |
Object information is a work in progress and may be updated as new research findings emerge. To help improve this record, please email
collections@mvmuseum.org
. Information about image downloads and licensing is available here.