Menemsha Swordfishing Fleet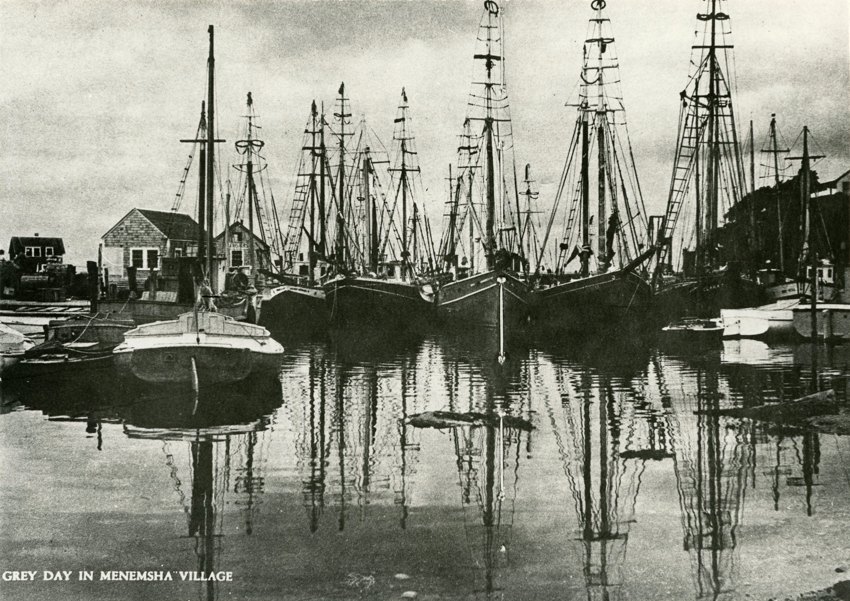 Menemsha Swordfishing Fleet
In the heyday of Vineyard swordfishing during the first half of the 20th century, there were about 12 boats hunting swordfish out of Menemsha and eight out of Edgartown. Equipped by a tall mast for lookouts and long narrow platform for the harpooner (called a "pulpit") that jutted out from the bow, "Sword boats" supplied a market in which swordfish was seen as a delicacy. The abundance of swordfish in Vineyard waters made these fish profitable for the fisherman. Beginning after World War II fishermen were aided by spotters in small aircraft who could locate and identify swordfish from above and indicate their location to harpooners in the boat below.
The glory days of Island swordfishing began to wane in the 1970s, due to health concerns about the buildup of toxic mercury in swordfish flesh. The replacement of harpooning by long-lining in the 1980s made it difficult for the Menemsha fleet to compete with corporate-owned boats from mainland ports like New Bedford. Longlines were also indiscriminate of which fish they snared–females carrying roe, immature swordfish. Within a short period of time they combined with unregulated competition from foreign vessels to decimate the swordfish population. In 1991 an emergency action by the United States Secretary of Commerce that strictly limited the number of swordfish that could be taken was necessary to protect the species.
DETAILS
---
| | |
| --- | --- |
| Title | Menemsha Swordfishing Fleet |
| Type | Photograph |
| Credit | Gift of Basil Welch |
| Ref No | RU 465 A7 39 |
| Thematic Collection | 100 Years, 100 Stories: Harvesting the Sea |
Object information is a work in progress and may be updated as new research findings emerge. To help improve this record, please email
collections@mvmuseum.org
. Information about image downloads and licensing is available here.