King's Paint Mill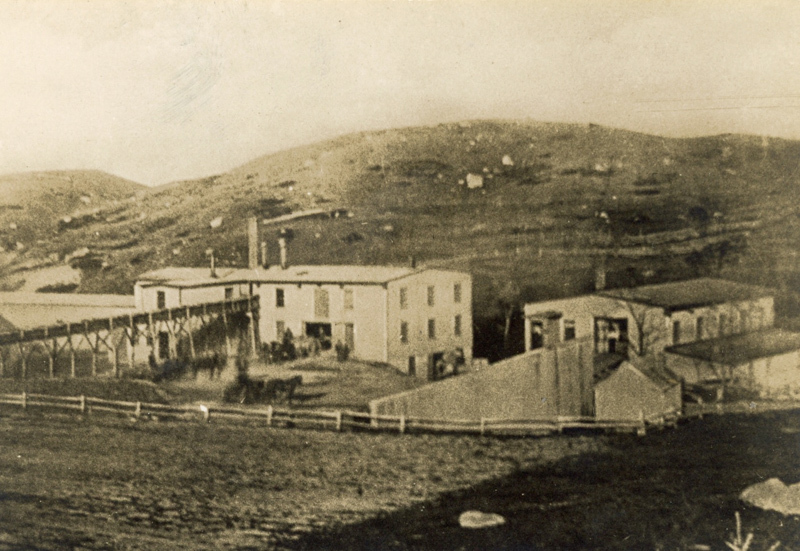 King's Paint Mill
The glaciers that formed Martha's Vineyard left behind thick deposits of clay that lined the north shore of the Island from Gay Head to Makonikey. Over the course of the nineteenth century, multiple companies were formed, on- and off-Island, to exploit those deposits. Some hired local laborers to dig local clay in bulk, then exported it to factories built on the mainland to be made into bricks. Others attempted to carry out both mining and manufacturing on the Island.
King's Paint Mill, located just north of Roaring Brook on the Chilmark shore, took the second approach. Local workers dug clay from the deposits in the hill behind the factory and carried it to covered sheds where it was spread on wooden tables to air dry. Once dry, the clay was separated by color — red, yellow, blue, black, white, and ochre — and ground into a fine powder by mills powered first by water wheels and then by steam. The powder was packed into barrels and loaded onto schooners that docked at the mill's deep-water wharf in Vineyard Sound. Mainland hardware stores bought it and resold it to customers who mixed it with a base, such as linseed oil, to make paint.
The Paint Mill, along with the Satinet Mill in West Tisbury and the brickyard at Roaring Brook in Chilmark, was one of the Island's premier manufacturing businesses. Like them, it enjoyed success in the mid-nineteenth century, but was out of business by the early 1880s.
DETAILS
---
| | |
| --- | --- |
| Title | King's Paint Mill |
| Date | 1875-1885 |
| Type | Photograph |
| Credit | Gift of Kim Cottrill |
| Ref No | 2014.011.002 |
| Thematic Collection | 100 Years, 100 Stories: Turning a Profit |
Object information is a work in progress and may be updated as new research findings emerge. To help improve this record, please email
collections@mvmuseum.org
. Information about image downloads and licensing is available here.