Martha's Vineyard Railroad Train on the Beach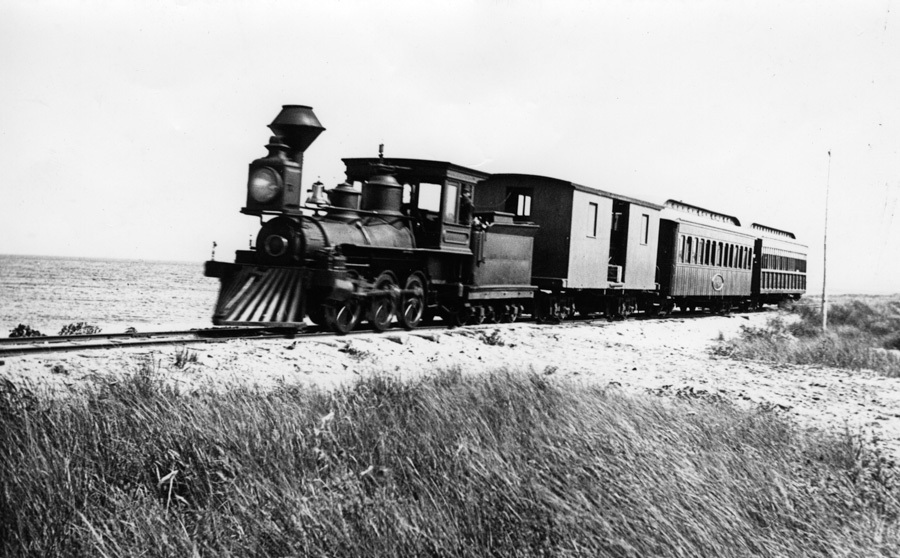 Martha's Vineyard Railroad Train on the Beach
The Martha's Vineyard Railroad operated from 1872 to 1896, carrying passengers and their baggage from the steamer wharf in Oak Bluffs to a depot on the outskirts of Edgartown and then to the Mattakesett Lodge hotel at Katama. The railroad's backers elected to lay the track from Oak Bluffs to Edgartown atop the barrier beach between Sengekontacket Pond and Nantucket Sound.
The beachfront route was shorter than the inland route along the back of Sengekontacket would have been, and so reduced the railroad's initial construction costs. It also gave passengers a taste of salt air and expansive views of the pond and ocean, both of which contributed to the railroad's popularity. These benefits, however, came at a price. Barrier beaches are naturally unstable, shifting as sand eroded on the ocean side is deposited on the bay side. Waves from winter storms routinely washed over the tracks, uprooting them or burying them in sand.
The need to repair the tracks every spring before summer operations began placed a significant financial burden on the railroad, which only operated for 10 weeks each year. Unable to turn a consistent profit, the company went bankrupt in 1896. The locomotive was sold and shipped off-Island, the depot demolished, and the rails torn up and sold for scrap.
DETAILS
---
| | |
| --- | --- |
| Title | Martha's Vineyard Railroad Train on the Beach |
| Date | c. 1890 |
| Type | Photograph |
| Credit | Gift of Basil Welch |
| Ref No | RU 465 A18 14b |
| Thematic Collection | 100 Years, 100 Stories: Building on Sand |
Object information is a work in progress and may be updated as new research findings emerge. To help improve this record, please email
collections@mvmuseum.org
. Information about image downloads and licensing is available here.