Nomansland Codfish Box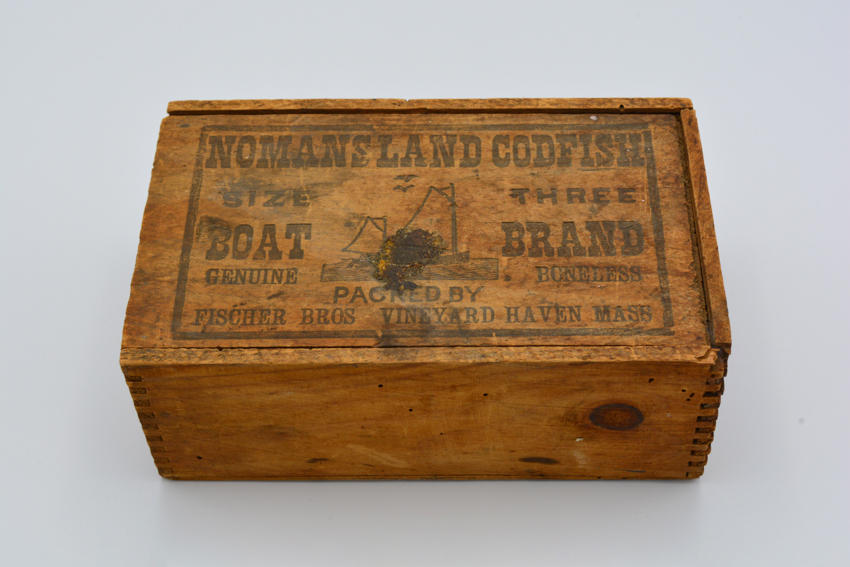 Nomansland Codfish Box
Nomans Land is a small island three miles off the southwestern coast of the Vineyard. From from 1943 to 1996 the island was used by US Navy aviators for bombing and gunnery practice, and in 1998 it became a restricted-access wildlife preserve controlled by the federal government's Fish and Wildlife Service. It is now a restricted federal wildlife refuge, but during the 19th century, Nomans Land was home to a small number of sheep farmers and a seasonal colony of commercial fishermen who arrived from Chilmark in the spring and departed in early fall. This wooden box hints at that story.
In the center of the box lid is the Nomans Land Boat (which is also featured on the Chilmark town seal). High-sided and double-ended , the vessel was designed for, and widely used in, places where there were no natural harbors. At the end of a day of fishing, they could be pulled onto the beach for the night by a team of oxen, then launched into the surf the next morning without turning around.
Sailing from Nomans Land brought fishermen closer to the cod that filled the waters south of the island. They salted and dried their catch on Stony Point, east of the landing, and sold it to Fischer Brothers of Vineyard Haven, who packaged it in wooden boxes like this one and sold it locally as well as shipping it to New Bedford and Providence.
DETAILS
---
| | |
| --- | --- |
| Title | Nomansland Codfish Box |
| Type | Object |
| Credit | Gift of George W. Maurey |
| Ref No | 1999.047 |
| Thematic Collection | 100 Years, 100 Stories: Harvesting the Sea |
Object information is a work in progress and may be updated as new research findings emerge. To help improve this record, please email
collections@mvmuseum.org
. Information about image downloads and licensing is available here.