Islander and Island Home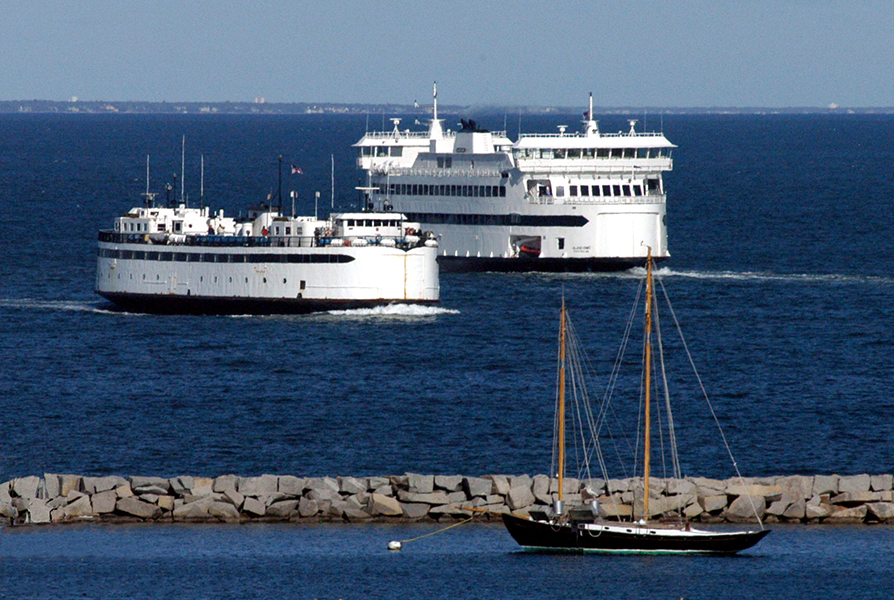 Islander and Island Home
The Steamship Authority began planning a replacement for the beloved but aging Islander in 1997. The original design, modeled on the proven Nantucket (1974) and Martha's Vineyard (1992), was shelved after Vineyard residents insisted on a "true double-ender" that (like Islander) would never have to back into or out of its slip.
The Island Home, which entered service in 2007, was an Islander adapted to the demands of the modern world. It shared the slab-sided, blunt-bowed look of the Islander and, like its predecessor, had a pilothouse at each end of the upper deck. It was 25% longer and a deck taller, however, with 50% more capacity for passengers and automobiles. The three central lanes of its five-lane freight deck could accommodate tractor-trailer trucks or–in the case of the outer central lanes–a second layer of cars parked on hydraulically operated "lift decks" lowered from the ceiling. It was also several knots faster, its shorter crossings compensating for longer turn-around times in port.
The Island Home entered SSA service in March 2007 and, on one of the last runs of her 57-year career, passed her successor outside the Vineyard Haven Harbor breakwater. Photographer Denys Wortman captured the moment from the rooftop observation deck of the Mansion House hotel.
DETAILS
---
| | |
| --- | --- |
| Artist | Denys Wortman |
| Title | Islander and Island Home -- Historic Passing |
| Date | 2007 |
| Type | Photograph |
| Credit | Gift of the Artist |
| Ref No | 2018.026.001 |
| Thematic Collection | 100 Years, 100 Stories: Getting Here |
Object information is a work in progress and may be updated as new research findings emerge. To help improve this record, please email
collections@mvmuseum.org
. Information about image downloads and licensing is available here.