Dairy Cooperative Bottle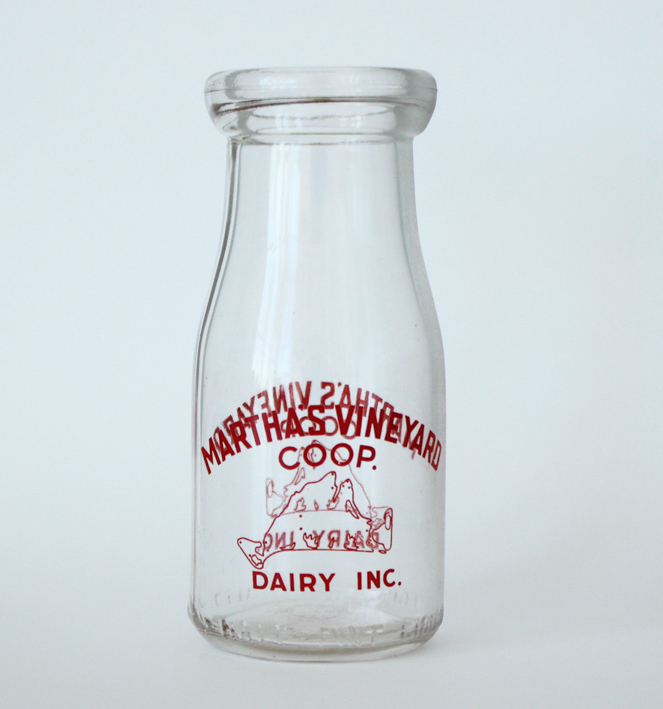 Dairy Cooperative Bottle
The rise of the tourist economy created new demand for locally produced dairy products and vegetables, giving small Island farms a new road to success even as the market for woolen goods shrank. Island dairy farms were mostly small: the largest had herds of 20-25 cows, and many had far fewer. Each farmer bottled and distributed their own raw milk to their own list of customers.
Shortly after World War II, 20 Island farmers banded together to form the Martha's Vineyard Cooperative Dairy. It collected raw milk from members' farms, pasteurized and bottled it at a centralized plant near Trapp's Pond in Edgartown, and delivered it to homes across the Island. Profits were shared among the member farmers, in proportion to the milk they contributed.
At its peak in the early 1950s, the Cooperative Dairy took in milk from more than 30 farms, and sold over 750,000 quarts a year on the Vineyard and Nantucket. Its success, however, was short-lived. The rise of supermarkets supplied by large commercial farms caused demand for home milk delivery to shrink, and rising land prices encouraged dairy farmers to sell their acreage to developers. When Elisha Smith sold his farm — one of only nine remaining in the cooperative, and responsible for two-thirds of its milk supply — in 1963, it marked the end of the venture, and of dairying as a significant part of Island agriculture.
DETAILS
---
| | |
| --- | --- |
| Title | Dairy Cooperative Bottle |
| Date | c. 1950 |
| Type | Object |
| Ref No | 2015.035.035 |
| Thematic Collection | 100 Years, 100 Stories: Turning a Profit |
Object information is a work in progress and may be updated as new research findings emerge. To help improve this record, please email
collections@mvmuseum.org
. Information about image downloads and licensing is available here.