The Harbor of Holmes Hole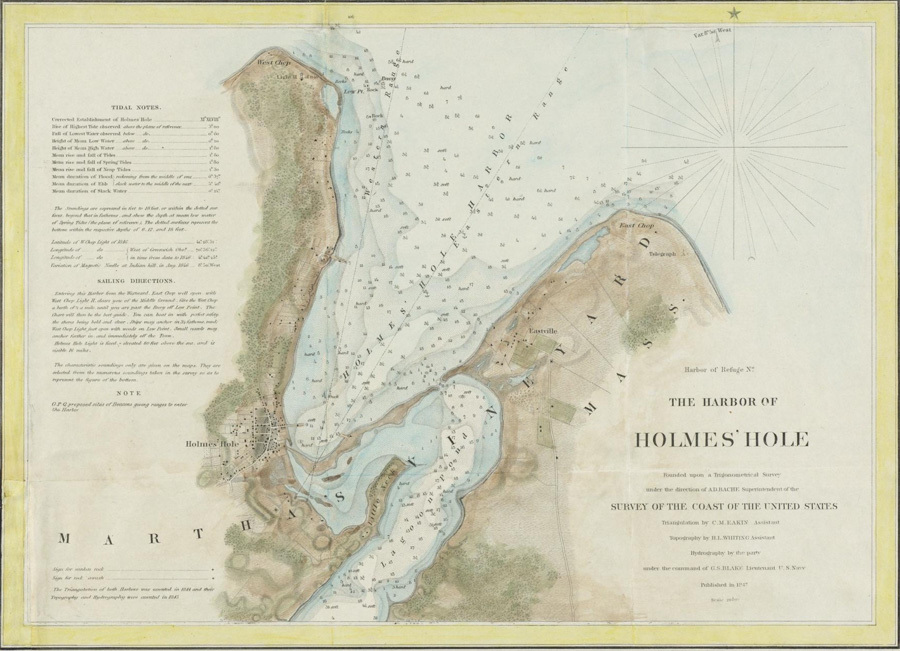 The Harbor of Holmes Hole
The hurricane that struck Martha's Vineyard in 1815 cut a channel through the barrier beach that divided Lagoon Pond from Holmes Hole (now Vineyard Haven) Harbor. The existence of a second channel changed the currents that flowed between the two bodies of water. Over the next 20 years, the new channel grew wider and deeper, and Bass Creek — the old channel — grew shallower, and so less useful.
In 1835, the citizens of Holmes Hole blocked Bass Creek by loading a worn-out schooner with rocks and sinking it at the foot of Beach Street, where the Five Corners intersection is today. The section of Bass Creek north of the sunken schooner was filled with sand and gravel, and Water Street was built on top of it. Union Wharf, where the Steamship Authority ferries dock today, was built a few years later at the corner of Water and Union Streets. The closing of Bass Creek made it possible to extend Beach Street along the barrier beach toward the 1815 channel, making it possible to establish shipyards and other businesses there.
This chart, drawn by Henry L. Whiting for the US Coast Survey in 1847, shows the new entrance channel to the Lagoon and the closure of Bass Creek. It also shows Union Wharf, and the newly built Bradley and Yale Marine Railway (a forerunner of the Martha's Vineyard Shipyard) on Beach Road.
DETAILS
---
| | |
| --- | --- |
| Artist | Henry L. Whiting for the US Coast Survey |
| Title | The Harbor of Holmes Hole |
| Date | 1847 |
| Type | Document |
| Ref No | 2018.004.009 |
| Thematic Collection | 100 Years, 100 Stories: Building on Sand |
Object information is a work in progress and may be updated as new research findings emerge. To help improve this record, please email
collections@mvmuseum.org
. Information about image downloads and licensing is available here.