Bunker on South Beach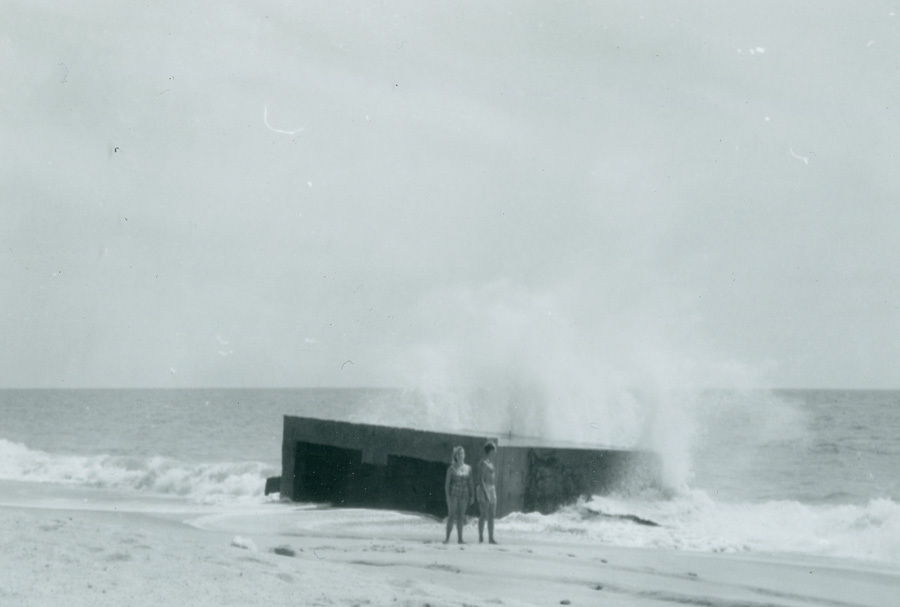 Bunker on South Beach
The southern edge of Martha's Vineyard, from Chilmark Pond to Wasque Point, is a nearly unbroken strip of barrier beach dividing the southern edges of the Great Ponds from the Atlantic. South Beach, though it appears stable and unchanging to casual observers, is in constant motion: steadily migrating northward due to erosion and winter-storm waves washing over it.
The concrete structure shown here was built by the US Navy at Katama — the Edgartown end of South Beach — during World War II. Part of an installation used to train naval aviators in aerial gunnery, it originally stood in the dunes behind the beach, facing inland. By the late 1960s or early 1970s, when this picture was taken, it stood at the water's edge, with the waves breaking against its back wall. Small children played inside it at low tide, and teenagers jumped off its roof into the oncoming surf at high tide. The concrete structure was still where it had always been, but the beach had moved beneath it.
By the 1990s, the beach had migrated even further inland. The Bunker stood where it had for fifty years, but it was now underwater, well offshore. The beach continues to move north, its dunes covering the southern edges of the ponds behind it.
DETAILS
---
| | |
| --- | --- |
| Title | Bunker on South Beach |
| Type | Photograph |
| Credit | Gift of Grace Hotchkiss Scarano |
| Ref No | 2019.004.042.019 |
| Thematic Collection | 100 Years, 100 Stories: Building on Sand |
Object information is a work in progress and may be updated as new research findings emerge. To help improve this record, please email
collections@mvmuseum.org
. Information about image downloads and licensing is available here.