Model of the SS Drottingholm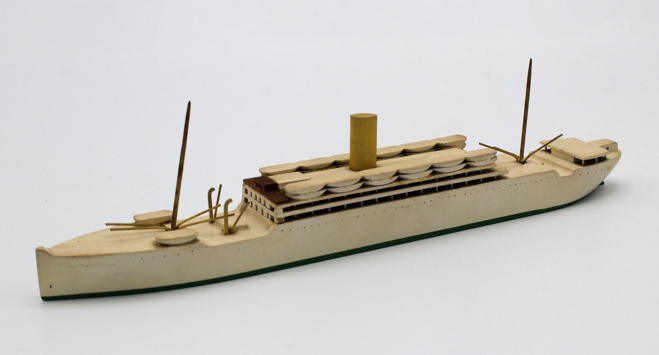 Model of the SS Drottingholm
Martha's Vineyard has a history of nurturing small businesses built around innovative ideas. The Van Ryper ship model shop, which opened on Beach Road in Vineyard Haven in 1933, was one of them. Charles King Van Riper, a summer visitor turned year-round resident was not himself a craftsman, but he conceived the idea for the business and hired a team of local woodworkers, painters, draftsmen, and decorators to bring it to life.
Van Riper's business model rested on two core ideas. One was that scale models of sleek, modern liners — like the SS Drottningholm, built for the Allan Line in 1904 — could be made in batches of (say) two dozen at a time, using a scaled-down version of industrial mass production. The other was that models of such ships did not have to replicate every feature of the vessel in precise detail in order to look attractive; they only had to suggest the appearance of the real thing. The result was an attractive model (cut off at the waterline, and ready to display on a mantlepiece or curio shelf) that could be sold at prices within the reach of middle-class buyers.
Founded at a time when virtually all overseas travel was by ship, Van Ryper Ship Models advertised "models of ships on which you've sailed." It closed in 1962, a victim of the jet age and its founder's declining health, but over nearly 30 years in business it produced more than 15,000 models and earned a worldwide reputation.
DETAILS
---
| | |
| --- | --- |
| Artist | Manufactured by Van Ryper Ship Models |
| Title | Model of the SS Drottingholm |
| Date | 1945-1960 |
| Type | Object |
| Credit | Gift of A. Loring Rowe |
| Ref No | 1999.055.002 |
| Thematic Collection | 100 Years, 100 Stories: Turning a Profit |
Object information is a work in progress and may be updated as new research findings emerge. To help improve this record, please email
collections@mvmuseum.org
. Information about image downloads and licensing is available here.