"Dorothy and Everett" Weathervane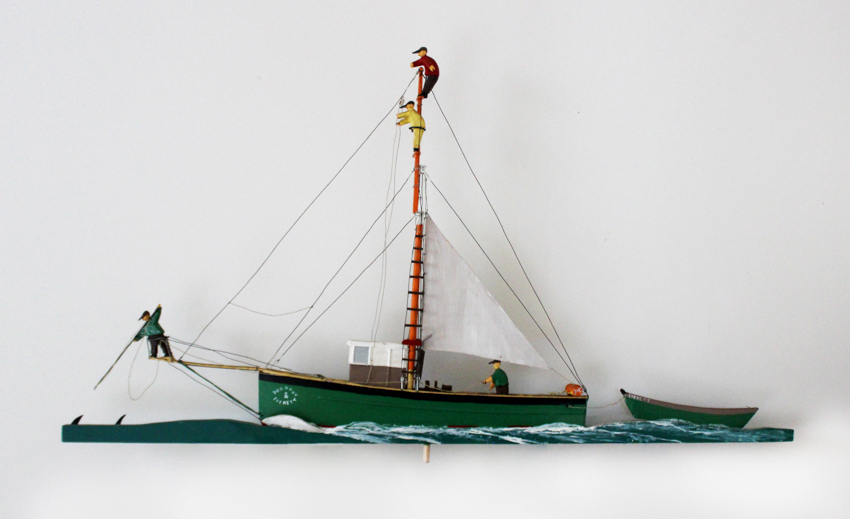 "Dorothy and Everett" Weathervane
As fish stocks were depleted and government regulators placed restrictions on species, catch sizes, and sea time, it became more and more difficult for owner-operated local boats to compete with large fishing operations. With fewer permits available and the ones that were carrying fees that were crippling to small operators, fishermen looked for ways to supplement their incomes.
Some began to take sport fishermen out on day trips, and others operated "party boats" for vacationers who wanted a few hours or a day at sea. Still others shifted from offshore to "day boat" fishing, providing small stocks of just-caught seafood to high-end restaurants and markets. Jimmy Morgan made weathervanes to sell in his small shop in Menemsha. Based on fishing vessels he knew from his long time fishing the waters around Martha's Vineyard, these decorative objects recorded a way of life that was shrinking and in danger of disappearing altogether.
Despite many challenges Menemsha is still a working fishing community. One organization helping to sustain the fishing industry here is The Martha's Vineyard Fishermen's Preservation Trust, a non-profit organization that purchases fishing permits and leases them to local fishermen at affordable prices.
DETAILS
---
| | |
| --- | --- |
| Title | "Dorothy and Everett" Weathervane |
| Type | Object |
| Credit | Gift of Peter and Hilary McGhee |
| Ref No | 2015.042.007 |
| Thematic Collection | 100 Years, 100 Stories: Harvesting the Sea |
Object information is a work in progress and may be updated as new research findings emerge. To help improve this record, please email
collections@mvmuseum.org
. Information about image downloads and licensing is available here.