Dial Telephone Service Comes to Aquinnah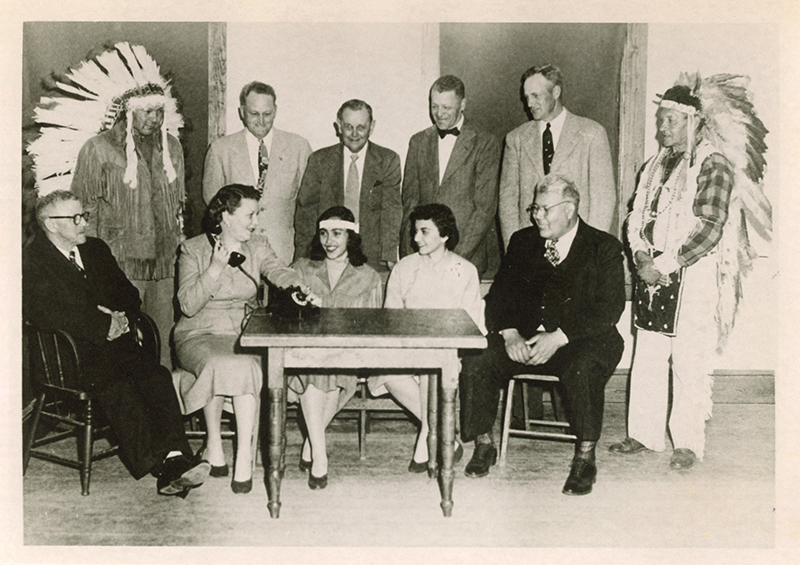 Dial Telephone Service Comes to Aquinnah
From the beginnings of English colonization in the 1640s, the Wampanoag were pressured to abandon ways of life they had practiced for thousands of years and adopt European ways of life instead. The process reached a climax in 1870 when, under heavy pressure from the Commonwealth of Massachusetts, the Wampanoag residents of Gay Head (now Aquinnah) narrowly voted to give up their reservation status and join the Commonwealth as citizens of the newly incorporated Town of Gay Head. Only by embracing "modern" (that is, European) ways of life, state officials argued, could Indigenous peoples succeed.
The incorporation of Gay Head, which included the division of the tribe's jointly held "common lands" into individual lots with individual owners, accelerated the erosion of traditional Wampanoag culture, but did not — as state officials hoped — erase it completely. Traditional Wampanoag ways coexisted, as they had since First Contact, with European ones. This photograph, staged in May 1955 to celebrate the introduction of dial telephone service in Chilmark and Gay Head, captures the tension between tradition and modernity. Gay Head selectmen Leonard Vanderhoop and Edmond Cooper, in European-style business suits, participate in a ceremonial "first call" with their Chilmark counterparts while tribal chief Donald Malonson and medicine man Napoleon Madison, in traditional dress, look on.
To white onlookers, Malonson's and Madison's regalia was a quaint relic of the past. To the Aquinnah Wampanoag, it was part of an unbroken cultural tradition reaching thousands of years into the past. On the strength of that tradition, they fought for, and won, federal recognition for the tribe in 1987.
DETAILS
---
| | |
| --- | --- |
| Date | 1955 |
| Type | Photograph |
| Ref No | RU465 - Basil Welch Collection |
| Thematic Collection | 100 Years, 100 Stories: Island of Immigrants |
Object information is a work in progress and may be updated as new research findings emerge. To help improve this record, please email
collections@mvmuseum.org
. Information about image downloads and licensing is available here.