Jagging Wheel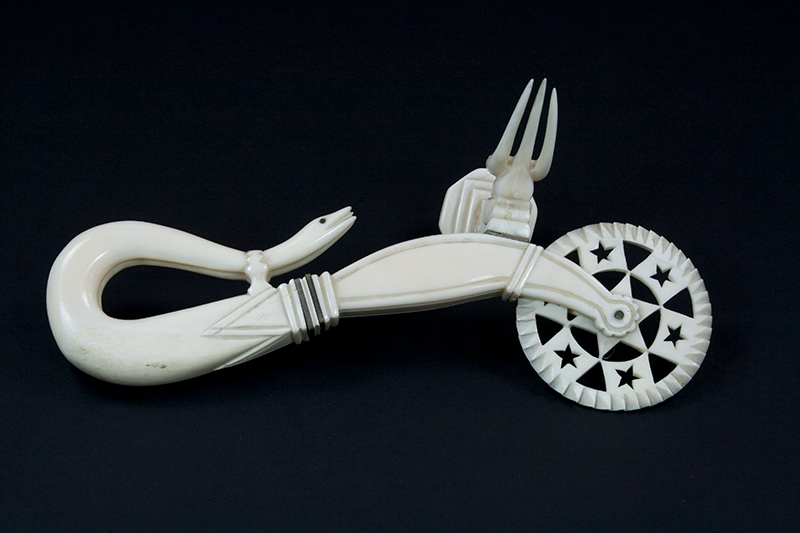 Jagging Wheel
The primary products of the whale hunt were high-quality oil for fueling lamps and lubricating machinery, and baleen, which was used in corsets and umbrellas, but much of what remains from that enormously profitable 19th-century industry are objects made from what was left over after the whale oil had been rendered and shipboard work was finished. Seamen used the unsalable parts of whales and walruses – teeth, bones, and remnants of baleen – to create scrimshaw for their own amusement, as souvenirs, and as gifts to loved ones.
Though most familiar in the form of whales' teeth carved with pictures of ships, scrimshaw was an extremely varied art. The Museum has hundreds of pieces in its collection, from large, complex swifts (yarn winders) to tiny sewing tools. The anonymous maker of this jagging wheel fashioned a multi-tool for pie making that combines three pieces of ivory into a fanciful gadget that can crimp pie crusts, make holes in the top crust for steam to escape, and create decorative patterns in the crusts as well.
DETAILS
---
| | |
| --- | --- |
| Artist | Unknown |
| Title | Jagging Wheel |
| Date | Mid-19th Century |
| Type | Object |
| Ref No | Z1439 |
| Thematic Collection | 100 Years, 100 Stories: Artists of This Island |
Object information is a work in progress and may be updated as new research findings emerge. To help improve this record, please email
collections@mvmuseum.org
. Information about image downloads and licensing is available here.