Bathhouse Debris on Oak Bluffs Steamer Wharf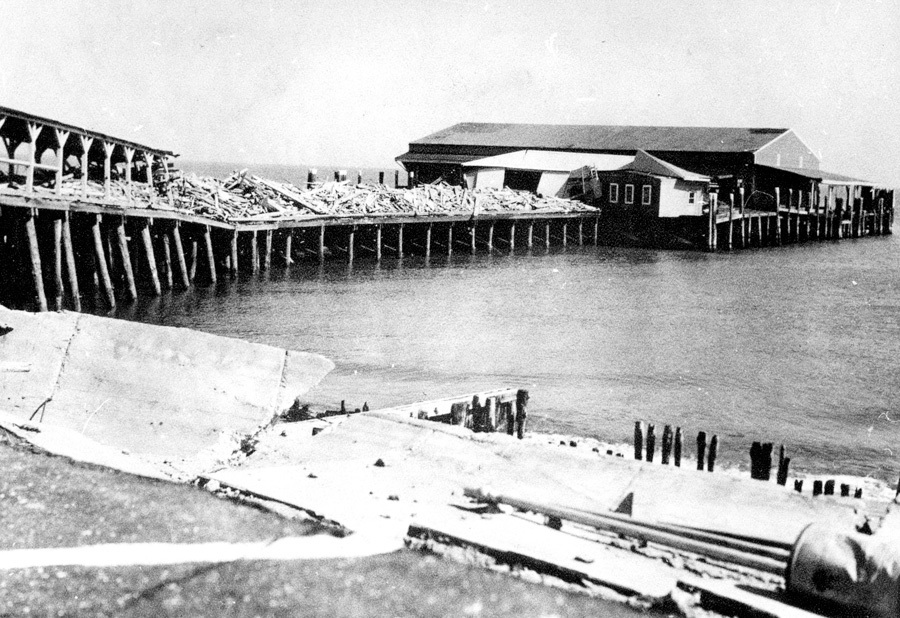 Bathhouse Debris on Oak Bluffs Steamer Wharf
"Permanent" structures built on unstable shorelines will, if nothing is done to protect them, eventually be destroyed by the sea. The ground beneath them can be washed away, causing them to collapse; they can be flooded or swept out to sea by storm tides; or they can simply be battered apart by waves that reach up onto the shore. Destruction, or serious damage, is a matter of "when," not "if." The question is how much use the owner(s) can get from it before it is destroyed, or extreme measures become necessary to protect it.
The businessmen who developed Oak Bluffs as a summer resort in the 1860s and 1870s arranged for its waterfront to be lined with bathhouses. Long, narrow buildings set on pilings above the sand, they stretched — three rows deep — from the steamer wharf to the far corner of Ocean Park. Divided into individual cubicles with doors, they served as changing rooms and gave beachgoers a place to store their street clothes while they splashed in the water and their bathing suits when they were done.
The bathhouses remained a fixture of Oak Bluffs — a monument to the social customs of a bygone era — until September 14, 1944, when what became known as the Great Atlantic Hurricane struck the Island. In a single night, the beachfront was wiped clean. The remains of the bathhouses, reduced to kindling, were washed out to sea and (as shown in this photo) or piled onto the steamer wharf by the waves.
DETAILS
---
| | |
| --- | --- |
| Title | Bathhouse Debris on Oak Bluffs Steamer Wharf |
| Date | 1944 |
| Type | Photograph |
| Credit | Gift of Basil Welch |
| Ref No | RU 465 A16 39d |
| Thematic Collection | 100 Years, 100 Stories: Building on Sand |
Object information is a work in progress and may be updated as new research findings emerge. To help improve this record, please email
collections@mvmuseum.org
. Information about image downloads and licensing is available here.