"Enchanted Isle" Poster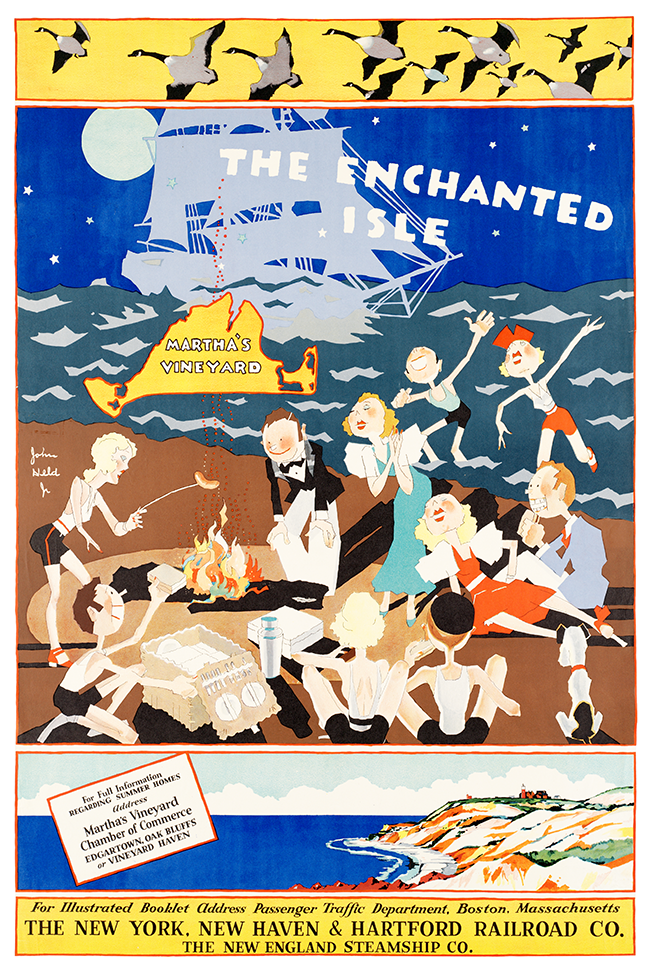 "Enchanted Isle" Poster
The New York, New Haven & Hartford Railroad dominated rail travel between Boston and New York from the 1890s to the end of World War II. A company with over 2,000 miles of track and 120,000 employees, it also owned electric trolley companies and steamboat lines, including the Fall River Line. In 1910, the railroad bought the New Bedford, Martha's Vineyard, and Nantucket Steamboat Company–sole provider of ferry service to the Islands–and turned it into a subsidiary under the name New England Steamship Lines.
The absorption of the boat line enabled the New York, New Haven & Hartford to offer seamless travel from New York City, Connecticut, and Rhode Island to the Vineyard. Travelers could board a train at Pennsylvania Station in Manhattan and check their bags directly to the pier at Vineyard Haven, Oak Bluffs, or (until the early 1930s) Edgartown. It also set the stage for elaborate advertising campaigns that presented the Vineyard as a playground of the rich and stylish.
This poster, one of a series produced by the railroad to advertise New England destinations, presents the 1930s version of that fantasy. Artist John Held Jr. fills it with examples of carefree young women "flappers" and their straw-hatted college-student paramours–two cultural icons he helped to create.
DETAILS
---
| | |
| --- | --- |
| Artist | John Held, Jr. |
| Title | Enchanted Isle |
| Date | 1934 |
| Type | Advertisement |
| Credit | Gift of James B. Richardson III |
| Ref No | 2019.016.001 |
| Thematic Collection | 100 Years, 100 Stories: Getting Here |
Object information is a work in progress and may be updated as new research findings emerge. To help improve this record, please email
collections@mvmuseum.org
. Information about image downloads and licensing is available here.