Chappy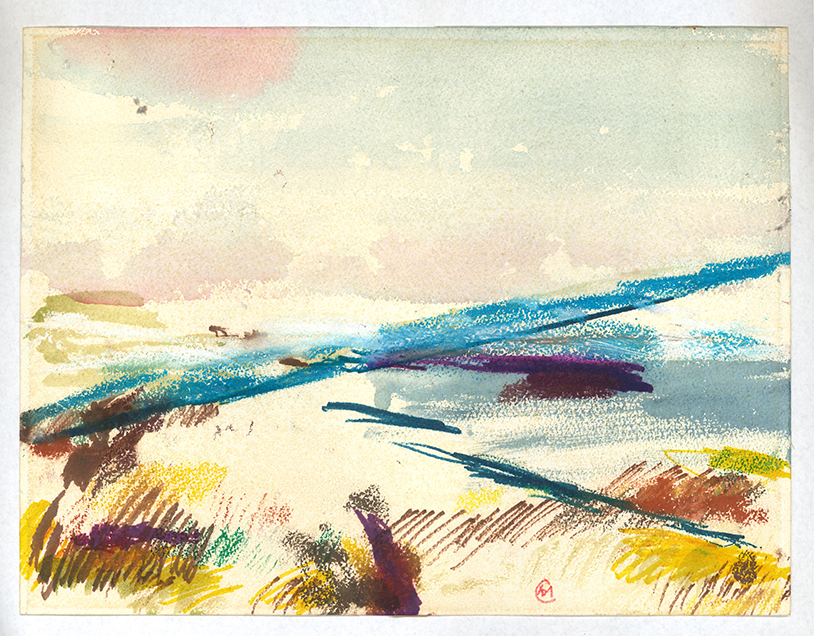 Chappy
Mary Drake Coles learned to paint through formal and informal training and practice during childhood summers on Martha's Vineyard, in her teens in Provincetown, and later at Smith College, in Paris, Majorca, Haiti, and New York. On the Vineyard, she knew the work of the abstract artist Vaclav Vytlacil. In Paris, she absorbed ideas from the modernists. All the while she was going blind.
In 1957, after glaucoma had finally taken Mary Drake Coles's vision away, she moved from New York City to Edgartown because, as she later told the Museum's oral history curator, Linsey Lee, "I knew it as a child. I remembered it." Coles's memory served her well, not only in navigating the streets of Edgartown with her guide dog, but in painting scenes she recalled from before her blindness was complete. As her vision deteriorated she planned her life so she could still make art. Her paints and other supplies were always arranged the same way. This arrangement, plus her memory, allowed her to continue working for the rest of her long life. She explained, "I cannot see what I'm doing. I can't see a thing. I know what I have in mind when I'm doing it…instinctively, I know composition."
DETAILS
---
| | |
| --- | --- |
| Artist | Mary Drake Coles |
| Title | Chappy |
| Date | c. 1985-95 |
| Type | Painting |
| Medium | Watercolor, Crayon, and Chalk on Paper |
| Credit | Gift of Marian Halperin |
| Ref No | 2001.065 |
| Thematic Collection | 100 Years, 100 Stories: Artists of This Island |
Object information is a work in progress and may be updated as new research findings emerge. To help improve this record, please email
collections@mvmuseum.org
. Information about image downloads and licensing is available here.