Sloop Drawing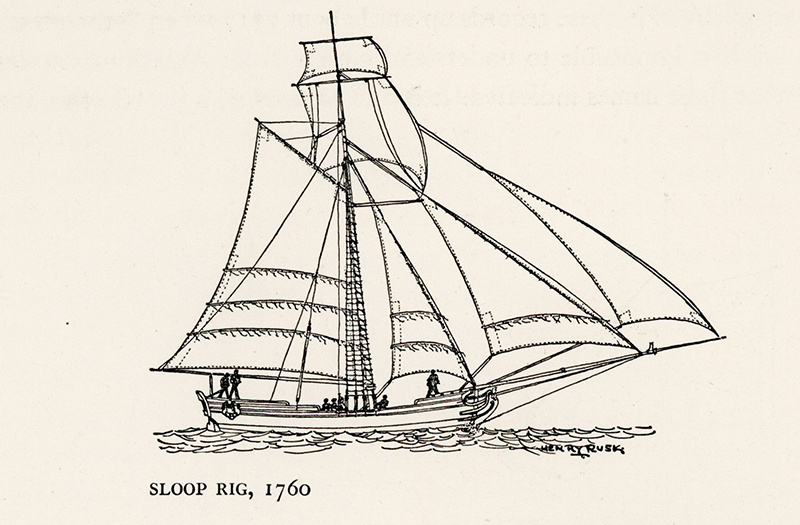 Drawing of Sloop
The first human inhabitants of what became Martha's Vineyard, arrived on foot. The Island was not yet an island — the edge of the ocean lay 50 miles south of what is now South Beach — and Vineyard and Nantucket Sounds were dry channels. Over time the waters rose, creating an island. Boats whose owners would transport people and goods for a fee quickly followed.
The first regular ferry service to Martha's Vineyard was established in the early 1700s by Abraham Chase, probably using a sloop like this one. Sloops, seaworthy enough for open water but small enough to be handled by a crew of one or two, were mainstays of the short-haul trade in eighteenth-century New England.
Chase shuttled his vessel between the sheltered harbors at Falmouth and his hometown of Holmes Hole (now Vineyard Haven). On the Holmes Hole end of the trip, Chase sailed up Bass Creek — a 7-foot-deep channel that ran where Water Street and Lagoon Pond Road are today — to a pier at the edge of what is now the Five Corners intersection. After the last trip of the day, he would continue up Bass Creek into the Lagoon, and anchor for the night in the lee of what is still called Ferryboat Island.
DETAILS
---
| | |
| --- | --- |
| Artist | Henry Rusk |
| Title | Sloop (from Howard I. Chappelle, The History of American Sailing Ships, p. 12) |
| Date | 1935 |
| Type | Book |
| Ref No | 656 C8.1 |
| Thematic Collection | 100 Years, 100 Stories: Getting Here |
Object information is a work in progress and may be updated as new research findings emerge. To help improve this record, please email
collections@mvmuseum.org
. Information about image downloads and licensing is available here.