Eel Pot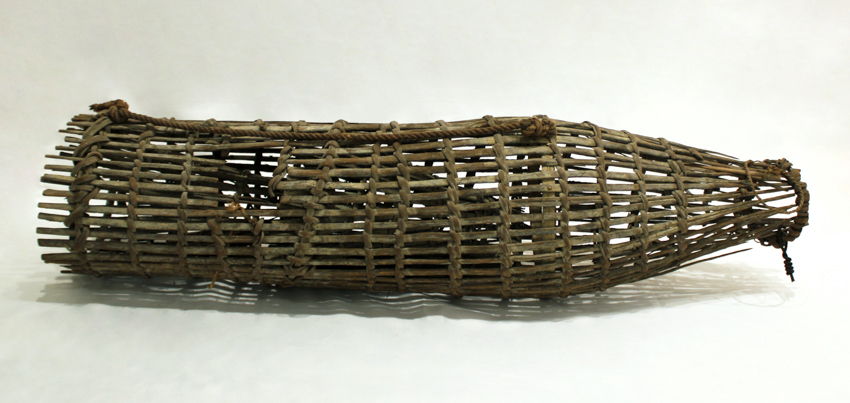 Eel Pot
The great ponds on Martha's Vineyard have long been a source of herring, shellfish, and eels for the Island's inhabitants to eat and to sell. Demand for them has varied over time with changing tastes and markets. Herring, for example, was a favorite food of Vineyarder Charles Macreading Vincent. When he was serving in the Union Army during the Civil War he wrote letters home expressing his longing for this favorite fish. But in the 20th century many considered it merely a bait fish– a tool for catching the fish you'd actually want to eat.
Another fish with varying appeal was the eel. Eels were caught and eaten in great numbers in the winter by Islanders, who used multi-pronged, long-handled "gigs," thrust through holes in the ice, to spear them as they lay dormant on the pond floor. Eel pots like the one seen here captured large numbers of the fish from October through December as they tried to leave the ponds to return to the ocean, specifically the Sargasso Sea, where they spawned. The live eels that had been captured were held in crates under water until they could fetch the best price around the holidays, when Jewish and Italian residents of New York City used them in holiday cooking. By the early 20th century it was rare to see eel pots in use along the pond shores.
DETAILS
---
| | |
| --- | --- |
| Title | Eel Pot |
| Type | Object |
| Ref No | 2023.003.025 |
| Thematic Collection | 100 Years, 100 Stories: Harvesting the Sea |
Object information is a work in progress and may be updated as new research findings emerge. To help improve this record, please email
collections@mvmuseum.org
. Information about image downloads and licensing is available here.