1938 Beach Road Flooding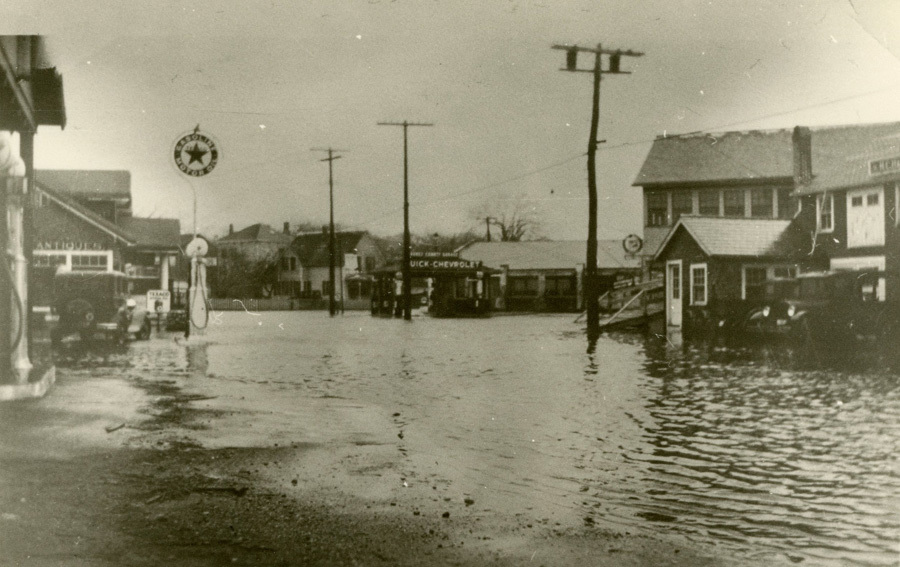 1938 Beach Road Flooding
The Five Corners intersection at the center of Vineyard Haven was, until 1835, a water-filled channel. So was Water Street, which runs north from Five Corners toward the harbor and the Steamship Authority terminal. Lagoon Pond Road, which runs south toward the Museum, runs past a former wetland that was filled in the 1950s to create Veterans' Park. Beach Road, which runs northeast toward the Martha's Vineyard Hospital, is built on a former barrier beach only a foot or two above sea level. The land between Beach Road and Lagoon Pond Road was, until the late 1930s, water.
Five Corners and the surrounding roads are, as a result, prone to flooding in heavy rains, high tides, and storms. Extensive paving, and the replacement of wetlands by solid fill that can support buildings, limits the ability of water to drain away. This photograph, looking down Beach Road toward Five Corners, was taken during the 1938 Hurricane.
Rising sea levels and intensifying storms — effects of global climate change — are likely to make flooding at Five Corners more frequent and more severe, cutting off direct access to the hospital, and potentially limiting the usability of the Island's only year-round freight port.
DETAILS
---
| | |
| --- | --- |
| Title | 1938 Beach Road Flooding |
| Date | 1938 |
| Type | Photograph |
| Credit | Gift of Basil Welch |
| Ref No | RU 465 A25 18c |
| Thematic Collection | 100 Years, 100 Stories: Building on Sand |
Object information is a work in progress and may be updated as new research findings emerge. To help improve this record, please email
collections@mvmuseum.org
. Information about image downloads and licensing is available here.