Mary Norton Sampler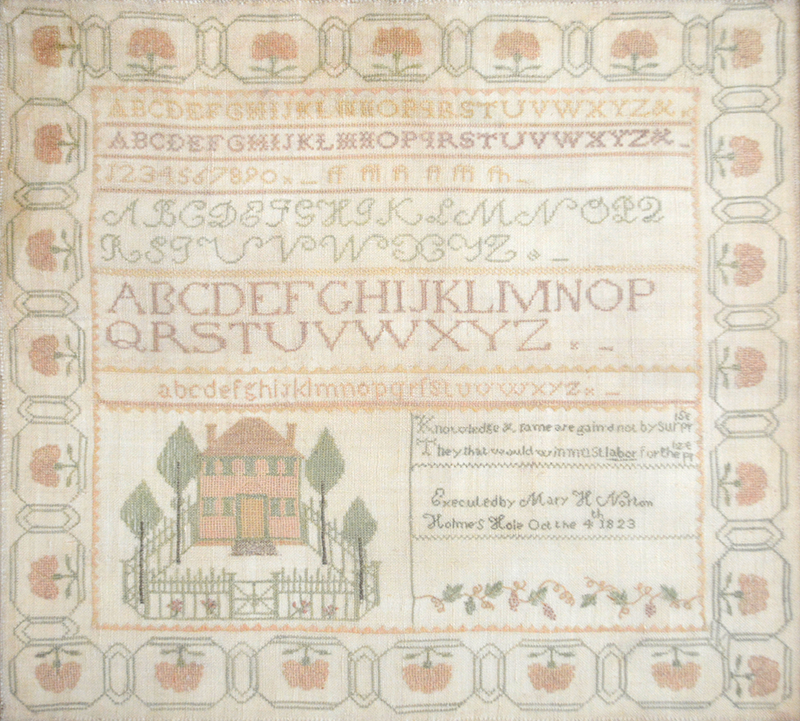 Mary Norton Sampler
Sewing was a necessary part of everyday life for women in an era when textiles were expensive household goods – most often used and repurposed until worn out. But embroidery went beyond necessity. It added beauty to everyday objects, whether as simple, elegant initials to identify a bedsheet, or as pure ornament on a wallet or waistcoat.
For families who could afford more than basic public education for their girl children in the first half of the 19th century, a demonstration of achievement in the domestic art of embroidery was an important milestone. Usually made when a girl was between the ages of 8 and 12, a sampler proved that she had learned this skill. Samplers could be simple cross-stitched alphabets or elaborate compositions of buildings, landscapes, and verses made using a variety of embroidery stitches. A source of family pride, they were often framed and placed on the parlor wall.
Mary H. Norton made this sampler in Holmes Hole (now Vineyard Haven) when she was around 12 years old. It resembles other samplers in the Museum's collection enough to make it clear that there was probably a school or teacher training girls here on the Island at that time, but that school and teacher have not yet been identified. Born in Holmes Hole, Mary wed Charles Cottle of Tisbury seven years after she stitched her sampler and moved with him to Scituate in the late 1850s.
DETAILS
---
| | |
| --- | --- |
| Artist | Mary H. Norton |
| Title | Sampler |
| Date | 1823 |
| Type | Textile |
| Credit | Museum purchase through funds donated by Judy Herdeg and Elizabeth Beim |
| Ref No | 2018.020.001 |
| Thematic Collection | 100 Years, 100 Stories: Artists of This Island |
Object information is a work in progress and may be updated as new research findings emerge. To help improve this record, please email
collections@mvmuseum.org
. Information about image downloads and licensing is available here.