English Class Certificate of Completion: Johan Axel Hoglund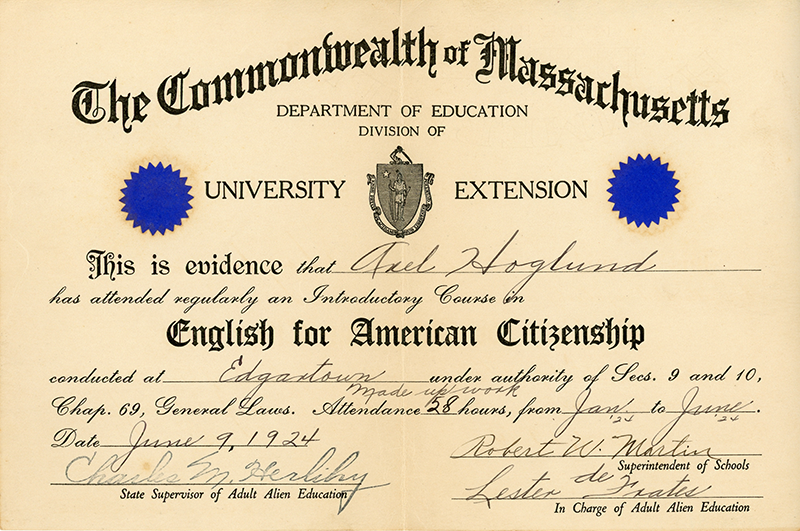 English Class Certificate of Completion for Johan Axel Hoglund
The Johnson-Reed Act of 1924 tightened immigration restrictions, and adjusted country-by-country quotas, but not uniformly. Immigration from Asia was prohibited entirely, and the provisions of the act increased opportunities for would-be immigrants from northern and western Europe while tightening restrictions on those from southern and eastern Europe.
Johan Axel Hoglund, born in northern Sweden in 1901, was one beneficiary of the new policy. At 23, having completed his mandatory service in the Swedish army, Hoglund boarded a ship for America, his immigration sponsored by an uncle who already lived in Edgartown. Hoglund carried his clothes, his prized violin (he was a gifted amateur musician who, according to his family, could play a song after hearing it only once), and the sheaf of papers that he would be required to present to U. S. authorities, including a "certificate of good character" signed by the pastor of his church in Sweden. Once in America, he added the certificate shown here to his portfolio.
When he arrived on the Vineyard, Hoglund worked briefly with his uncle as a gardener before starting a successful house-painting business in Edgartown and expanded into interior decorating. He became friendly with the Cronig family — Jewish immigrants from Lithuania, who had come to America via Sweden — and married Annie Correia, herself the daughter of Portuguese immigrants. Known for his love of music, his 40 years of service to the Edgartown Fire Department, and the many times he painted the Old Whaling Church as a volunteer, Axel Hoglund died in 1981. His great-granddaughter donated his immigration papers to the Museum.
DETAILS
---
| | |
| --- | --- |
| Title | Certificate of Completion |
| Date | 1924 |
| Type | Document |
| Credit | Gift of Judith Bruiguere |
| Ref No | RU610 - Johan Axel Hoglund Papers |
| Thematic Collection | 100 Years, 100 Stories: Island of Immigrants |
Object information is a work in progress and may be updated as new research findings emerge. To help improve this record, please email
collections@mvmuseum.org
. Information about image downloads and licensing is available here.