Bill of Sale of a Black Child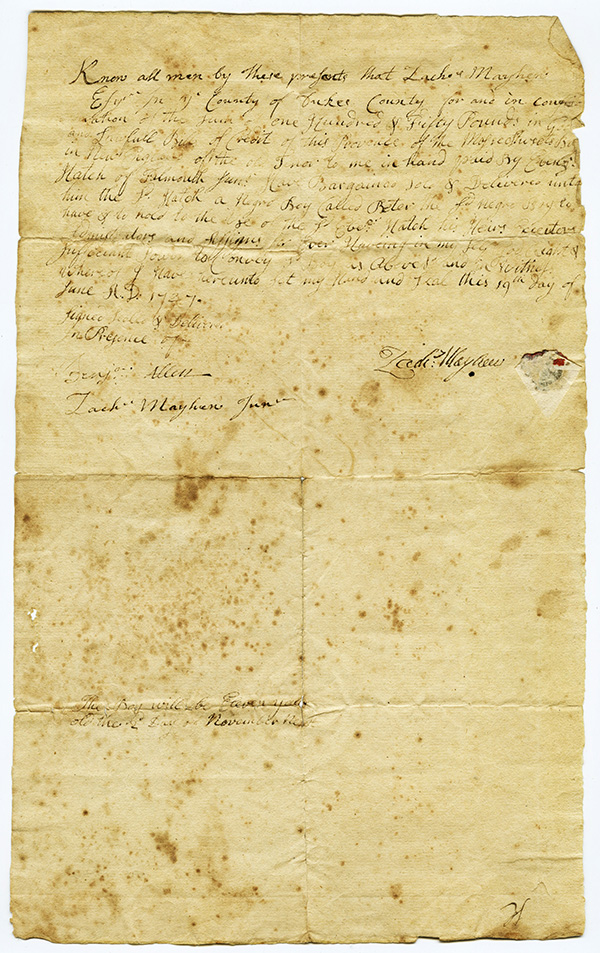 Bill of Sale of a Ten-Year-Old Black Child
Massachusetts recognized slavery as legal in 1641, the year that English colonization of Martha's Vineyard began, and Vineyarders profited from the enslavement of Africans both directly and indirectly. Zacccheus Mayhew, a selectman, judge, and great-great-grandson of the man who led the colonization of the Island, was one of eight Vineyarders known to have enslaved others.
Peter, the ten-year-old boy whose sale is recorded in this tattered document may have been born on the Island, the child of an enslaved woman, or taken from his mother and brought here independently. All we know about him is that he was enslaved by Zachheus Mayhew of Chilmark and that, in 1727, Mayhew sold him for £150 to Ebenezer Hatch of Falmouth. After this, Peter disappears from records, and from history. We do not know how long he lived, or where he died. This scrap of paper is the only evidence that he even existed.
Some of the earliest Vineyarders of African descent came, as Peter did, enslaved. Others, like the descendants of Cuffe Slocum of New Bedford, came as freemen, seeking opportunity. Still others, like Methodist lay preacher John Saunders, arrived on the Island after freeing themselves from enslavement. The Black history of Martha's Vineyard began centuries before its emergence, around 1900, as a summer resort for successful African American families.
DETAILS
---
| | |
| --- | --- |
| Date | 1727 |
| Type | Document |
| Ref No | RU349 |
| Thematic Collection | 100 Years, 100 Stories: Island of Immigrants |
Object information is a work in progress and may be updated as new research findings emerge. To help improve this record, please email
collections@mvmuseum.org
. Information about image downloads and licensing is available here.