The Research Library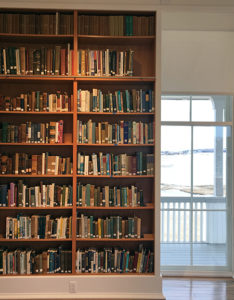 The MVM Library is responsible for the Museum's collections of texts and images — books, genealogical records, letters, logbooks, manuscripts, maps, newspapers, pamphlets, and photographs — along with its collections of audiovisual recordings and digital files.
The Library itself is a public space at the top of the main staircase. It houses the main book collection, genealogical records, vertical files and other frequently used materials. It also serves as the access point and reading room for the other 90% of the Library's holdings, which are kept in secure, climate-controlled storage elsewhere in the Museum.
Access
The Library is a public space, open to all, and its resources are available to anyone interested in learning more about Martha's Vineyard.
Access to the Library does not require paid admission to the Museum. If you're visiting the Museum only to use the Library (and not to tour the galleries), ask for a free "Visitor" badge at the Welcome Center.
Hours
Summer: Tuesday through Friday, 10-5
Off-Season: Tuesday through Friday 10-4
Access at other times the Museum is open is available by appointment, subject to staff availability.
The Library may occasionally be closed, or access to specific collections limited, due to collection-processing work, special events, or other unusual circumstances. Visitors with a restricted schedule or an interest in particular materials are encouraged to contact us ahead of time particularly if coming from off-Island.
Contact
A. Bowdoin "Bow" Van Riper, Research Librarian
bvanriper@mvmuseum.org
508 627-4441 x115