Avis Athearn Sampler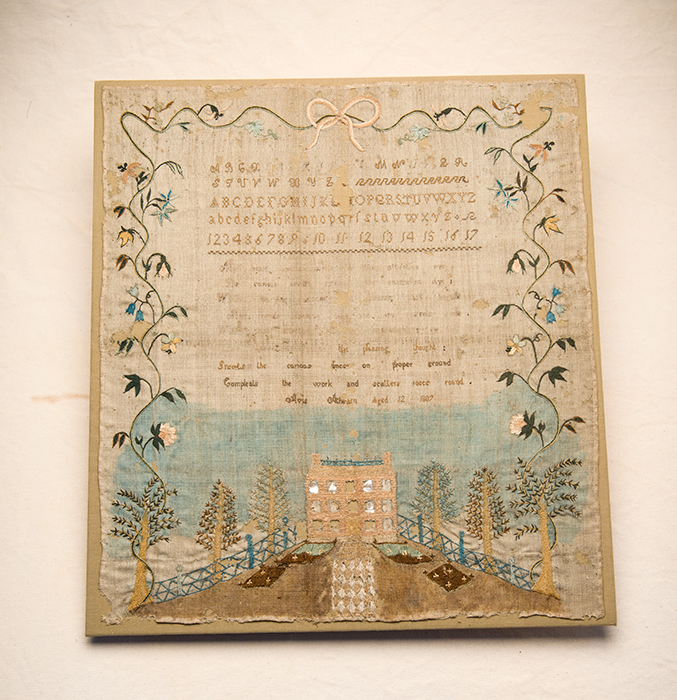 Avis Athearn Sampler
In an era when sewing was not a hobby but sn essential skill for a woman to possess, girls began their training at an early age. Tiny fingers, good eyesight, and the guidance of a patient teacher helped a girl to master the skills that she would need later on in life, when she kept a household of her own.
Samplers are the beautiful evidence of such training. They were usually made at girls' schools, and sometimes the school can be identified from the design of the sampler. Unfortunately, we do not know where or from whom Avis Athearn of Tisbury received her training, but her sampler shows that by age twelve she had learned her lessons well. She could cross-stitch numbers as well as upper- and lowercase letters in block and cursive alphabets, satin-stitch flowers and vines, and use a variety of stitches to render a complex pattern showing a large building and yard.
Exposure to sunlight, while it was proudly displayed on Avis's parents' wall, caused the bright colors to fade. Then the cloth was removed from its frame and folded into quarters; the damage from the folds can still be seen. The silk floss that formed the letters of the verse was dyed brown with a corrosive dye probably made from black walnuts. It ate through much of the thread and left its mark on the linen.
Avis Athearn married James Jones ten years after she crafted this sampler. She died at age fifty-six and was buried in West Tisbury.
The poem stitched into the sample ends:
"With close attention carefully wrought,
Fair education paints the pleasing thought,
Inserts the curious line on proper ground,
Completes the whole, and scatters roses around."
DETAILS
---
| | |
| --- | --- |
| Title | Avis Athearn Sampler |
| Date | 1807 |
| Type | Textile |
| Place | Tisbury, Massachusetts |
| Credit | Gift of the Daughters of the American Revolution, Martha's Vineyard Chapter |
| Ref No | 1955.003.372 |
| Thematic Collection | Collection Highlights |
Object information is a work in progress and may be updated as new research findings emerge. To help improve this record, please email
collections@mvmuseum.org
. Information about image downloads and licensing is available here.