Getting to Know Heather Seger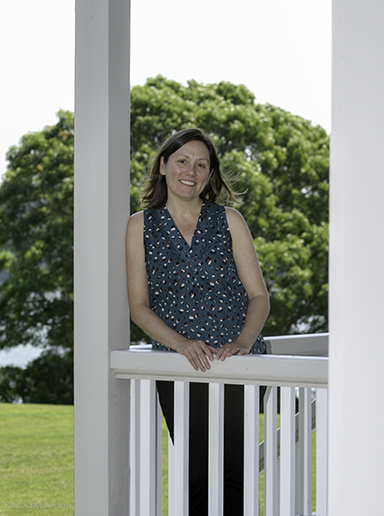 Heather Seger was recently named the Museum's new Executive Director. Get to know Heather in this Q&A.
What brought you and your family to Martha's Vineyard?
My first visit to MV was in April 1991, when I took the ferry over to take my driving test on my 16 ½ birthday! Many years later, I rented a place for six weeks one summer after hearing about how magical the Island was from some close friends. My husband (Kevin) and I fell in love with the Island right away and started coming as often as we could – for long weekends in the off season and a couple weeks each summer. With each visit, we found some new place to explore and there was never enough time to soak it all in. We were even married at Saint Augustine's Church over a blustery New Year's Eve weekend. Fast forward to 2017, as our daughter Addison was turning 2, and we decided to move back to Massachusetts to be closer to our families. After a few months exploring the Boston job market, on a total whim, I plugged the Vineyard Haven zip code into an Idealist.org search – and the Museum was hiring! The rest is history…
Was the transition from the education sector to the museum sector challenging to make?
Not at all. At their core, museums are educational institutions. At the Cornelia Connelly Center, we worked with girls who were struggling in the public elementary school system. Since research shows you can predict college matriculation by the end of third grade, we accepted students entering fourth grade. With each girl, we spent the middle and high school years building their academic and social/emotional skills and developing trusting, respectful relationships with their families. We also took seriously the need to build their social and cultural capital. At the Museum, at the heart of what we are offering is a deeper connection with this Island through our collections. Whether working with students to expand their understanding of the place they call home, or seasonal visitors who are looking for a greater awareness of the history and culture of Martha's Vineyard, our goal is to engage and build knowledge.  I find that in the non-profit sector, in general, if you start with your mission and build outwards from there, you stay on the right path when it comes to  governance, fiscal health, philanthropic stewardship, and strategic direction. At CCC, I learned how to work with the Board and staff to build a shared vision, a resilient organization, and stay responsive to the needs of the people we were serving. At MVM, the mission is different, but the approach is the same.
What is most exciting to you about the work of the Museum?
It is a fascinating time to be working in a museum, as the entire sector is asking itself tough questions about who we serve, who gets to tell the stories, and how we need to evolve to stay relevant, vibrant and treasured. It has been exciting to be a part of a museum team that responded with resilience and flexibility through one of the most challenging times any of us has experienced. As we emerge from Covid stronger, smarter and more determined than ever to create outstanding visitor experiences, it is indeed exciting to be leading this creative process. Our staff has been working on expanding our storytelling for years, making sure that we are capturing the Island and its history from multiple perspectives and more importantly, highlighting those who were previously left out of our storytelling. With renewed energy and commitment, we developed our strategic plan last fall, built on the themes of excellence, inclusion, and sustainability and we are all committed to ensuring that we are not only striving for all three, but exploring the connections between them.
What should we know about your family?
Kevin and I were friends long before we were husband and wife – we met when we were 13! And most days at sunrise or sunset, you can find him surfcasting around the Island. Though he hasn't won yet, he's convinced this will be his best Derby yet. Our daughter, Addison turns 6 this fall and is starting Kindergarten at the Montessori school in September. She loves music, swimming, Calico Critters, and recently told us that her "mermaid/unicorn phase" is over and her "dinosaur phase" is just beginning. My stepson Jackson is 13, lives in Duxbury, and loves coming down to the Vineyard to visit. He is the kindest teenager I've ever met, a math whizz, a video gamer, and a great baseball player. All of us share the lucky number 13, and like his dad and I before him – he is wearing the #13 jersey this year!
What do you do outside of work?
We love exploring the beaches and trails around the Island and try to get out for walks as often as possible. I love traveling and can't wait to get back to adventuring in the world again. Kevin and I flew to Dublin right before the pandemic to see our favorite band, the Lumineers, and visit with friends there. I'm so glad we made that trip right before everything shut down. Though our only plans are a visit to New Hampshire later this summer, we are beginning to fantasize about Costa Rica, Patagonia and Greece.
What are you currently reading and/or binge watching? 
I usually bounce between a few books at a time and now is no different. I am reading The Advantage as I think about my leadership of the Museum and how to work with our staff. I'm also reading Black Lives, Native Lands, White Worlds, as we brainstorm how to tell the story of slavery on Martha's Vineyard and our island's relationship to the greater colonial economic system. I'm also reading the novel Hamnet, which is heartbreaking and tender and beautiful and inspiring all at once. Our Netflix binge of the moment is Peaky Blinders, mainly because I love Cillian Murphy's intensity, but Queen Sugar is without a doubt my favorite show. I really thought they handled the pandemic and protests of the last year with so much authenticity and compassion. As a family I'm sure we'll soon be jumping into the Great British Baking Show's new season.