Upcoming Exhibitions
---
Wearing History: Island T-Shirts
April 30th, 2021 through June 24th, 2021
Cox Gallery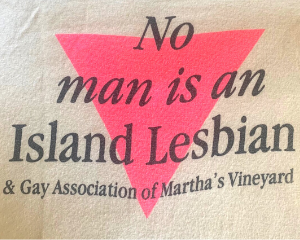 T-shirts hold a special place in the story of our Island. They commemorate events, showcase businesses, and spotlight the artists, thinkers, and dreamers among us. Some Island shirts are recognized worldwide, others only by a select few. They are status symbols, record keepers, and badges of honor. And they all have a story to tell.
Island Lesbian & Gay Association t-shirt designed by Dan Waters, early 1990s. On loan from Susanna Sturgis.
---
Life in Reverse: The Remarkable World of Richard Lee
May 7th, 2021 through July 25th, 2021
Hollinshead Gallery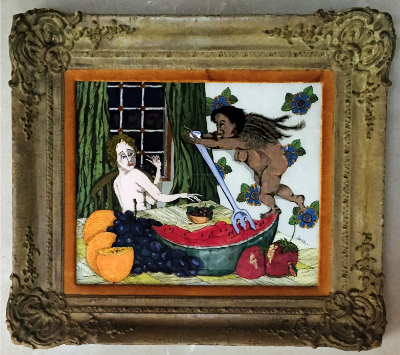 From the uninhibited subconscious of Richard Lee (1933-2012) evolved an engaging, original, and irreverant universe: one filled with reoccurring anthropomorphic and zoomorphic figures, cherubs and rose-headed babies, magicians and mystics, winged genetalia and androgynous teacups – to name a few of the delightful and mysterious characters he reverse-painted onto glass panes. A world traveler who found his way to the Island in the 1970s, Richard quickly became a beloved West Tisbury figure – from his early days as proprietor of the Dessert Gallerie to the warm and welcoming 'Sunday Soirees' held at his Chicamoo Gallery.
This immersive exhibition will take visitors on a journey into Richard's world and through his decades-long career, exploring the themes that wove through his work into a narrative that continues to amuse, inspire, and mystify.
---
Selling Martha's Vineyard
May 18th, 2021 through August 3rd, 2021
Adele H. Waggaman Community Gallery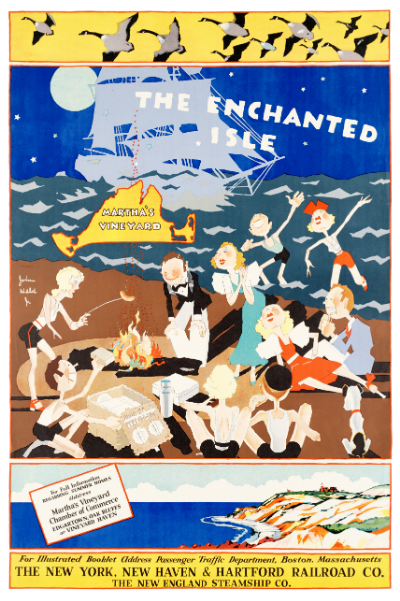 The rise of the Vineyard's tourist economy in the late 1860s created a new challenge for boosters and businessmen: How to market the Island to tourists and vacation-home buyers. The solutions were both familiar (scenes of natural beauty, promises of warm water and abundant fish) and unexpected (rhapsodic descriptions of paved roads, "healing breezes," and the availability of fresh vegetables). From Gilded-Age promotions of Oak Bluffs as a "Great American Watering Place," through the "Isle of Health" campaigns of the 1920s and the sleek brochures of the post-WWII "See America First" era, to the video advertisements of the present day, "Selling Martha's Vineyard" showcases the ingenuity—and the often-surprising beauty—of 150 years of efforts to entice the world to visit Martha's Vineyard.
---
Tomorrow's History: 175 Years of the Vineyard Gazette
July 23rd, 2021 through October 24th, 2021
Grain Gallery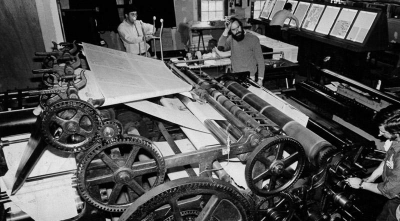 2021 marks the 175th birthday of the Vineyard Gazette. Using objects from both MVM and Gazette collections, this exhibit brings to life some of the Island's notable stories, from whaling voyages and Civil War battles to the Kennedy inquest and beyond, telling the history of this world-renowned, anything-but-small town newspaper.
---
Work of the Soul: Meta Warrick Fuller, Lois Mailou Jones, Delilah Pierce, and Olive "Cutie" Bowles
August 3rd, 2021 through October 11th, 2021
Hollinshead Gallery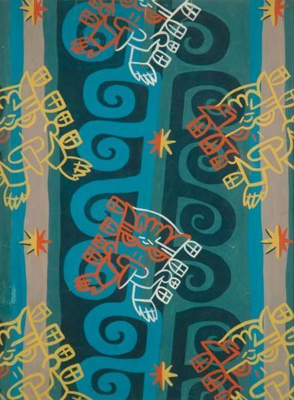 This exhibition explores the work and interconnected lives of four extraordinary black women artists who lived, vacationed, and worked on the Vineyard during the early-mid 20th century: pioneering sculptor Meta Vaux Warrick Fuller, world-renowned painter Lois Mailou Jones, artist and educator Delilah Pierce, and seamstress-turned artist Olive "Cutie" Bowles.