The Photography of Richard Shute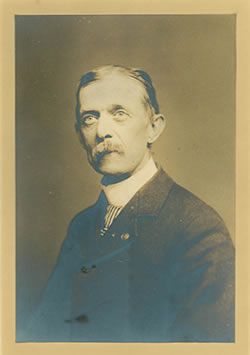 Richard G. Shute partnered with his father Charles in 1867 to form the Charles H. Shute & Son photographic studio in Edgartown. In a brief period of time, the Shutes witnessed the advancement of photographic methods, styles, and popular tastes, which allowed them to become the leading photographers of the Island.
The Shutes' photography nicely reflects late nineteenth-century consumer tastes, local trends, patterns of consumption, and shifts in the leisure culture, offering insights into the social, economic, and cultural changes experienced on the Island. Their photographs also reveal transformations in the Island's physical environment, documenting buildings and streets now gone and landscapes that have all but faded away.
These commercial photographers captured nineteenth-century Island events and experiences for a variety of individuals and organizations. Moreover, during Richard's career at Oak Bluffs, he had the distinction of photographing more notable men, such as Presidents and Governors, than any other photographer on the Island.
Most of the images in this exhibit date between 1872 and 1899 and provide a visual narrative of the Island. However, they are just a sampling of the Museum's collection of Richard G. Shute's photographs. The overall collection contains approximately 500 images and glass plate negatives and positives made between 1870 and the turn of the twentieth century.
---
BIOGRAPHY OF RICHARD G. SHUTE
Richard G. Shute, son of Charles H. and Harriet B. Shute, was born on Nantucket in 1844. In 1846, Richard's father moved the family to Edgartown where he opened a furniture and general goods store at No. 23 Main Street. A little over a decade later, around 1858, Charles opened a photographic studio above his store. It was at that time fourteen year-old Richard began assisting his father both in the family store and studio.
In August 1862, with the onset of the Civil War and once he was old enough to join, Richard enlisted in the Army. He was seventeen years old. Richard served his time in the musical corps as a drummer for the 40th Massachusetts Volunteer Infantry. His most memorable experience during the war was his brief encounter with Abraham Lincoln at Minor's Hill, Virginia. Sadly, Richard's time in the Army was cut short. He was honorably discharged in January 1863 as a "result of an injury" and returned to Martha's Vineyard to recuperate.
A few months later, Richard joined his father in the photographic studio where they produced ambrotypes, or photographs formed as positive images on glass and sometimes hand-colored or hand-tinted. By 1865, Richard began to expand on his photographic techniques, making ferrotypes, also called melainotypes or tintypes (photographs printed from either glass or black and brown enameled iron); albumen prints (photographs printed on paper from glass plate negatives and commonly used for cartes-de-visite and stereo-cards); and gems or gem tintypes (a single image roughly the size of a postage stamp produced multiple times onto one full photo sheet and usually mounted into lockets or onto jewelry).
In December, 1865, Richard left Edgartown with friend and fellow veteran Charles Macreading Vincent to establish a photographic studio in New London, Connecticut. However, they soon gave up on the business. Vincent decided to turn to journalism, which may be why their business partnership ended, taking a position at a New Bedford, Massachusetts newspaper. Richard returned to Edgartown.
In 1867, Richard entered into a partnership with his father. The first advertisement for C. H. Shute & Son, Photographers appeared in the September 20, 1867 Vineyard Gazette. Within two years, father and son opened another store and studio at No. 16 Montgomery Square in the Camp Ground at Oak Bluffs. Since developers began to market this area to middle-class and affluent vacationers, the Shutes were able to cater their photographic business to the new leisure culture.
Richard and Charles also started to tap into the growing market for inexpensive stereoscopic views of landscapes, exteriors, and staged comic studio shots. Stereo photographs or stereo-cards, popular from the mid 1800s through the early 1900s, had two almost identical images mounted side-by-side to a nonflexible support. These images, when viewed through a binocular device known as a stereoscope, gave the illusion of depth and became an important form of entertainment among nineteenth-century middle-class viewers. Indeed, it was Richard and Charles' "Stereoscopic Views of A Whaling Voyage," printed in 1868, that received not only regional and national notice, but also achieved international attention from collectors as far away as Europe. This series of a staged whale hunt, consisting of images of a model ship, skiffs, and a whale, became the Shutes' greatest success and a wonderful example of a photographic studio's ability to produce images for a resort market and beyond.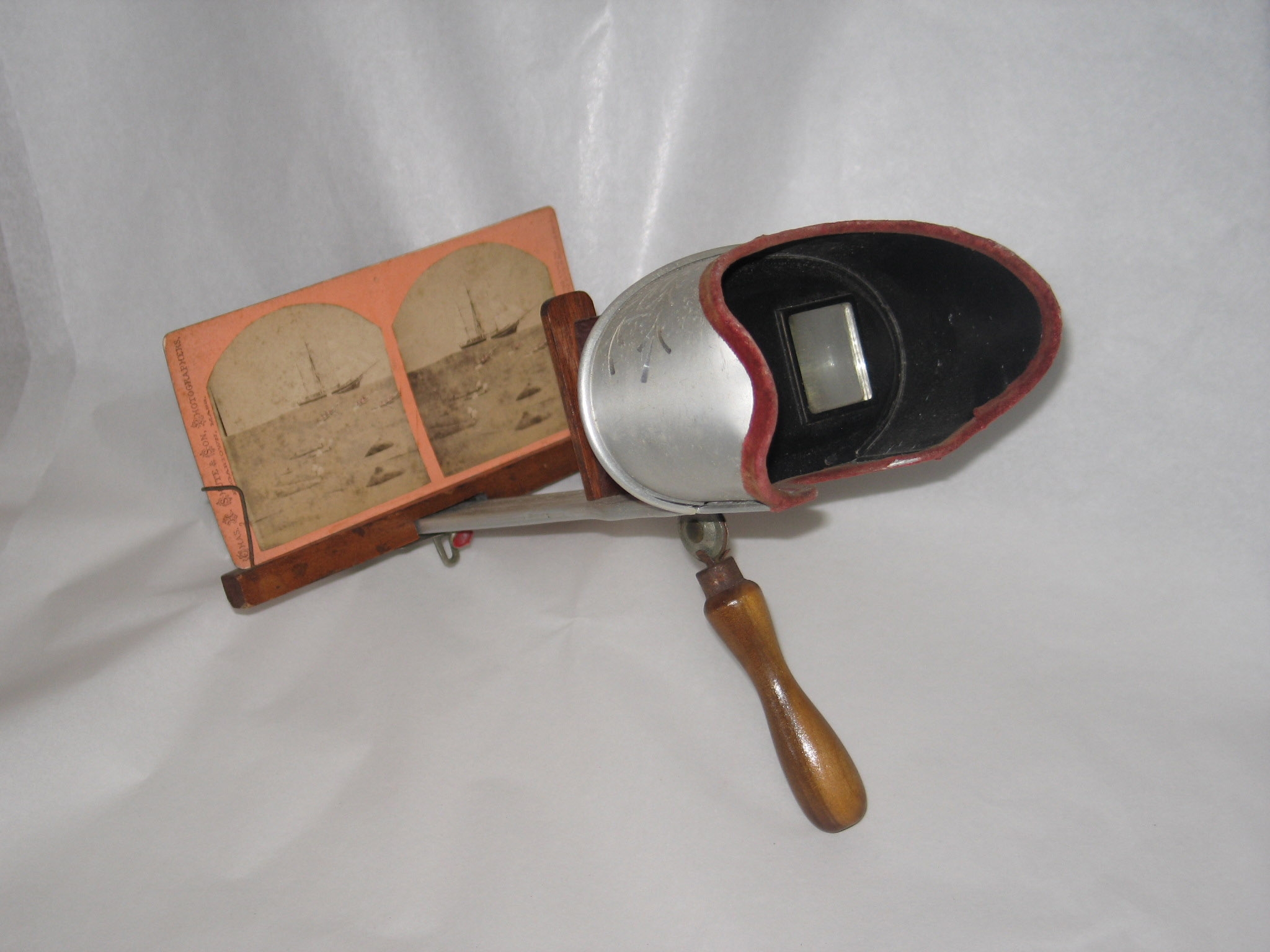 Regrettably, in May 1872, a fire, believed to have started in the Shutes' darkroom, destroyed their Main Street store building and photographic studio along with two other nearby stores. The Shutes lost the contents of their store including thousands of glass plate negatives, among them the ones for the whaling series, and all the equipment and supplies related to their photographic business. Regardless of this disaster, the Shutes rebuilt their store and worked to replace the glass plate negatives lost in the fire including their stereoscopic views of the whale hunt.
After Charles' death in 1877, Richard seemed to move away from some of the photographic work he was doing with his father. He changed the name of the store sometime around November 1877 to R. G. Shute and promoted the business as "Photographers and Publishers of Stereoscopic Views." His ads in the Vineyard Gazette up to May 1879 reflect this change since they no longer mentioned the photographic studio or the making of ambrotypes or tintypes; the ads only referenced the production of stereo photographs and the selling of stereoscopes. By September of that same year the selling of stereoscopic views altogether dropped from Richard's ads and along with it his label as "Photographers." Whether or not this is an indication of the amount of influence Charles had in keeping the photographic studio open is hard to say, but it appears from the advertisements that Richard may not have been the chief photographer or even interested in maintaining a large-scale photographic studio. However, Richard did not abandon photography altogether. He still took photographs up until roughly 1899, but it may not have been at the same commercial level as when he maintained the studio with his father.
By the 1890s, Richard started to concentrate on other business and social ventures, becoming more deeply involved in town politics and community affairs. He became a Registrar of Voters in 1894 and held the office of town clerk from 1904 to 1914. Richard also worked on a variety of public committees, was an established insurance agent, and served as director and vice president for the Edgartown National Bank for a little over a decade beginning in or around 1908.
Richard died at his Edgartown home on Cottage Street in 1923 as a man of high regard. As so movingly stated in his May 17, 1923 obituary in the Vineyard Gazette, "As business man, as a soldier, as husband and brother, as a member of church and community, and as a bright and genial spirit when gathered with a coterie of friends – in all these he sustained well his part, and the community is the better for his having lived in it."
---
SHUTE'S CONTEMPORARIES AND PLACE IN THE HISTORY OF AMERICAN PHOTOGRAPHY
The Shute family adopted many of the technological innovations of photography occurring in the late nineteenth century despite their relative isolation on the Island. One such innovation was the wet plate or wet collodion method introduced in the 1850s. This wet-plate process in which a negative is made possible by coating a sheet of glass with a light-sensitive mix of gun cotton dissolved in alcohol and ether allowed for less exposure time and a sharper, more detailed image. It was also an improvement on earlier processes since it was more efficient and relatively less expensive than the calotype method, which relied on paper negatives, and the daguerreotype, which produced a one-of-a-kind image that could not be replicated.
Although the Shutes worked mainly with ambrotypes in the earlier years, producing a great deal of portrait photography, their adoption of the wet-plate process allowed them to expand into a variety of photographic mediums, such as stereo-cards and tintypes. In addition, with the growing popularity of the wet-plate collodion in the late nineteenth century, the Shutes found an excellent way of satisfying a new rising consumer market for landscape and architectural photography.
Further photographic innovations in the 1870s, such as dry collodion plates and paper photography, and the introduction of magnesium flash-powder in the 1880s opened up additional opportunities for Richard to mass-produce photos and to better record images of interiors. In fact, Richard went on to photograph the elegant drawing rooms and parlors of many of the historic Edgartown hotels, as well as document the relative simplicity of the Methodists' homes at Cottage City. Overall the Shutes' willingness to embrace the latest photographic developments and trends shows how well they responded to consumer interests and a new leisure, middle-class culture.
Regardless of these photographic innovations and their ability to satisfy a consumer, resort market, Richard and Charles first and foremost always tried to emphasize the beauty of the Island itself. Not only did their photos capture the daily lives and experiences happening on Martha's Vineyard, but they also signify how powerful the Shutes' images have been, and still are, in documenting the history and evolution of the Island in the late nineteenth century.
---
THE WORK OF RICHARD G. SHUTE
Richard G. Shute and his father Charles together ran the C. H. Shute & Son photographic studio from 1867 to 1877. During that time they adapted to both the improvements in photographic techniques and the changes in the social, cultural, and economic environment of the Island. Even after Charles' death in 1877, Richard continued to produce photographs and document life on the Island. Overall, the images the Shutes created will always remain an extraordinary source for understanding the history of late nineteenth-century Martha's Vineyard.