Playing Together: High School Sports since Regionalization
High School juniors and seniors from Corinne Kurtz's Sports History class at the Martha's Vineyard Regional High School (MVRHS) researched, created and implemented an exhibit regarding high school sports from before MVRHS's founding through today.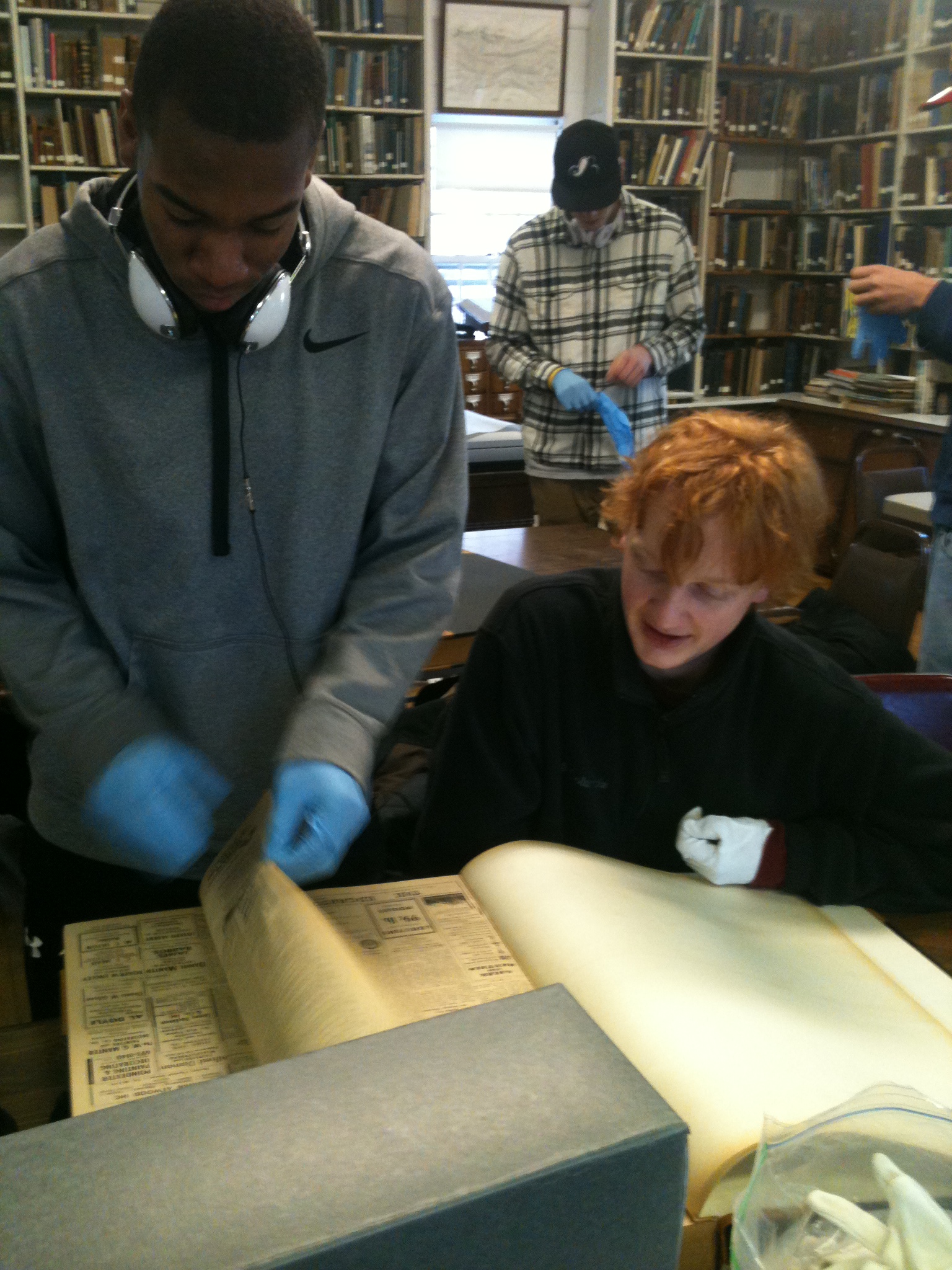 Pre regionalization, there were three high schools on Martha's Vineyard. The 1960s mark the beginning of a new, post regionalization, era for high school sports on Martha's Vineyard. Once rivals, the students of the Martha's Vineyard Regional High School (MVRHS) had to learn to play as teammates. During the 1970s, five new sports were added to the roster while the already established girl's and boy's basketball thrived. In the 1980s, the much sought after Island Cup was won as the parents of the current Martha's Vineyard high school athletes took charge. The 1990s can be characterized both by a remarkable five state championship victories as well as the addition of three new sports teams, cross country, girl's lacrosse and boy's lacrose. More currently in the 2000s, even more outstanding athletics can be noted, including individual and team accomplishments, as well as the addition of varsity swimming.
---
PRE REGIONALIZATION
Before the Regional High School, there were three high schools on the island: Edgartown, Oak Bluffs and Tisbury. Their teams only played against each other and had very few off island games. When the schools came together in 1959, students were afraid of losing their town identities.
1946 Oak Bluffs High School Girl's Basketball Team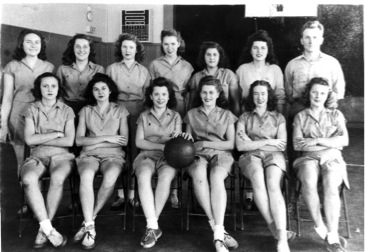 Seated (l-r): Betty Brown, Louise Doughty, Doris Perry, Lillian (Ricci) Cook, Joan Golden, Priscilla Earle.
Standing (l-r): Carol Carr, Barbara Ricci, Carolyn Ripley, Barbara Pond, Phil Amaral, Virginia Hodgton and coach David Dix.
1915 Tisbury High School Boy's Basketball Team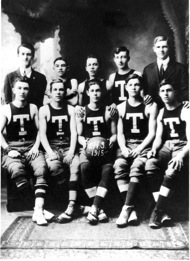 Seated (l-r): Frank Carroll, Donald Swift, "Chicken" Baptiste, Charlie Merrill, and Gene Smith.
Standing (l-r): Bill Powell (manager), Theodore Hughes, Jessie Oliver, Marshall McDonough, and Mr. Dunlap (coach and principal)
---
THE 1960'S
"SPORTS PROGRAMS CONTRIBUTED TO THE WELL ROUNDED DEVELOPMENT OF ALL OF US" – KATHY DUYS, '64
In the 1960s, the newly formed Martha's Vineyard Regional High School developed a sports program that catered to the needs of its students. Coaches worked with their athletes to subdue town rivalries in efforts to promote camaraderie on their teams. These rambuctious, sprited young people had a handful of sports to choose from, unless of course, the student was a girl. Boys had football, track, cross country, basketball, and eventually baseball in the latter part of the decade. Girls had cheerleading or basketball. Volleyball and gymnastics were dabbled in as club sports.
Coaches and Captains 1961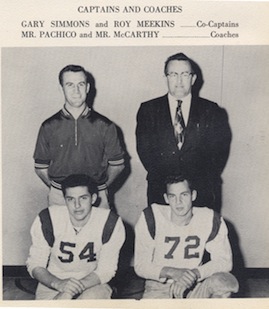 Coach Dan McCarthy played an integral role in the creation of the football program at the high school. He had an assembly in the first year to teach the school the basics of football, and by 1963 he coached the team to an undefeated season. Sancy Pachico coached both football and boys' basketball. When the basketball team was at an away game in Harwich Port, the Vineyard players trashed the locker room. After the game, they regretted their actions because of the moral standard their coach held them to. They wrote apology letters asking for his respect once more.
MVRHS Cheerleaders 1961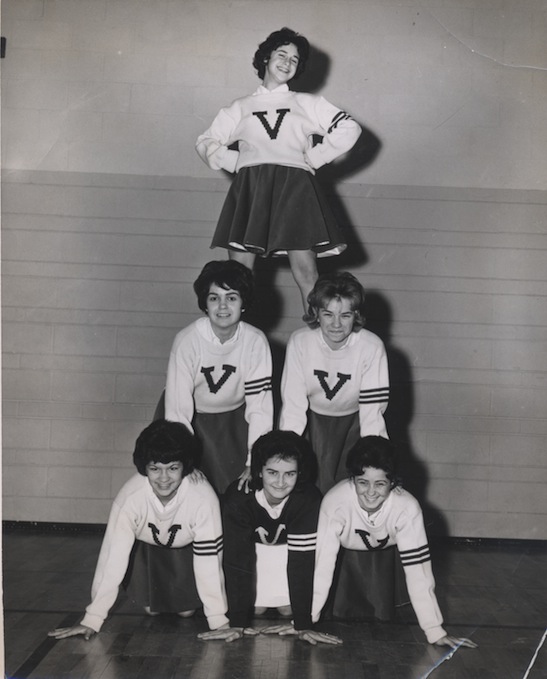 In the 1960s both football and basketball had cheerleaders whose six members were chosen by the boy's team. Cheerleading was the only athletic option for girls other than basketball.
Girl's Basketball Team 1964
Ed Krikorian brought the signature purple and white uniforms to the island from Holy Cross College, who were giving their old uniforms away. Cheerleaders had to buy their own uniforms and make their own skirts and pompoms in Home Economics. The girl's basketball team wore their gym uniforms, which were white, belted dresses they were required to keep starched, with pinnies on top.
Boy's Basketball Team 1961
In the 1960s, basketball was the central sport in the school. The boy's team was very popular and talented, and there was a deep sense of community and commitment among team members.
MVRHS Football Coaches and Captains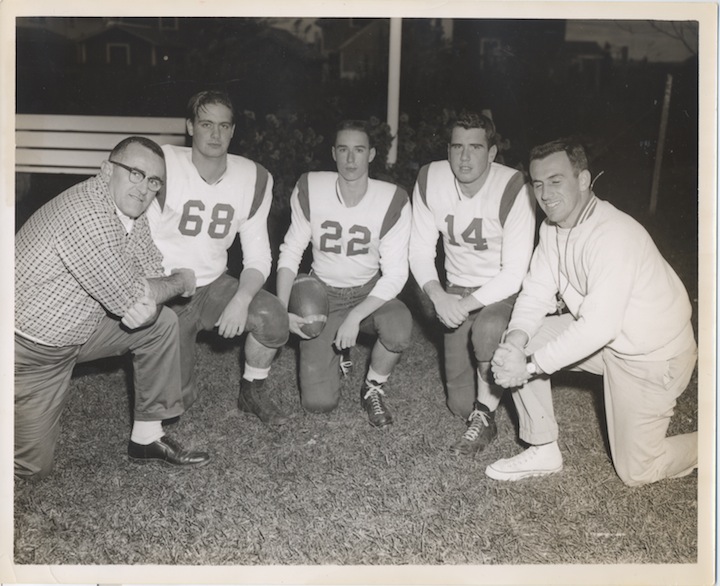 Regionalization affored enough male participants in the 1960s to start the island's first high school football program ever.
MVRHS Yearbook Superlatives Page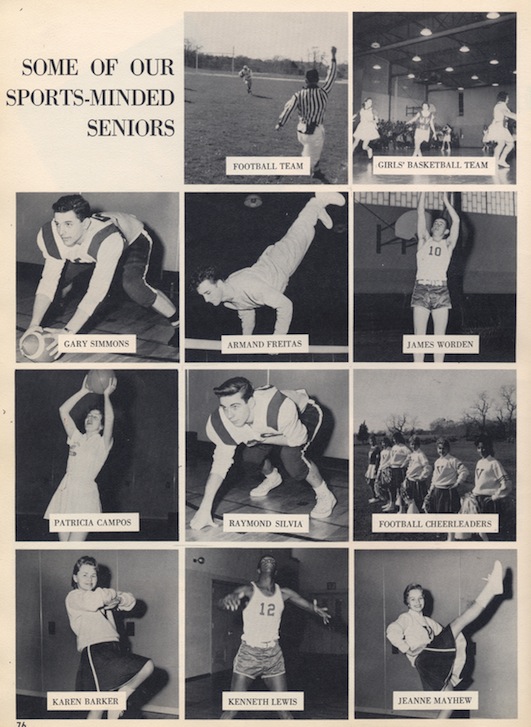 The regional high school's yearbook included sports superlatives for the first time during the 1960s.
"I would've achieved nothing without the encouragement; sports give you the will to go above and beyond what you think you can really do." – Bob Tankard, '64
---
THE 1970'S
"SPORTS RESPONDED TO MANY DEEP HUMAN NEEDS AND WE HOPE THOSE NEEDS DEVELOP IN A POSITIVE DIRECTION. AN OLD SAYING WE GREW UP WITH WAS THAT 'SPORTS DEVELOP CHARACTER' BUT IN MANY CASES I FOUND IT MORE ACCURATE TO SAY THAT 'SPORTS REVEAL CHARACTER." – JAY SCHOFIELD
The 1970's was one of the most productive decades since the regionalization of the High School. Baseball, softball, soccer, golf and tennis were added to the school sports roster, but it was the already established girl's and boy's basetball teams that took center stage and delivered. In the 1970's, Martha's Vineyard basketball was at its peak. The boy's team recorded several undefeated regular seasons, and both boy's and girl's teams made it to the state tournaments. It is only in recent years that our basketball teams have been able to regain some of their former glory.
1979 Girl's Varsity Basketball State Champions
Ann Mallory and Jenny Manter, two members of the Martha's Vineyard 1979 girl's basketball team, hold up the Division III Massachusetts State Championship plaque, (l-r) Ann Mallory, Jenny Manter and Trcicia McCarthy.
Photo Courtesy of Ken Goldberg, The Grapevine 3/28/79
1978 Baseball Team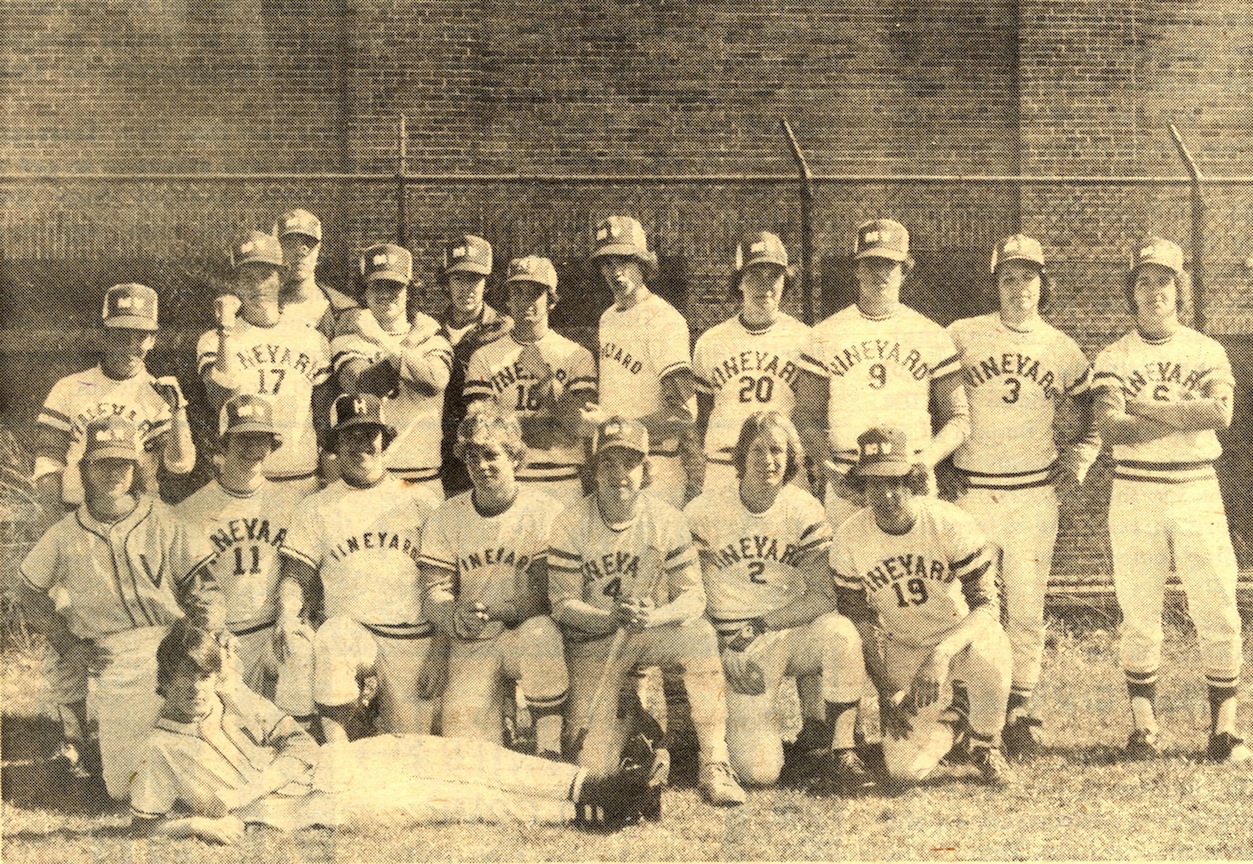 Photo courtesy of Ken Goldberg, The Grapevine
The Nantucket Game, 1978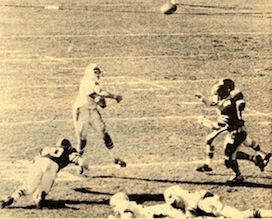 Vineyard quarterback Mark McCarthy releases the ball as Nantucket players close in. Martha's Vineyard lost this game 36-0 and was defeated in their great rivalry with Nantucket during this decade 3-7.
Photo courtesy of Ken Goldberg, The Grapevine
The 1979 Martha's Vineyard Boy's Varsity Basketball Team, Boston Garden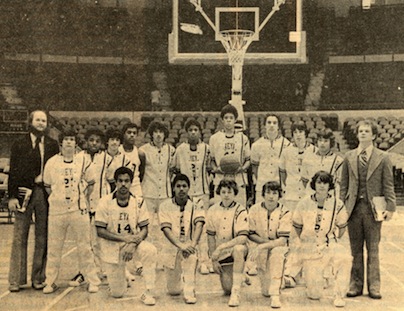 This was the third year the Vineyarders had returned to the Garden and with an impressive fourth quarter comeback, they finally emerged victorious.
Front Row (l-r) Alan Fortes, Sam DeValle, Phil Mercier, Pat Mercier, Steven Maciel.
Standing (l-r) J.V. Coach Michael O'Brien, Mark McCarthy, Marc Rivers, Todd Rebello, Martin Moreis, Eddie Ben David, Steve Daniel, Ralph Harding, Peter Clements, Phil Regan, Chris Rebello, Coach Jay Schofield.
Photo courtesy of Ken Goldberg, The Grapevine
---
THE 1980'S
The 1980s was a decade in which current teachers and parents of today's students captured the spotlight in both boy's and girl's basketball in the Cape & Island League. Boys were league champions in 1984 and 1985. Michael Joyce, now the head coach of the boy's varsity basketball team and biology teacher, played on both of those teams. In the 1980s, the girl's basketball team won a state championship and also captured several Cape & Island League titles. In football, The Island Cup was won, kept and lost several times under coach Tankard, but this decade was highlighted with our success on the hardwood by the boy's and girl's teams.
The Team That Never Passed. 1987 Boy's Basketball Team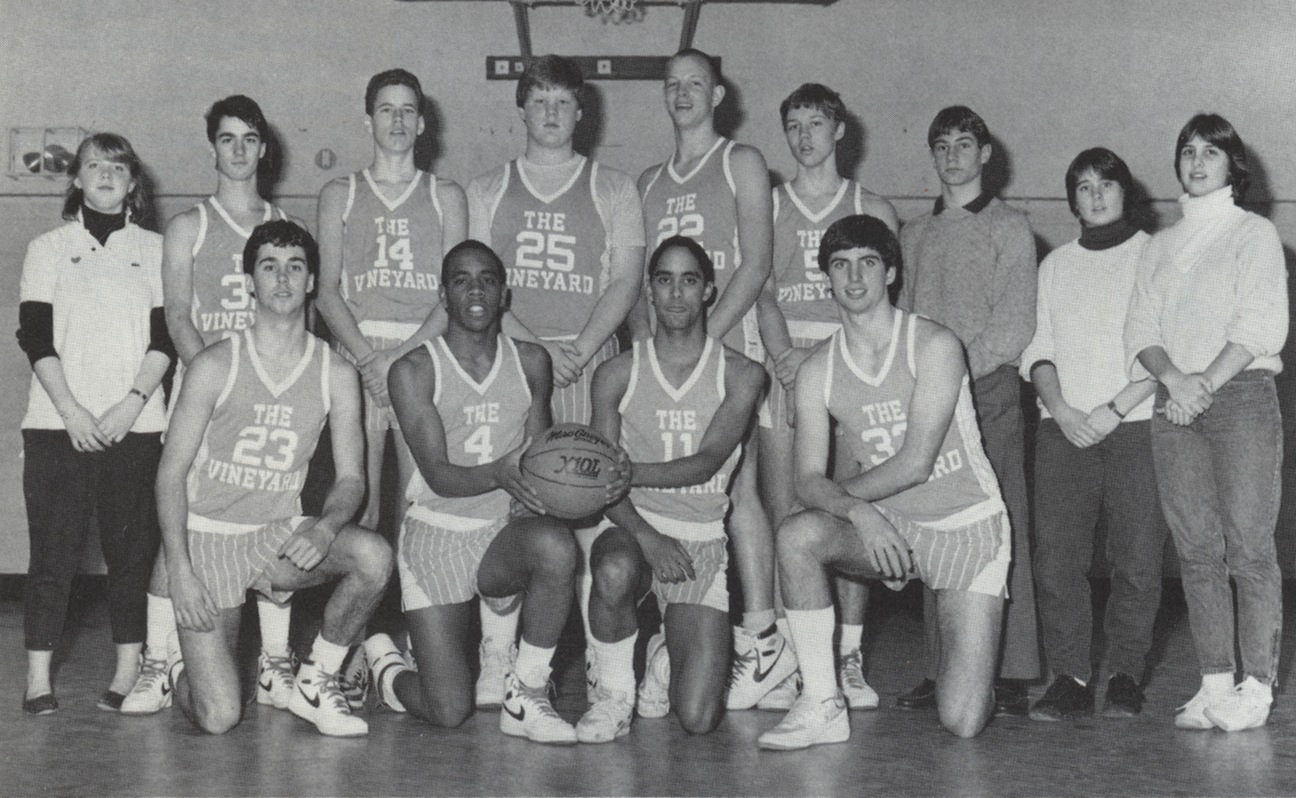 1986 Cape & Island League Champions 14-3
Kneeling: Mike Debettencourt, James Jette, Jason Harris, Mike Joyce
Back row: Peggy Smith, Greg Couthino, Merril Langley, Bob Holt, Nathan Durawa, Stan Wojnowski, Nelson Oliver, Becca Baird, Rachel Baird
1985-86 Boy's Varsity Hockey
Started in the early 1980s, boy's hockey has become very successful, with several state championships to their credit. This photo is of one of the earliest teams, and features current physics teacher Dana Munn (top, second from left) and Tisbury School physical education teacher Kevan Nichols (front, center)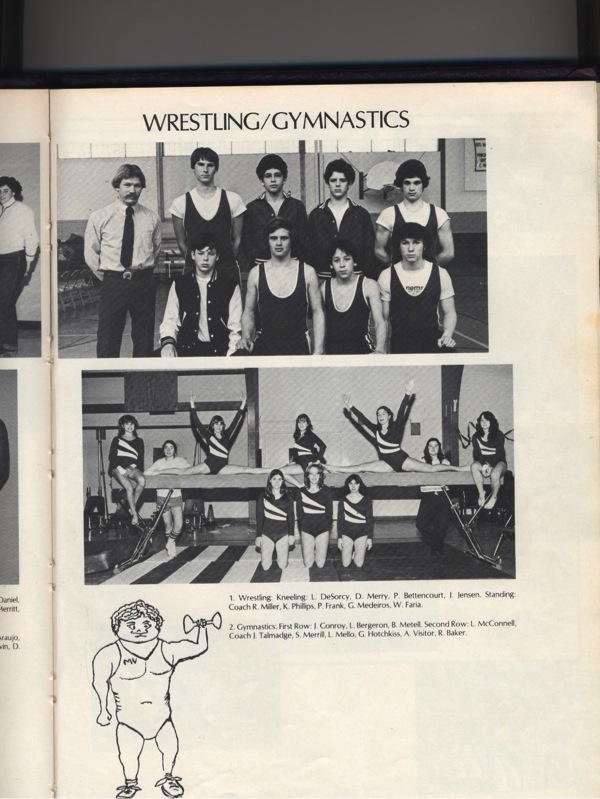 1981 Wrestling and Gymnastics Teams
By the early 1900s, MVRHS was able to support both a wrestling and gymnastics team, though both very short-lived. Both teams ended by 1987, supplanted by a growing interest in ice hockey.
---
THE 90'S
During the 1990's, Martha's Vineyard Regional High had a handful of successful sports teams. Football was a big part of this success under the guidance of new coach, Donald Herman, who took over the program in 1988. Five state championships would follow, four of which were in the 90s (1991, 1992, 1997, 1999), with two of those years marked by an undefeated season. Track and field won top honors in 1998 for the first time. Likewise, boy's hockey brought home their first state title at the close of the decade. Other sports were also added to the athletic program including cross country ('95), girl's lacrosse ('97) and boy's lcrosse ('98).
1998 Boy's Lacrosse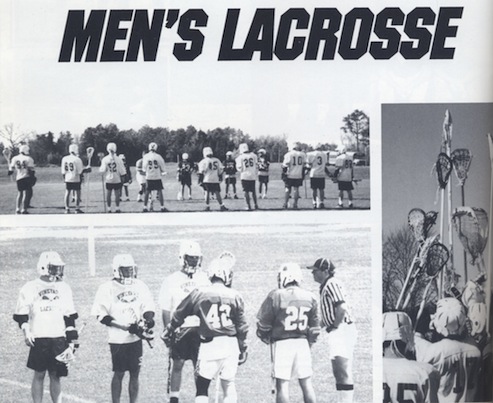 The girl's lacrosse team was established in 1997, shortly followed by the boy's lacrosse team (1998). Today, it is one of the most popular sports at the high school.
1992 Albie Robinson on Channel 4 News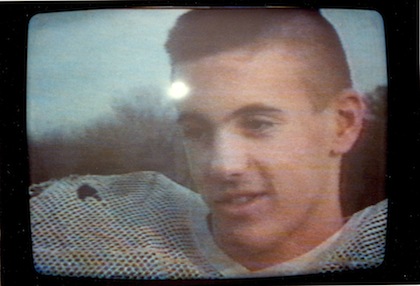 Known as "one for the ages," the famed 1992 Nantucket game featured a Vineyard team that hadn't won in Nantucket for 20 years, not since Ron Brown and his 1972 Vineyarders. With less than five minutes, and down 12-0, the Vineyard orchestrated the Comeback, ending in a touchdown by wide receiver Albie Robinson, and extra points by Mike Dowd. Albie Robinson is being interviewed about his outstanding catch in the '92 Nantucket game by Channel 4 News.
Photo Courtesy of Albie Robinson
1998 Ben Higgins at the High Jump
The 1990s closed with a uniquely talented Track and Field team, coached by Joe Schroeder, that took a state championship in 1998. Ben Higgins, Joel Graves and Michael Laverty formed the nucleus of team that captured both a state title and a decathlon in 1997. Ben Higgins still holds the state record for the long jump, as well as the school records for the long jump, triple jump, 100 m, 400 m and decathlon.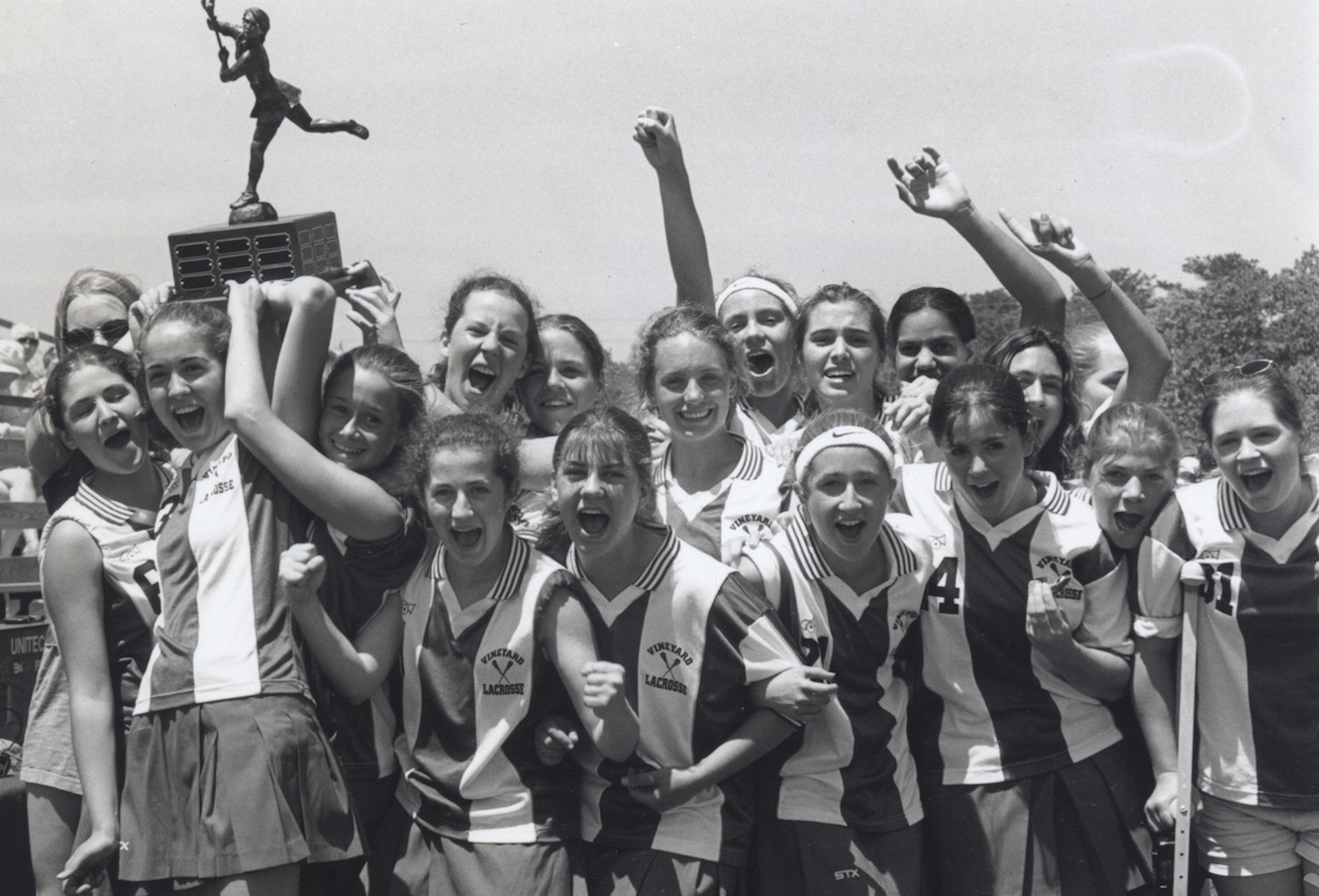 1998 Girl's Lacrosse Team Win the Nectar Cup
In just their second year, the girl's lacrosse team took the Nectar Cup, which was sponsored by Nantucket Nectars and served as another component to the Island rivalry.
---
THE 2000'S
Throughout the 2000's there were outsanding individual and team accomplishments shining through for MVRHS athletics. In both 2000 and 2002, the boy's hockey team made it to the state championships and won. In 2003, Coach Donald Herman's football team won the Superbowl for the first time since '99. Just recently, the 2012 boy's tennis team won a first state championship. Girl's basketball has started to shine and boy's basketball has had many successful seasons. This year a varsity swimming team was added to the sports program and practice at the newly constructed YMCA. Individually, Randall Jette was an all around athlete who especially excelled on the football field. He was accepted to the University of Massachusetts, a Division I school, in 2011 with a full scholarship.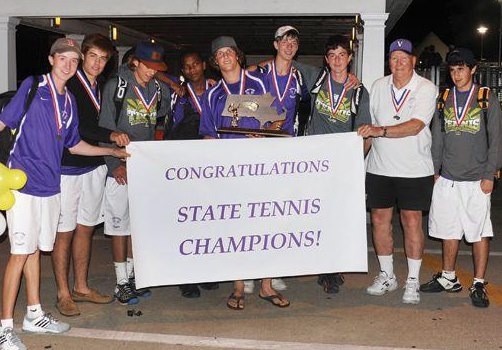 2012 Boy's Tennis
In 2012, the boy's tennis team went 23-0 and won the state championship for the first time in their history. Players in the picture (l-r) are Justice Yennie, Kent Leonard, Justin Smith, Patrick McCarthy, Jackson McBride, Natty Schneider, Ryan Sawyer and Sean McAndrews.
Photo Courtesy of Ralph Stewart
2010 Great American Rivalry Series
By 2010, the Island Cup had become part of the Great American Rivalry Series. Coach Donald Herman and player Randall Jette celebrated another win against Nantucket during the 2010 Island rivalry. This year, the game earned QB Alec Tattersall a nod in Sports Illustrated as he engineered a last minute, come-from-behind victory reminiscent of 1992.
Photo Courtesy of Kendall Robinson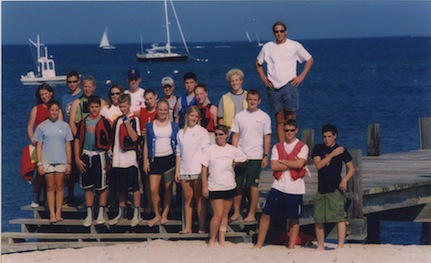 2001-2002 MVRHS Sailing Team
While unique to high school sports, sailing is hardly unfamiliar to Islanders. MVRHS has had a sailing team since the 90s and just recently purchased their own racing fleet from Tabor Academy. Previously, they borrowed boats from the Edgartown and Vineyard Haven Yacht Clubs. Because of the dangers inherent in all water sports, teamwork is especialy vital to sailing.
Photo Courtesy of Galen Brew and Sail MV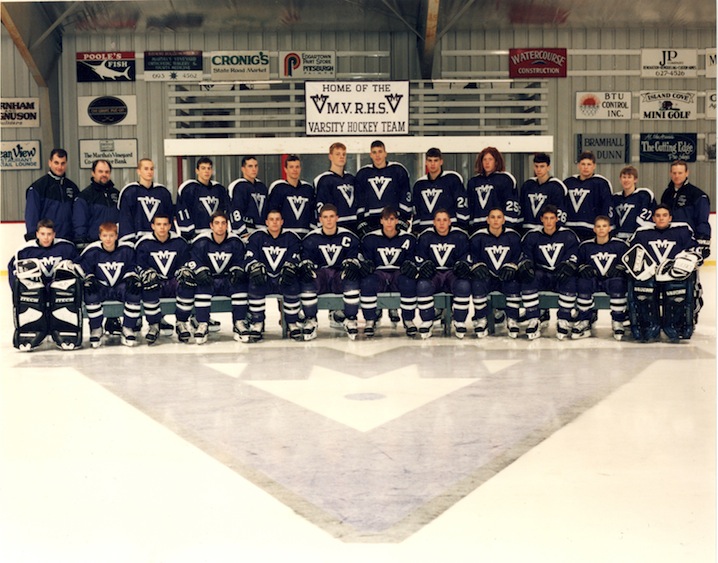 2000-2001 Boy's Hockey Team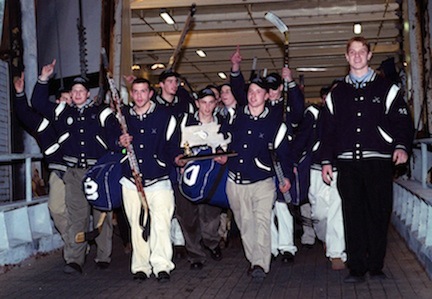 2002 "Champs Off the Ferry"
Boy's hockey became very successful in the late 1990s and early 2000s, winning a Division III state title (2000) and a Division II state title (2002), each time by defeating St. Mary's Lynn. Notable performancse in the 2002 game were given by Ben Gunn (3 goals/2 assists) and goalie Jeff Smadbeck (21 saves).
Photo courtesy of Ralph Stewart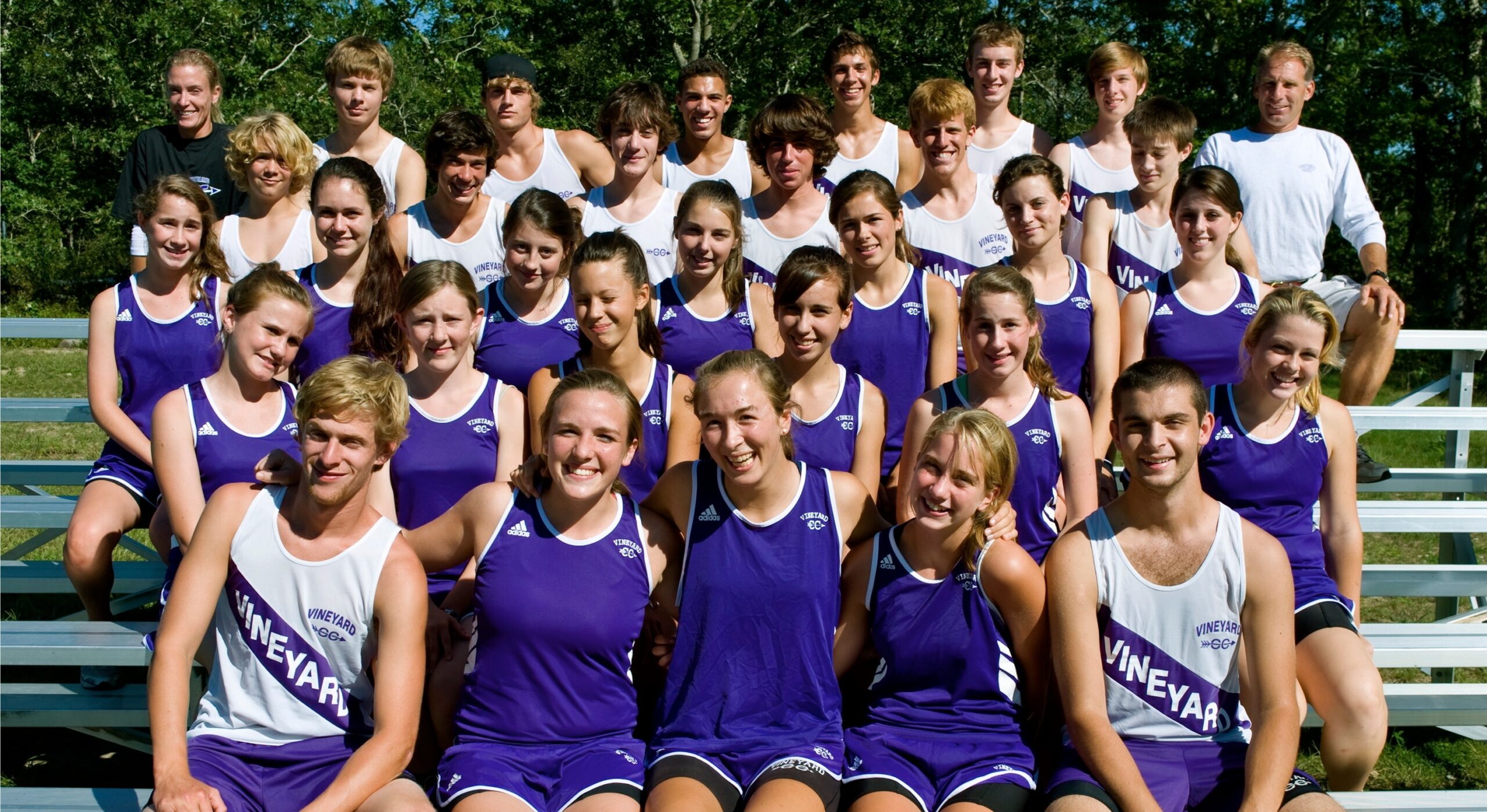 Cross Country Team 2008
Coached by MVRHS physical education teacher, Anne Lemenager, the girl's field hockey team has enjoyed years of success in both the 90s and 2000s, and are now coached by MVRHS physical education teacher Lisa Knight.
Photo Courtesy of Duke Smith