Women's Suffrage in America
2020 marks the 100th anniversary of the passage of the 19th Amendment, the culmination of over seventy years of activism and advocacy which extended the right to vote to women. Votes for Women: An Island Perspective, opening October 27, 2020 at the Museum, will look back at the long fight for women's suffrage in America through the lens of the Island and the women who lived here. It will touch on how the debate played out in Vineyard newspapers and parlor rooms and features the stories of Lucy Stone and the Blackwell family, who helped lead the movement and considered the Island a second home. Do you have a story that you'd like to share related to the fight for women to have equal voting rights? Please email stories@mvmuseum.org. We'd love to hear from you!
The online exhibit below is a culmination of social media posts shared in celebration of the centennial of the 19th Amendment ratification.
---
The Beginnings of the Fight

Women first collectively organized on a national level for voting rights in the late 1840s, but it wasn't until 1878 that an amendment was introduced to Congress. 41 years later, in the spring of 1919, it finally passed the House and Senate and was sent to states for ratification. Of the 36 needed, Massachusetts was an early ratifier, adopting it on June 25th, 1919. The final state, Tennessee, adopted the Amendment one hundred years ago on August 18, 1920 securing women's right to vote. While the road to this victory was long, it would prove much longer for indigenous women and women of color, who had to wait years, even decades, to gain the same voting rights given to white women in 1920.
---
Symbolic Imagery
Visual imagery played an important role in the suffrage movement and different groups used symbols, colors, flowers, and animals in their messaging. The purple, white, and gold flag used by the National Women's Party is still used in the logo for the Martha's Vineyard League of Women Voters. A 1913 Party newsletter states, "Purple is the color of loyalty, constancy to purpose, unswerving steadfastness to a cause. White, the emblem of purity, symbolizes the quality of our purpose; and gold, the color of light and life, is as the torch that guides our purpose, pure and unswerving."
The Massachusetts Suffrage Association used an image of a bluebird to help promote the passage of a 1915 referendum that ultimately failed. Known as "Suffrage Blue Bird Day," approximately 100,000 small colorful tin bluebirds were pinned up across the state. This particular blue bird belongs to Island artist Jacqueline Baer, and it has hung in her kitchen for many years.
---
Voting Rights, but not for all Women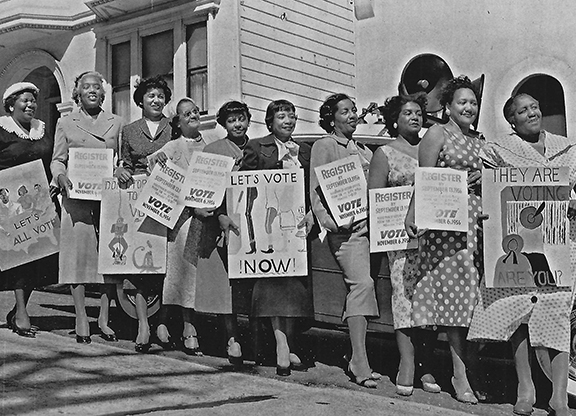 The passage of the 19th Amendment did not guarantee the vote for all women. In the years that followed, many states passed laws that discriminated against and limited freedoms for many. The same labyrinth of poll taxes, literacy tests, and intimidation that kept black men, mostly in the south, from casting their votes also limited the number of black women successfully making it to the ballot box. Others were also restricted. In 1920, Indigenous people were not considered United States citizens and therefore not allowed to vote. Despite the passage of the 1924 Indian Citizenship Act, indigenous voting rights became a state-by-state battle that stretched into the 1960s. Chinese and Japanese American women faced similar barriers as their rights were denied into the 1940s and 50s. The Voting Rights Act, passed in 1965,  banned racial discrimination in voting practices but the legacy of years of unfair voting practices still remains with us.
Despite these challenges, women did not give up the fight for equal voting rights. This photograph, courtesy of Dr. Lorna Andrade, a member of the MV League of Women Voters, shows members of the National Council of Negro Women (NCNW) during a campaign in 1956, the slogan of which was "A Voiceless People is a Hopeless People."
---
The First Votes Cast on Island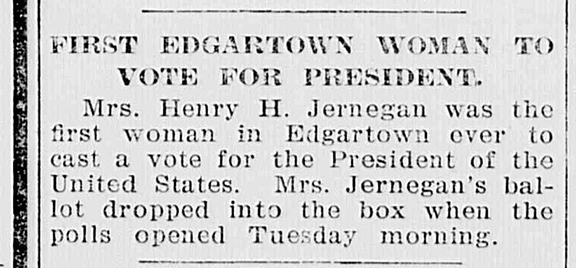 On November 4th, 1920, 49-year-old Almah Pease Jernegan became the first Edgartown woman to ever cast a ballot in a presidential race, this one between Republican Senator Warren G. Harding and Ohio Governor David Cox.
Two months earlier, the Vineyard Gazette reported, not without some condescension, that 68 women from Edgartown, 56 from Oak Bluffs, and 115 from Vineyard Haven had already registered to vote. "Mere men who acted as registrars of voters were unqualified in their approval of the spirit in which the women of the Island are approaching their new task. And as for the old stigma which has attached to womankind from time immemorial – her foolish reluctance to tell her age – that bubble has burst for ever, if Vineyard experience is any criterion."
Today, it is more important than ever for women to exercise this long-fought right to vote. The Martha's Vineyard League of Women voters has launched an ambitious campaign called "100% for the 100th" with the goal of registering 100% of eligible voters on Martha's Vineyard. Have you registered to vote? If not, you can here: https://www.sec.state.ma.us/ovr/.

---
Why Wear White?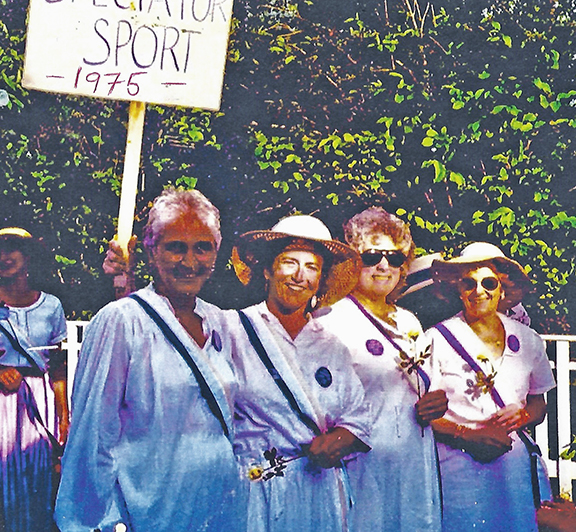 Savvy women in the suffrage movement of the early 20th century realized the power that fashion could play in the fight for equality. Taking inspiration from a 1908 London rally in which their British counterparts, dressed all in white, gathered by the tens of thousands, American suffragists incorporated the National Women's Party colors of white, purple, and gold into their wardrobes. Anti-suffrage propaganda often portrayed women involved in the movement as masculine, so suffragists instead conformed to the feminine norms of the day, donning white dresses and accessorizing with sashes, pins, and jewelry that reflected the colors and symbols of the movement. At marches and rallies, the result of this fashion choice was visually striking and gave the appearance of a harmonious, united front. The tradition of wearing white continues today. Shirley Chisholm, the first black woman to be elected to Congress, wore white on her first day on the job. Representative Alexandria Ocasio-Cortez did as well, stating "I wore white today in honor of the women who came before me, and the women yet to come." You, too, can pay respect to those who fought and continue to fight for equity by joining others today from 10-11 at Cannonball Park in Edgartown. Another gathering will occur on Wednesday, August 26th, from 10-11 at  Ocean Park in Oak Bluffs. Don't forget to wear white!
This photo shows Martha's Vineyard League of Women Voters members members (l to r): Carol Korey, Suzanna Sturgis, Patricia Blakesley, and Hope Runner as they marched in the Island's Fourth of July parade.

---
Island Connections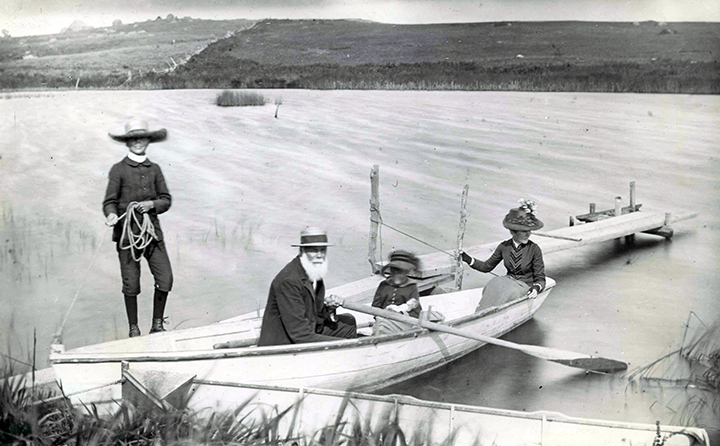 An April 8th, 1927 Vineyard Gazette article stated, "As regards to woman suffrage, the Vineyard has always been very conservative. While there has never been any active party for or against it, the general attitude of both men and women has seemed to disregard it altogether. There has been, however, and still is at least one lady living on the Vineyard, who has been as active in suffrage as the environment would allow, since she came to the Island in 1882. Mrs. Florence Blackwell Mayhew of Chilmark…has worked for the cause which she believed in until success having been attained she turned her mind and efforts to other things and has attracted the Island's attention by her recent appointment as a local preacher." 
Florence was a member of an extraordinary family, the Blackwells, who first began coming to the Island in the 1860s and many of their descendants continue to live on or visit the Island to this day. Amongst their number were Elizabeth Blackwell (1821-1910), the first female physician in the United States, and her sister Emily (1826-1910), who followed in her footsteps and became the third female physician in the country. Together they found the New York Infirmary for Indigent Women and Children and the Women's Medical College. Their younger brother, Henry (1825-1909), married Lucy Stone (1818-1893), an abolitionist and one of the early leaders of the women's suffrage movement. Together they published the Women's Journal, the leading women's rights periodical of the era. Their work was carried on by their daughter, Alice Stone Blackwell (1857-1950). Florence's own mother,  Antoinette Brown Blackwell (1825-1921) was a noted reformer and the first woman in America to be ordained as a minister. The Island provided a welcome respite for the family and offered them the opportunity to relax and reconnect with one another amidst their otherwise busy lives. This photograph, taken by Alice Stone Blackwell in 1888, shows members of the Blackwell family on Chilmark Pond.
---
Oral History with Ethel Whidden – The Blackwell Family and Suffrage
Artist and poet Ethel Whidden (1898-1992 ) was the granddaughter of Antoinette Brown Blackwell (1825-1921), the first woman to become an ordained minister in America. Ethel came to Chilmark every summer continuing the tradition of her Blackwell relatives who began visiting in 1860. In an excerpt from a 1982 interview, Ethel talks about being a suffragist and describes marching in the suffrage parade in New York City in 1915. She also speaks about being a member of a family with such powerful and accomplished women and recalls some of her personal memories of her grandmother, her great aunt Lucy Stone, her aunt Florence Blackwell Mayhew, and her cousin Alice Blackwell.
---
Interview with Deborah Medders, Chairman of the Martha's Vineyard
League of Women Voters Centennial Celebrations
An active member of the Martha's Vineyard League of Women Voters  since 1989, Deborah Medders gives a brief overview of the history of the League both nationally and on Martha's Vineyard in this interview. She talks about the challenges women have faced to have their voices heard and their eventual victories. She also discusses the ongoing work of the League to educate voters on the candidates and issues coming up in local, regional, and national elections, while pressing the opportunity the League affords for people of all ages to get involved on issues which affect their community. Above all, Deborah encourages all eligible voters to be sure to exercise their right to vote.
---
One Woman's Voice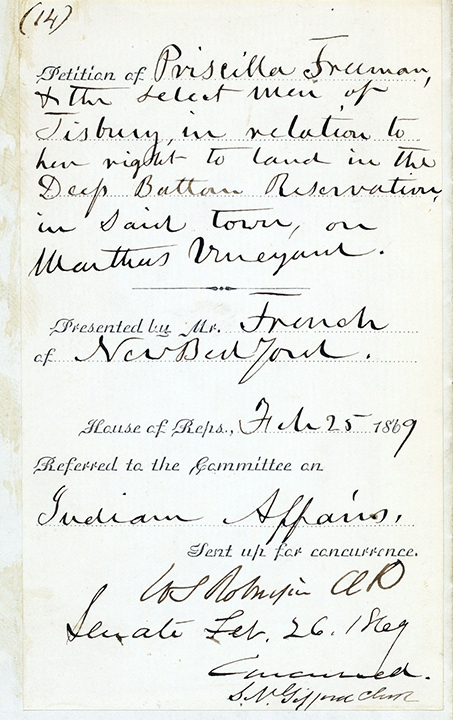 In March of 1869, Priscilla Freeman (1812-1888), a Wampanoag, sent a petition to the state of Massachusetts as "the only living female inhabitant on the Deep Bottom Reservation" for the enfranchisement of native people and the right for women to vote. Priscilla was tenacious, and while this petition went unheard, she continued to fight for equal access, even appearing in 1874 before members of the Massachusetts Legislature to plead for the restoration of her fishing rights in Tisbury Great Pond. Nearly ten years later, she was still petitioning the state,  and her story gained the attention of the Island newspaper Cottage City Star, that reported in 1881, "Mrs Priscilla Freeman…is a wronged woman. Massachusetts will not suffer a person to be cheated out of their rights because Indian blood courses in their veins – rather it is a guarantee that their rights will be more equitably accorded them than if they were members of the white race. At least we hope it and believe it." Priscilla was not granted her rights, and subsequently moved to Gay Head (Aquinnah) where she died of tuberculosis 7 years later. There are few records to help shed light on Priscilla's story, but she will be remembered among those who spoke out against injustice and fought for equity. This document is a petition Priscilla filed in February of 1869, one of many in her long battle for land rights.
---
Forward Into the Light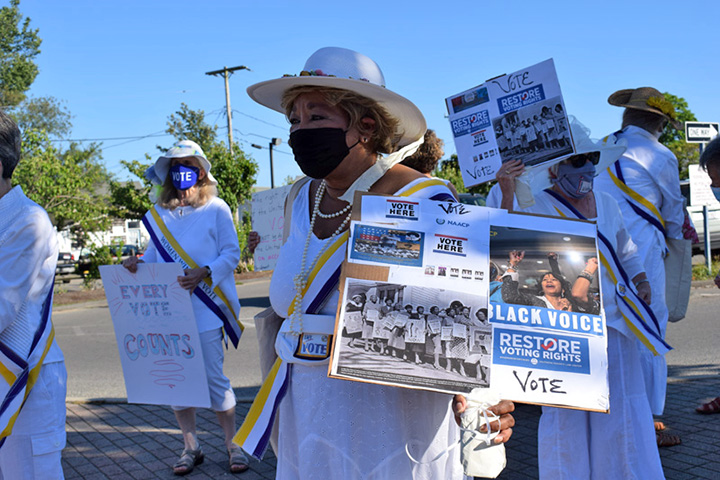 "Forward, into light!" was a popular rallying cry for the women's suffrage movement. During marches and demonstrations, suffragists carried banners emblazoned with a verse that evoked the movement's goal of a brighter future through women's votes: "Forward out of error/ Leave behind the night/ Forward through the darkness/ Forward into light!" The slogan was adopted by the National Women's Party as a motto and was used famously on a banner held by lawyer and activist Inez Milholland as she led a 1913 suffrage parade in Washington, D.C atop a beautiful white horse.
On this day, 100 years ago, the freshly ratified 19th Amendment was signed into law. It was a hard won victory for some women, but not all. Indigenous women and women of color would continue their fight for the right to vote for years and decades after. Today, organizations like the League of Women Voters strive for equity and inclusion in their efforts, stating "we envision a democracy where every person has the desire, the right, the knowledge, and the confidence to vote." You can learn more about the Martha's Vineyard League of Voters at: www.leagueofwomenvotersmv.org. This photograph, taken by Kyra Steck,  shows  Dr. Lorna Andrade and other members of the MVLWV at a recent gathering at 5 corners in Vineyard Haven.
In 1973, Congress designated August 26th as "Women's Equality Day" to recognize this milestone and honor all the women who have fought for equity.