One Island, Many Stories Speaker Series: Voyaging
May 20 @ 4:00 pm

-

5:30 pm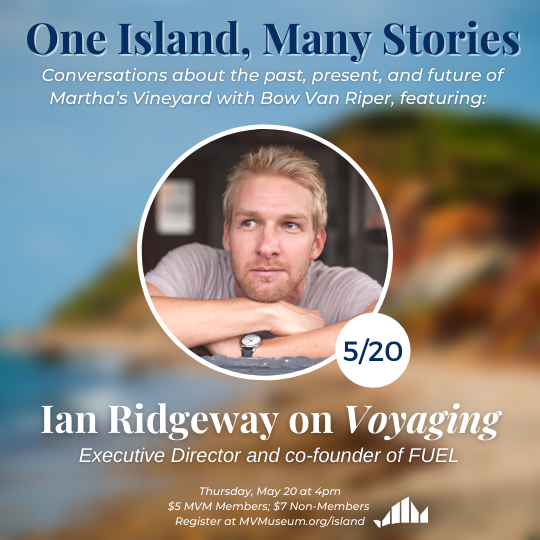 The history of Martha's Vineyard has unfolded over thousands of years, across hundreds of square miles of land and sea, and in dozens of communities across the Island. It is not a single story, but many interwoven stories.
Inspired by the MVM's exhibition One Island, Many Stories, each episode of this monthly virtual program will feature Research Librarian Bow Van Riper in conversation with a different member of our Island community whose work engages with one of the exhibition's themes: escaping, changing, voyaging, belonging, creating, fishing, and farming. This live and lively discussion series will explore how the Island's past shapes its inhabitants' present-day lives and how understanding that continuity (and change) might help us navigate the future of our Island.
The Vineyard was, from the 1670s to the 1930s, part of a vast maritime world. Oceangoing ships—whalers, fishing schooners, privateers, and merchant vessels of all sizes—called at Edgartown and Vineyard Haven, tying the Island to distant ports and offering Islanders the promise of wealth and adventure. Steam and diesel engines ended the Age of Sail, and the Cape Cod Canal ended Vineyard Sound's days as a maritime highway, but the Island's maritime heritage remains alive and vibrant in the 21st century. Join MVM research librarian Bow Van Riper in a conversation with Ian Ridgeway, co-founder and executive director of the Foundation for Underway Experiential Learning (FUEL) in a conversation around the theme of "voyaging."
$5 for Members; $7 for Non-members. Register here.