SOLD OUT – Music in the Courtyard: Jim Kweskin and Rose Guerin with Matt Berlin and Miguel Samuel
September 24 @ 5:00 pm

-

7:00 pm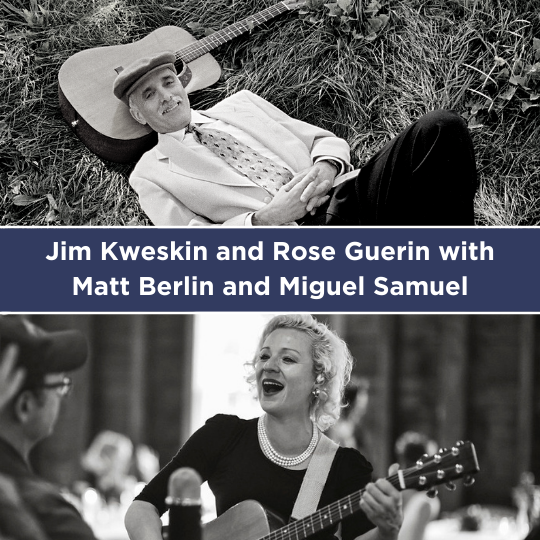 Jim Kweskin founded the Jim Kweskin Jug Band, which was a significant part of the folk and blues revival of the 1960s and modernized the sounds of pre-WWII rural music. Jim has more than twelve solo and collaborative albums and was most recently featured on Somoa Wilson's 2020 album, I Just Want to Be Horizontal.
Rose Guerin made her singing debut at the age of four as one of "the kids" on Kweskin's 1979 album, Swing on a Star. Guerin is a songwriter, solo artist, and member of the indie-folk duo Vandaveer. She has toured internationally and recorded with numerous artists including Ringo Starr. Returning to her Island home in 2011, Guerin became a co-founder of LADYFEST and works to raise awareness around community needs through her music.
Kweskin and Guerin will be joined onstage by longtime friend Matt Berlin, and singer-songwriter instrumentalist, Miguel Samuel. Berlin has toured and recorded with the Jim Kweskin band since the late 1990s, as well as playing with numerous other bands, most recently Annie and the Furtrappers and the Dixie Cookbook.
This event is sold out. Thank you for your interest!
Please note: this event will occur rain or shine.