One Island, Many Stories Speaker Series: Farming
November 18, 2021 @ 4:00 pm

-

5:00 pm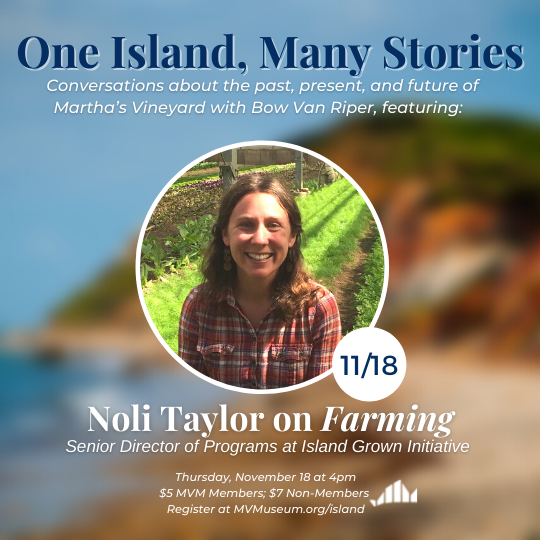 The history of Martha's Vineyard has unfolded over thousands of years, across hundreds of square miles of land and sea, and in dozens of communities across the Island. It is not a single story, but many interwoven stories. 
Inspired by the MVM's exhibition One Island, Many Stories, each episode of this monthly virtual program will feature Research Librarian Bow Van Riper in conversation with a different member of our Island community whose work engages with one of the exhibition's themes: escaping, changing, voyaging, belonging, creating, fishing, and farming. This live and lively discussion series will explore how the Island's past shapes its inhabitants' present-day lives and how understanding that continuity (and change) might help us navigate the future of our Island.
The landscape of Martha's Vineyard has long presented settlers—from Wampanoag pioneers to present-day homeowners—with a patchwork of challenges and opportunities: unruly scrub-oak forests and restless shorelines, along with rich upland soils and acres of rolling pastureland. Over multiple centuries, the Island's farmlands have not only provided food for Islanders, but sustained profitable cranberry, wool, and dairy industries. In the twenty-first century, after decades of decline, Vineyard agriculture has entered a renaissance fueled by interest in sustainable farming practices, locally grown crops, and innovative solutions to the problem of ensuring food security for all. Join MVM research librarian Bow Van Riper and Noli Taylor of Island Grown Initiative in a conversation around the theme of "Farming."
Noli has done environmental and agricultural advocacy and organizing work with non-profits and community groups across the country for more than 20 years.  She graduated from Haverford College and the Green Corps Field School for Environmental Organizing, and served on the boards of the Massachusetts Dept. of Agricultural Resources and Massachusetts Farm to School.  She has been working with Island Grown Initiative since 2006, and helped launch IGI's farm to school program, mobile market, community lunch program, gleaning program, and more.  She lives with her family in Aquinnah.
MVM Members $5; Non-Members $7. Click here to register for the Zoom program.