One Island, Many Stories Speaker Series: Ann Smith on Creating
December 9 @ 4:00 pm

-

5:00 pm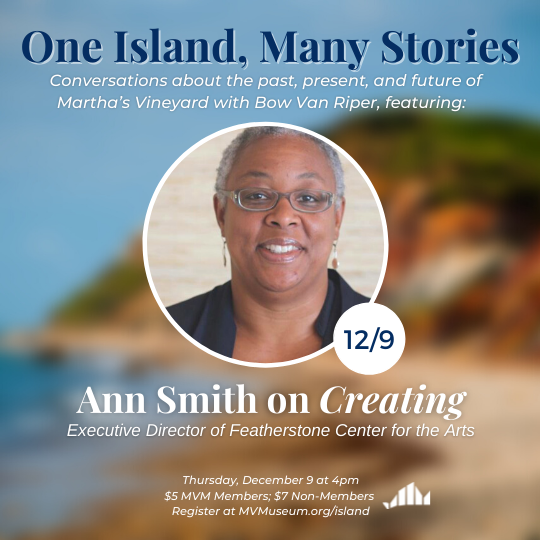 The history of Martha's Vineyard has unfolded over thousands of years, across hundreds of square miles of land and sea, and in dozens of communities across the Island. It is not a single story, but many interwoven stories.
Inspired by the MVM's exhibition One Island, Many Stories, each episode of this monthly virtual program will feature Research Librarian Bow Van Riper in conversation with a different member of our Island community whose work engages with one of the exhibition's themes: escaping, changing, voyaging, belonging, creating, fishing, and farming. This live and lively discussion series will explore how the Island's past shapes its inhabitants' present-day lives and how understanding that continuity (and change) might help us navigate the future of our Island.
Martha's Vineyard, though a place of escape and renewal for visitors from all walks of life, has long held a particular appeal for—and exerted a particular hold over—visual artists. Summer residents like Thomas Hart Benton, Loïs Mailou Jones, and Enid Yandell; "washashores" like Stanley Murphy and Alison Shaw; and Island-grown talents like Allen Whiting have all found inspiration in the people and places of the Vineyard. Each year, galleries and public spaces across the Island are filled with the work of artists who, though not household names, are equally part of this long, rich tradition. Join MVM research librarian Bow Van Riper in a conversation with Ann Smith, executive director of Featherstone Center for the Arts, in a conversation around the theme of "Creating."
$5 MVM Members; $7 Non-members. To register for the virtual program, please click here.
If you would like to become a member to receive discounted admission to this program and others, click here. Special year-round Islander membership rates are available, click here to learn more.