One Island, Many Stories Speaker Series: Changing
April 15 @ 4:00 pm

-

5:30 pm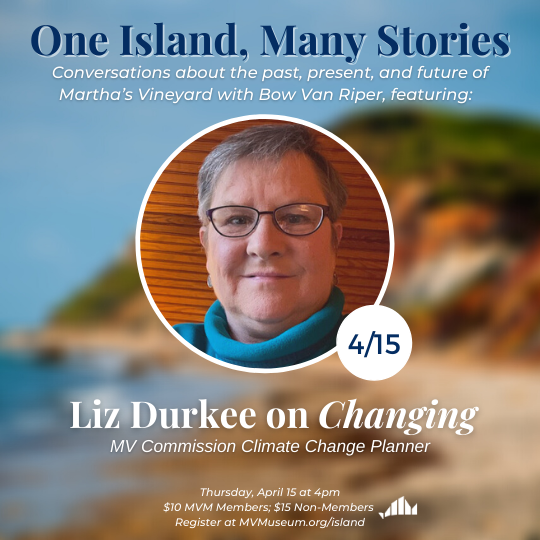 The history of Martha's Vineyard has unfolded over thousands of years, across hundreds of square miles of land and sea, and in dozens of communities across the Island. It is not a single story, but many interwoven stories.
Inspired by the MVM's exhibition One Island, Many Stories, each episode of this monthly virtual program will feature Research Librarian Bow Van Riper in conversation with a different member of our Island community whose work engages with one of the exhibition's themes: escaping, changing, voyaging, belonging, creating, fishing, and farming. This live and lively discussion series will explore how the Island's past shapes its inhabitants' present-day lives and how understanding that continuity (and change) might help us navigate the future of our Island.
We live on a fragile triangle of shifting sand and gravel, surrounded by the restless sea. The landscape of the Island has been reshaped, for twenty thousand years, by wind and moving water, and more recently by humans who have sought to alter it to serve human needs. Living on the Vineyard means balancing human needs and natural conditions, but what does that mean at a time when the human needs are growing more complex, the natural conditions more unpredictable, and the vulnerability of critical infrastructure more apparent.  Join MVM Research Librarian Bow Van Riper and Liz Durkee, climate change planner for the Martha's Vineyard Commission, in a conversation around the theme of "changing."
$5 for Members; $7 for Non-members. Click here to purchase a ticket.