One Island, Many Stories Speaker Series: Belonging
June 17 @ 4:00 pm

-

5:30 pm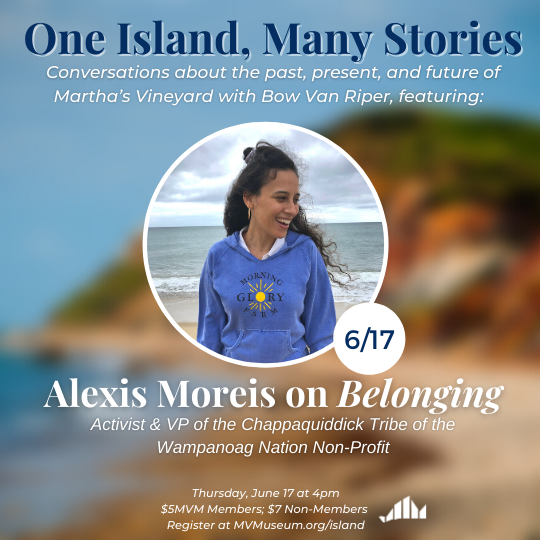 The history of Martha's Vineyard has unfolded over thousands of years, across hundreds of square miles of land and sea, and in dozens of communities across the Island. It is not a single story, but many interwoven stories. 
Inspired by the MVM's exhibition One Island, Many Stories, each episode of this monthly virtual program will feature Research Librarian Bow Van Riper in conversation with a different member of our Island community whose work engages with one of the exhibition's themes: escaping, changing, voyaging, belonging, creating, fishing, and farming. This live and lively discussion series will explore how the Island's past shapes its inhabitants' present-day lives and how understanding that continuity (and change) might help us navigate the future of our Island.
We are one Island, but many communities. Common heritage and shared experience unite us into communities with shared memories and experiences, but divide us –sometimes with catastrophic results–from those seen as "different." The Wampanoag have been the Indigenous stewards of the Island for 12,000 years and for the past 400 years have fought against colonization. Resisting since the first English colonizers declared that Noepe would be known as "Martha's Vineyard," occupying lands and disregarding Wampanoag sovereignty. Wampanoag histories of dispossession and perseverance, adaptation and resistance, reach—continuous and unbroken—from 1602 to the present day. Join MVM research librarian Bow Van Riper in a conversation with Alexis Moreis, activist, tribal historic preservation officer, and vice-president of the Chappaquiddick Tribe of the Wampanoag Nation non-profit, in a conversation around the theme of "belonging."
$5 for MVM Members; $7 for Non-members. Tickets will be available for this virtual event beginning on May 21st.
Related Events