Discovery Days – 2023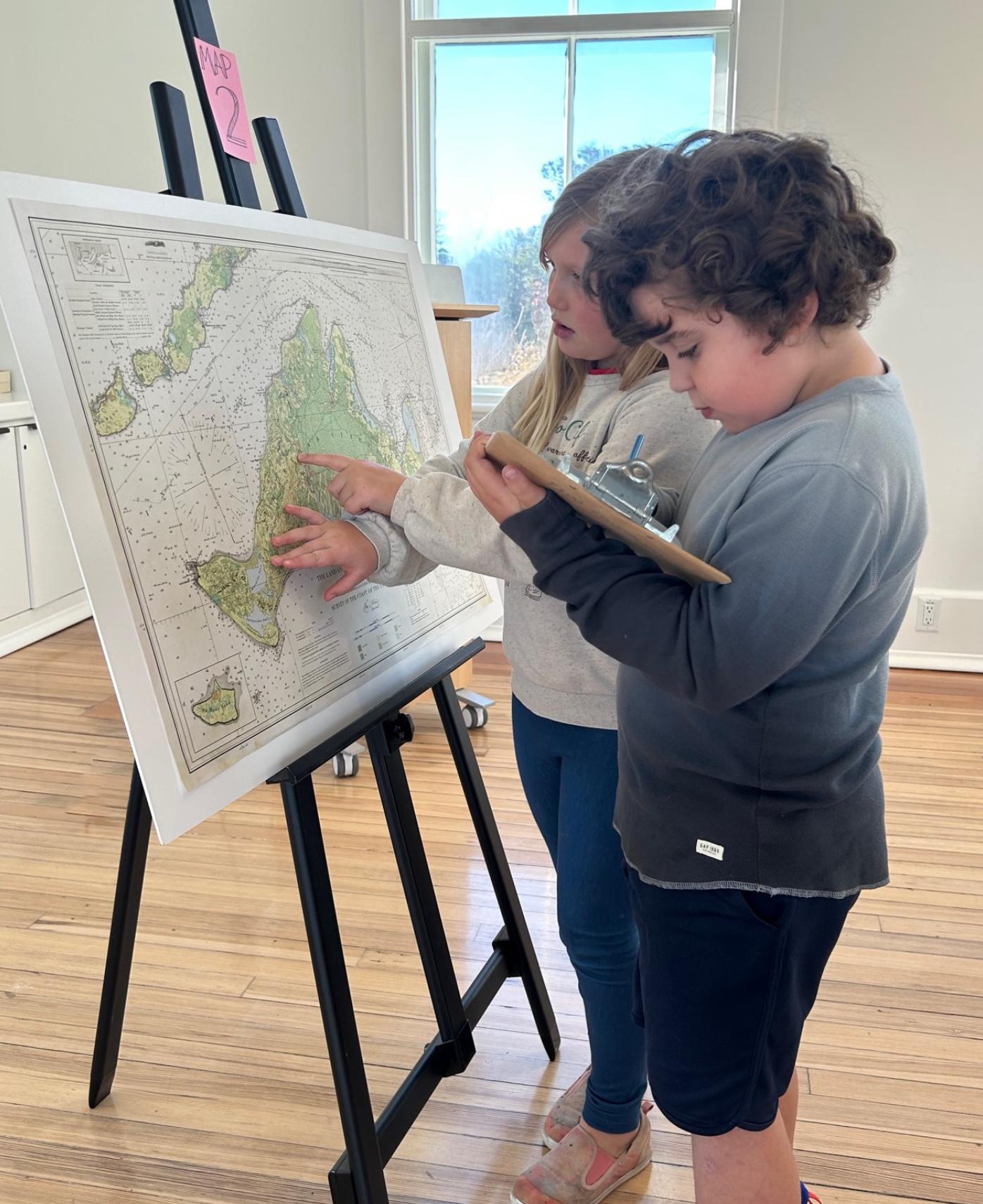 DISCOVERY DAYS
Let your child explore the place where learning and summer fun meet at a Discovery Days class at the Martha's Vineyard Museum! Children, led by the MVM education team, will explore an exciting museum theme each week through investigative tours and hands-on activities. Whether a Little Explorer (ages 5-8) or a Museum Navigator (ages 9-12), they will be guided through creative and collaborative projects that encourage critical thinking to answer some of each session's big questions: What is the science behind a lighthouse beam? In what ways are we the same as whales? How did people draw maps before satellites?
The answers will come to life in meaningful ways as we weave storytelling, interaction with exhibits and artifacts, arts and crafts, and hands-on experimentation into our weekly schedule. And of course, play and teamwork are at the heart of each class experience. Discovery Days kids will be welcomed into our museum to find their role in bringing history to life!
MVM Members: $125; Non-Members: $150 per child per four-day session.
SESSIONS
Little Explorers (5-8 YEAR OLDS)
We know that Little Explorers often have big questions about the world around them. Their natural curiosity is the perfect tool for learning in our museum spaces! We will investigate interesting subjects with strong ties to the Island and its past, present, and future
Little Explorers Sessions
Lighthouses: July 11-14, 10:00 am to 12:00 pm
Whales: July 18-21, 1:00 pm to 3:00 pm
Maps: July 25-28, 10:00 am to 12:00 pm
Extinction: August 1-4, 1:00pm to 3:00 pm
MUSEUM NAVIGATORS (9-12 YEAR OLDS)
Museum Navigators are ready for exploring bigger concepts and learning the hows and whys of the world through more independent means. In a Discovery Days class, they can put their critical thinking and creativity to use in our exhibit galleries and classroom spaces.
MUSEUM NAVIGATORS SESSIONS
Whales: July 18-21, 10:00 am to 12:00 pm
Maps: July 25-28, 1:00 pm to 3:00 pm
Extinction: August 1-4, 10:00 am to 12:00 pm
HiSTORY: August 8-11, 1:00 pm to 3:00 pm
SESSION THEMES
Lighthouses: The Science of Light
The Fresnel lens which stands in the MV Museum will serve as inspiration for an up-close examination of how lighthouses really worked before electricity. Children will get an understanding of the dangers of the sea and the necessity of these monumental safety beacons which dot our shoreline. With hands-on experimentation we will learn how light behaves, how lenses can bend, bounce, and focus it, and find creative ways to represent the brilliance and importance of lighthouses in our lives.
Maps: Adventures in Navigation
Maps are a given in our daily lives now: they live in our cars and in our devices, we see them in books and placemats and on tourist guides… but how are they made? We'll examine all the things that maps can hold and learn about some of the first map-makers' tools and techniques. We will even become cartographers and guides ourselves and have fun seeking out the treasures hidden in our museum and beyond.
Extinction: Fossils and Long-lost Creatures
Extinction is a big concept that fascinates children and adults alike. What were those long-gone creatures really like and how do we even know they existed? We will examine some of the evidence and remnants left behind as clues, and discuss the events that may have led to their demise. With our imagination and creativity, we will bring them back to life for the week!
Whales: Explorations of Epic Proportions
Gentle giants of the sea, whales are awe-inspiring and fascinating creatures. With museum artifacts and exhibits, we can get a little closer to them! We'll learn what makes them unique, what links humans have always had to them, and why we must help hold a place for them in our world for future generations.
HiSTORY: Reading the Past, Writing the Future
How do we know about the things that happened in our past? Museum stories can come from many different sources; some are spoken, some are written down, and some come from the objects that we hold. We are going to investigate a number of ways of interpreting the past and think about how museums of the future might tell the story we are living right now.