Avian Improv
The Evolution of the Avian Improv Partnership
By Lanny McDowell
Back when I had my own art gallery in West Tisbury, my cousin Sam Low teamed up with me to rent the old Ag Hall for a one-day two-man show. David Stanwood showed up at that event with his small upright piano in the back of a pickup, to create a musical ambiance for the artwork. Since that first collaboration in 2005, as my creative work has become less about fine art painting and more about bird photos, David has been a reliable and amiable participant of my shows in venues all over the Island. He has a knack for finding opportunities to perform live for appreciative audiences at intimate venues Island-wide, such as the Katharine Cornell Theater, Pathways Arts, and the West Tisbury Library.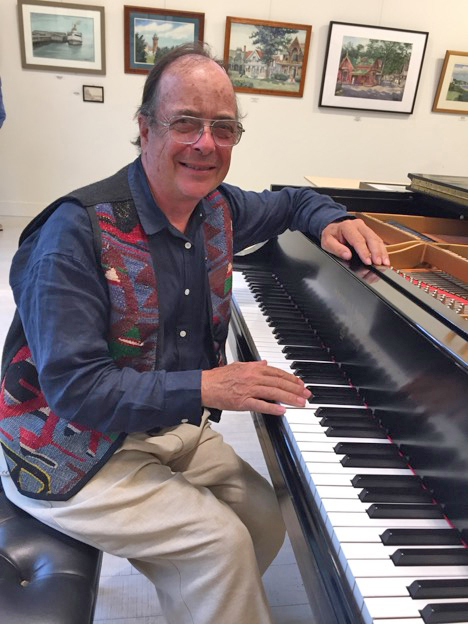 During this same period, I was specializing in photographing birds. I have put together three photo collections, which are available and free to non-profits for exhibitions, each with 20 to 25 images: "Avian Art", which is all bird portraits, "Double Takes", a series of mirror images creating fanciful symmetries, and "Dolphin Seas", which features dolphins in their wild environment.
"The whole is greater than the sum of its parts." That is the nice thing about collaborations that work. Ours has a broad mission that includes promoting well-being, inspiring awe, generating spiritual revival, sourcing emotional rescue, detoxing from stress damage, slowing down, celebrating art and encouraging responsible nature conservation.
We are looking for ways to offer "Avian Improv" to the public, individuals and institutions, in both recorded and live performance versions. We hope to find strategies for promoting a wide distribution of "Avian Improv," potentially with different versions for different audiences, such as hospitals and schools.
Suggestions for Viewing Avian Improv
You may find that a little bit of preparation, much as you would prepare for a meditation or a favorite movie, will enhance your experience.
For the most enjoyment and the most benefit: select a very comfortable viewing position; darken the room you are in, and arrange for your viewing to be uninterrupted (good luck!) with minimal distractions, competing sounds, and people talking.
Of course, the piano score can be played as background music or the bird images displayed as a silent slide show, but Avian Improv is designed to provide the most rewarding experience when it is viewed consciously, intentionally and not in a hurry. Please consider sharing your experience.
Bird Photography by Lanny McDowell. All of the photographs in this "MV Edition" of "Avian Improv" are of bird species that have been seen on the island of Martha's Vineyard. www.lannymcdowellart.com/
Piano Music by David Stanwood. These are unrehearsed free improvisations recorded in his Martha's Vineyard Studio. www.stanwoodpiano.com/