Volunteer Opportunities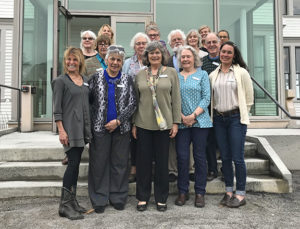 Volunteers are a critical part of the Museum team. They are our greatest ambassadors. Over 160 individuals volunteer their time working as a docent giving tours, in our research library, with our education team, in our oral history department, on our events and programs, in the gift shop, and in visitor services. If you would like to join them, we'd love to hear from you!
Please take a look at the descriptions below and complete this brief questionnaire. Once we receive it, we will be in touch with you to find the best fit for you at the Museum.
We welcome people of all ages, experiences, and interests and for all available time commitments.
Learn more about the volunteer program at the new Museum from the Martha's Vineyard Times.
For more information about volunteering, contact Savannah Berryman-Moore or 508-627-4441 x127.
Volunteer Areas
Docent
Volunteers in the Docent Program are the most highly trained volunteers in the Museum. Docents serve as informed guides to visitors and have had extensive training in all aspects of the Museum: history of the Marine Hospital, general Island history, deeper knowledge of each museum exhibit, the Fresnel lens, and more. Volunteers in the Docent Program must have a strong and genuine commitment to the program and be willing to go through months of training with the education department. These volunteers should enjoy people, be comfortable with public speaking, and exhibit a curiosity about, and love for, Island history.
Education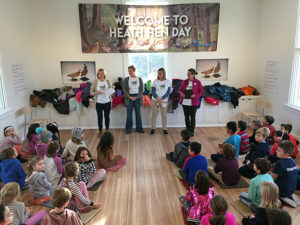 Hands-On History Gallery: Hands-On History volunteers work in the Richard and Barbara Couch Hands-On History gallery and the surrounding galleries in the lower level of the Linnemann Pavilion. Interacting with visitors, usually children and families, tidying up the gallery, and answering questions about exhibits, are some of the responsibilities of this volunteer job. People who enjoy children and young families are an excellent match for this position.
Student Field Trips: The education department hosts many field trips for Island school children. Volunteers help the Museum teachers in the prescribed curriculum for that trip and serve as assistants: passing out materials, sitting with children to keep them focused, helping organize the group, etc. They will be given guidance and instructions from the teachers. These volunteers must enjoy working with children and working alongside others.
Research Library
Library Assistance: Library assistants welcome visitors to the Museum Research Library, and help them get oriented in their research. They also answer questions. Occasionally, specific tasks will be assigned by the Research Librarian. Volunteers in this capacity should enjoy books, history and research, but also enjoy working with and helping people.
Research Assistance: Library researchers assist the Research Librarian in very specific research for Museum publications, talks, presentations, etc. Volunteers in this area should enjoy research, history, reading, and have a curiosity for learning.
Oral History
Editing: Volunteer editors can work from home or in the oral history department office with the oral history staff. Volunteers will be asked to review segments of transcribed oral history interviews and correct the transcriptions according to audio/video recordings.
Transcribing: Oral histories are recorded on tape and require transcribing. After receiving proper training, volunteers will be provided with portions of interviews to create transcriptions.
Events and Programs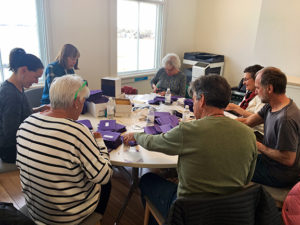 Gala Committee: The Museum hosts the annual Evening of Discovery on the last Saturday of June. A committee of volunteers work to support this event throughout the fall, winter, and spring. Individuals collect silent auction items, help plan logistics, and support the event in other ways.
Evening Programs: Programs are often held on Tuesday nights at the Museum (and occasionally other nights). Program volunteers help welcome attendees, serve refreshments, answer questions, and occasionally help arrange program spaces.
Visitor Services and Gift Shop
Greeter (Visitor Services): Volunteers are often the first people visitors encounter when visiting the Museum. They need to be warm, welcoming, informed, and engaging. The primary job of this volunteer position is to be a "greeter" and an "ambassador" to the Museum.
Museum Shop: When working in the Steven Rattner and Maureen White Museum Shop, volunteers answer questions, organize the shop ensuring it is neat and clean, and help visitors with purchases.
Other
Lighthouses: The Museum is steward to the East Chop and Edgartown Lighthouses. Volunteers are welcome to assist the lighthouse keepers in greeting visitors, keeping the beacons clean and welcoming, and answering questions.
If you are interested in another opportunity not listed, please email volunteers@mvmuseum.org.