Property Rentals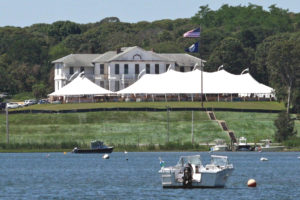 The Museum rents out both lawns on the Edgartown and Vineyard Haven Marine Hospital campus for weddings, special events, and other private parties.
Persons or groups wishing to use the grounds of the Martha's Vineyard Museum, either in Vineyard Haven or Edgartown, must complete a booking application. Reservations for approved events are booked in the order in which they are received. The Martha's Vineyard Museum is proud of its role as an anti-discriminatory community organization.
Interested in renting the Edgartown or East Chop Lighthouses? Visit our Lighthouse Rentals page.
THINGS TO CONSIDER BEFORE COMPLETING A BOOKING APPLICATION:
Any rentals are for use of the designated areas of the outside property only. The buildings will remain locked during any and all events unless arrangements are made ahead of time.
A liaison will be present for the duration of the event at no additional charge.
Smoking and pets are not permitted anywhere on the premises.
The Edgartown campus is only available for private rental when the Museum is not open to the public. For hours, click here.
Timing
Any rentals must end by 10:00 p.m. and the property entirely vacated by 11:00 p.m. We ask that guests depart by 10:30 p.m. allowing the last half hour for the catering staff to clean.
Bathrooms
The event organizer must provide portable toilets for guests.
Tents
Please see our list of tent rental companies that are approved for our properties. Tents, if used, may be put up no earlier than two days before the event and must be taken down no later than two days after the event unless previous arrangements are made.
Catering and Liquor
Please see our list of recommended caterers for your event. You are not required to use one from this list, however, all caterers must be licensed and insured and should communicate with the Board of Health Agent for Town of Tisbury/Edgartown. The catering staff must clean up at the end of the event.
If alcohol is to be served, it must be by a designated/licensed bartender who will enforce state/town laws regarding alcohol, pursuant to a property-issued one day liquor license, a copy of which along with evidence of appropriate liquor liability insurance, must be submitted to the Museum 30 days prior to the event.
Parking
There is limited parking in both locations. On the Edgartown campus, there is a small dirt lot that can accommodate no more than 10 cars off School Street. At the Vineyard Haven Marine Hospital, parking is limited in the back of the building to 50 cars. For larger events, we recommend shuttling guests in from off-site parking locations such as the MV Regional High School.
Music
Please see our list of bands and musicians that are approved to play at our properties. They are required to play with their instruments unplugged (without amplification.) Microphones are permitted for vocalists, announcements, and toasts. Deejays and digital music devices are not permitted.
SUMMARY OF FEE PAYMENTS
A deposit of 50% is due within ten days notification of approval of application (along with the membership fee if you are not already a member).
The remaining balance and security deposit is due within 30 days of the event.
All payments must be made by treasurer's bank check, cash, or credit card. Checks should be made payable to the Martha's Vineyard Museum.
The premises will be inspected by the Museum the day after use. Additional charges may be assessed if the cost of the Museum enforcing the above rules exceeds the security deposit. Applicants shall be liable for such costs incurred.
The security deposit, less certifications for damages and other appropriate deductions, will be returned within 30 days after the event.
Insurance
A certificate of liability insurance with a single limit liability of $1,000,000 for both bodily injury and death as well as property damage is required from all applicants. Certificates must contain a policy number, name of company, expiration date, and type of coverage. A copy must be submitted to the Museum 30 days prior to the event.
Cancellation
No security deposit will be retained by the Martha's Vineyard Museum if the event does not occur. Cancellations with 90 or more days' written notice will result in a charge of 50% of the deposit fee. Cancellations with less than 90 but more than 30 days' notice will result in a charge of 75% of the deposit fee. For cancellations within 30 days, the deposit fee will be refunded only if the rental is rebooked within the same calendar year.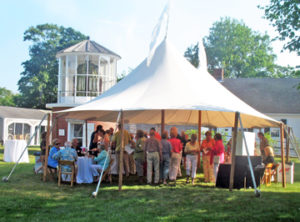 Edgartown Campus Booking Application
Looking to rent the Vineyard Haven Marine Hospital? Each inquiry is currently being reviewed on a case by case basis during renovation, restoration, and construction on site. Please call Katy Fuller at 508-627-4441 x123 if you'd like to learn more.
Applications for the Edgartown campus should be e-mailed to Katy Fuller or mailed to:
Martha's Vineyard Museum
Attn: Katy Fuller
151 Lagoon Pond Rd
Vineyard Haven, MA 02568