Fellowship Positions for Summer 2021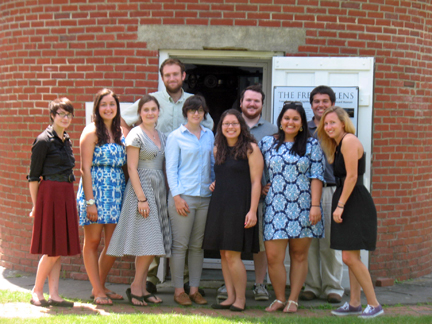 Fellows enjoy a variety of museum experiences, including being involved with exhibits, programs, special events, interaction with visitors, and working with a professional staff.
Energetic, self-motivated, flexible individuals who are independent, creative, and willing to be team players will best fit these positions. If you have any questions about the fellowship program or specific fellowships in various departments, e-mail Katy Fuller or call 508-627-4441 x123.
Apply for a Sheldon Hackney Fellowship
MARKETING AND SPECIAL EVENTS FELLOW
This fellow will assist in the development of marketing materials and support promotion for the Museum's summer events, exhibits, and programs. The candidate will participate in the planning, execution, and follow up of the various events held throughout the summer including our summer gala, fundraising/donor events, musical performances, exhibit openings, lectures, author talks, etc. Organization and the ability to juggle multiple projects at once is a must. The candidate must possess excellent verbal communications skills and be comfortable in social situations. Good writing skills are also necessary and familiarity with Adobe Photoshop and InDesign a plus. Flexible hours with the ability to work evenings required. Sense of humor necessary.
The marketing and events fellowship is a full-time fellowship requiring 40 hours per week. Due to the flexibility needed in scheduling, they will be awarded a $4,000 stipend.
ADVANCEMENT FELLOW
This fellow will work closely with the Advancement Team and gain valuable knowledge of all aspects of non-profit fundraising. As a key team player, the intern will:
Research prospects and draft solicitation materials for local businesses and key constituents
Research fundraising in other Museums to advise on future MVM solicitations and fundraising programs
Assist with planning and logistics for fundraising and friend-raising events
Enter donations into online database – while also editing and cleaning up donor profiles
Other assistance and general office support, as needed.
Candidates must be both collaborative and willing to work independently, optimistic, detail-oriented and highly organized. Excellent communication and analytic skills are vital to this role.
The advancement fellowship is part-time requiring 20 hours per week, with some nights and weekends required. This fellowship will be awarded a $2,000 stipend.
EDUCATION FELLOW
This energetic fellow will work closely with museum educators to help design and deliver educational programs for adults, school-aged children, their families, and teachers. In June, projects will include helping to teach a variety of virtual and in-person museum education experiences. In July and August, the fellow will help conduct summer programs in two museum locations. Experience and interest in working with children is a must. The fellow should be a creative problem solver and be very comfortable with arts, crafts, and age-appropriate instruction. Experience with classroom management is a plus.
The education fellowship is part-time requiring at least 20 hours per week. This fellowship will be awarded a $2,000 stipend.
CURATORIAL FELLOW
The curatorial fellow will work in collections management. Under the guidance of the chief curator, the curatorial fellow will gain experience in object handling, inventory and inventory reconciliation, cataloging, rehousing, packing, collections housekeeping, database work, incoming and outgoing loans, photographing collections, and other tasks relating collections management. This fellowship is open to graduate students with some museum experience preferred.
The curatorial fellowship is part-time requiring at least 20 hours per week. This fellowship will be awarded a $2,000 stipend.