2020 Annual Meeting and MV Medal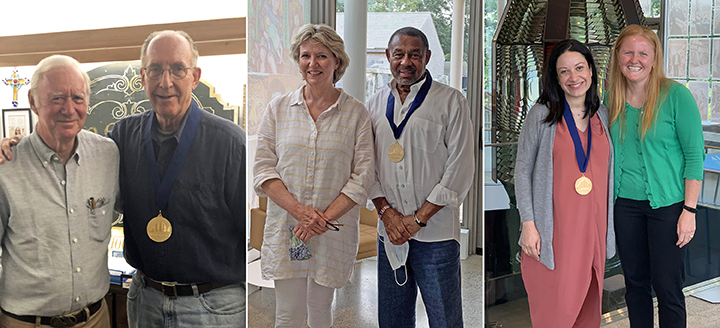 The Annual Meeting was hosted on July 27, 2020 virtually on Zoom and reviewed the 2019 year. It also recognized the work of outgoing board members, elected new directors, proposed bylaw changes, and awarded the 2020 Martha's Vineyard Medal. The Martha's Vineyard Medal is awarded annually to leaders in the community to recognize their outstanding commitment to preserving the history, arts, and culture of Martha's Vineyard.
Watch the 2020 Martha's Vineyard Medal Ceremony here.
2020 Martha's Vineyard Medal Winners
Steve Bernier
Presented by Matthew Stackpole
Steve Bernier has been the owner and operator of Cronig's Market since February 1985. Though always passionate about his community, it was Steve's move to the Vineyard that spurred him to think seriously about the environment and giving back. Despite the financial consequences, Steve has stopped selling cigarettes, styrofoam products, and even certain sizes of bottles and cans because they have extra plastic packaging. Through feedback from the community and a partnership with South Mountain Company and Vineyard Power, Steve has continuously sought to improve the environmental footprint of Cronig's and address the Island's concerns. Steve is not boastful about his involvement in the community. He's been quietly involved in over 250 community projects, makes environmentally-conscious improvements to his store with little fanfare, and (despite anger from seasonal residents), created a program to give year-round Islanders 20% off at his stores. Through his partnership with the Museum and Cape Cod Five to sponsor free Tuesday nights at the Museum, Steve has been instrumental in allowing thousands of people access to the Museum who may not otherwise be able to visit. Steve and his family are tireless advocates for the Island and its community, touching the life of practically every Islander.
Skip Finley
Presented by Jane Seagrave
Skip Finley is a former broadcasting executive who, over the course of his career, was responsible for over 40 U.S. radio stations across the country. He created WYOB radio here on Martha's Vineyard to teach local high school students about future careers in the radio industry and give them real world experience. Attempting retirement since age 50, Skip keeps returning to communications, currently in marketing at the Vineyard Gazette Media Group. He has summered on the Island since 1955, and now lives here year-round. Skip is an important link who brings together our diverse Vineyard population and gives his time and talents to make the Island a better place. For five years, Finley wrote the weekly Oak Bluffs Town Column for the Gazette. His knowledge of everything Oak Bluffs led to him authoring Historic Tales of Oak Bluffs. He is a gifted researcher and contributes to several publications in the areas of whaling and history. Skip recently released a new book, Whaling Captains of Color: America's First Meritocracy, which tells the story of over 50 Black whaling captains throughout U.S. history including here on the Island. Skip has volunteered his time and boundless energy to help many Vineyarders and visitors alike. He served on the Museum board for two terms, chaired its marketing committee for many years, and contributes scholarly articles to the Museum Quarterly (formerly the Dukes County Intelligencer).
Juliana Germani
Presented by Jane Sampaio
Juliana Germani moved to this Island five years ago and realized that, despite the large presence of Brazilian-nationals, there was little to no information about them. With determination and curiosity, she sought out a way to begin writing about the community via the Martha's Vineyard Times in a new bilingual column, which helped her build connections and honor the importance of Brazilians on-Island. Her leadership was unprecedented as she navigated through many complex and uncharted waters. Through it all, Juliana maintained her vision for sharing the historical importance, culture, and traditions of a group on the Vineyard many knew very little about. Her work will allow future generations to understand and learn from the experiences of their forebears. In addition to writing for the Times, Juliana was also a teacher of Portuguese as a Heritage Language at MVRHS for three years and was always finding new ways to bridge communities and make relevant connections for her students and their families. She continues to participate in a number of programs with the Museum, and volunteers her time working with children in the MVM education department strongly believing that empowering people through education can solve many of the world's most divisive issues.
Other Annual Meetings and Martha's Vineyard Medal Ceremonies